The Alleged El Paso Shooter Told Police He Targeted 'Mexicans'
Patrick Crusius, charged with capital murder for the mass shooting at an El Paso Walmart last Saturday, told police he was targeting "Mexicans," according to an affidavit released Friday. Crusius, 21, also took credit for the massacre that left 22 people dead and dozens of others injured.
This arrest affidavit obtained by KFOX 14 in El Paso states that Crusius "intentionally and knowingly" committed the murders on Saturday, August 4. It says the police report contains case photos, witness statements and other evidence that supports their claim that he committed the murders.
The affidavit says agents and officers from the Department of Public Safety (DPS) spotted a vehicle that matched the description of the one Crusius allegedly used to flee the murder scene. While at an intersection, Crusius exited his vehicle and threw his hands into the air while saying, "I'm the shooter."
After Crusius was read his Miranda rights, he waived them and began "to speak about the incident."
Crusius said he left his home in Allen, Texas—a suburb north of Dallas—and drove directly to the El Paso Walmart to carry out his crime. Allen is more than 600 driving miles from the west Texas border town.
Crusius said he entered the store with an AK-47 assault rifle and several magazine clips, and then opened fire, according to the affidavit.
The alleged gunman then told detectives he was targeting "Mexicans."
Once arrested and charged, Crusius was booked into the El Paso County Jail, where he remains with no bond set.
The affidavit states that 19 people died at the scene while another later died at a hospital. Two more have since died, bringing the death toll to 22.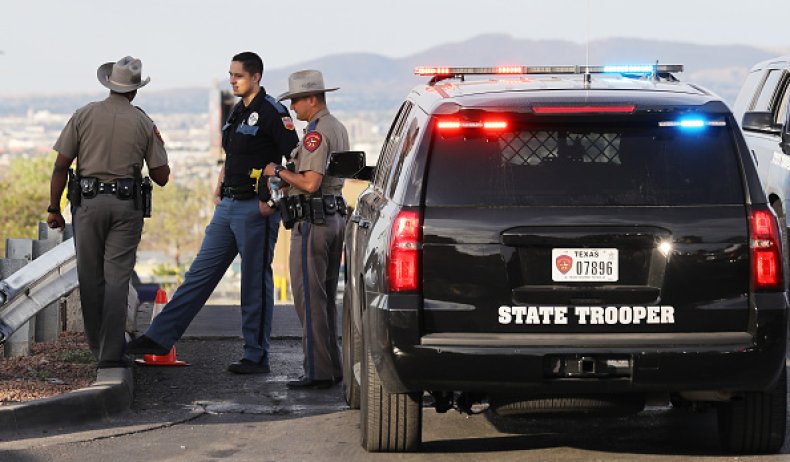 The El Paso shooting was followed 13 hours later by a shooting in downtown Dayton, Ohio, where nine people were killed and dozens more injured. The two shootings, with a combined death toll of 31, sparked a national debate over gun control, white supremacy, a culture of gun violence and safety measures for areas with large crowds.
President Donald Trump visited both cities this week to visit with first responders and victims' families, though he was met with protests in each locale. The president this week denounced hate groups and white supremacy.
The sales of bulletproof backpacks spiked as the start of school nears. Large cities across the country are placing extra security in shopping centers and malls as back-to-school shoppers are expected, and Walmart employees are staging a possible walkout on Monday.
On Thursday, a man was arrested after carrying an open firearm into a Missouri Walmart. The gun was not fired.