Alligator Breaks Into Florida Family's Garage, Starts Chugging Diet Cokes
An unwanted reptile guest helped itself to one Florida family's stash of drinks after busting into a garage last week.
Karyn and Jamie Dobson were at their Collier County home watching TV on Wednesday night when, as they explained to WSVN News, they heard a loud crash. It was so loud, in fact, that they initially assumed that it must have been a car crash.
"The crash was so big, like wicked," Karyn told the outlet.
What they found after checking the garage was something that the Chicago natives were far from accustomed to.
"I open the garage door about a quarter way, peek my head in, and there's the alligator," Jamie added, according to WSVN News. "Very quickly closed the door [and said], 'Karyn, we have an alligator in our garage,' something that, coming from the Midwest, we really haven't experienced before."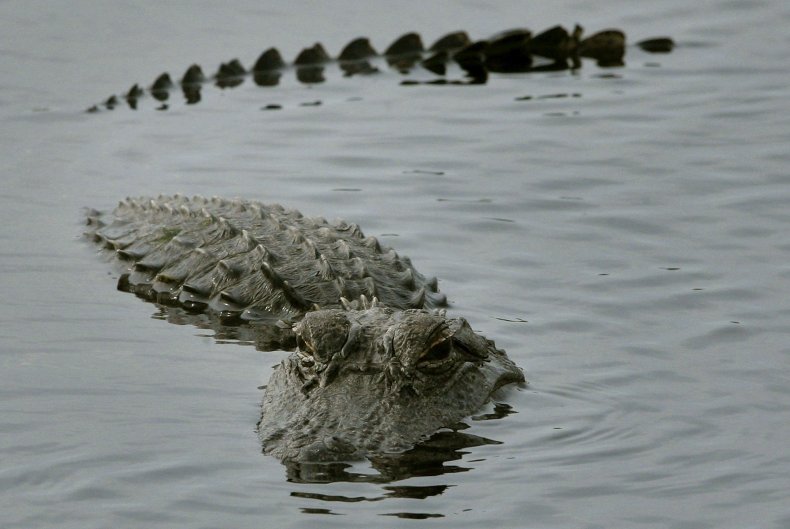 The 8-foot-long animal was quick to notice that it had been spotted, as it reportedly began to back away from the couple and flash its teeth. The Dobsons called a local wrangler known as "Ray the Trapper" who was able to get the situation under control.
Even though it was now out of their hair, however, the alligator was still making life difficult for the couple, as it had gotten into a box of Diet Coke and made a mess in the garage. The couple said that they were preparing for an upcoming party and had drinks banked up for the occasion.
"There was Diet Coke spewing everywhere, because the gator was interested, tore open the box, had a few cans," Karyn told WSVN News. "Probably thought it was beer, maybe. I don't know... People have sent me texts and emails, 'gator girl,' they have all these comments. 'Crikey, mate.' 'What a great birthday present, Karyn.'"
The alligator has since been safely relocated by the trapper service.
Elsewhere, another recent encounter with an alligator, this time in Texas, had a much more serious outcome, according to KHOU 11 News. On Monday, a Humble, Texas, couple returning from vacation received a nasty shock after finding an 8-foot-long alligator on their front porch.
"We pulled up in front of the house here and when my girlfriend got out she went to go unlock the door and open the garage door to put my boat in, well there was an alligator on the front porch and he slapped her with a tail," one of the homeowners told KHOU 11.
The woman was checked into a hospital as a result of their more violent encounter, but is expected to be fine.
Humble is located to the northeast of Houston, in close proximity to Lake Houston, which connects directly to Trinity Bay, Galveston Bay, and eventually the Gulf of Mexico.
Newsweek reached out to the Florida Fish and Wildlife Conservation Commission.