A three-foot alligator-like creature which is thought to be a caiman has been seized by police in Texas during a narcotics raid on a home in Rusk County.
Rusk County Sheriff's Office said they had conducted a investigation at a property in Kilgore on January 21 after receiving a tip-off related to alleged illegal drug dealing and possession of an illegal reptile.
The county sheriff's office posted pictures of what they uncovered during the raid to Facebook.
Among the items police said they seized in the operation included firearms and controlled substances, including marijuana, magic mushrooms, PCP and THC-infused vape products.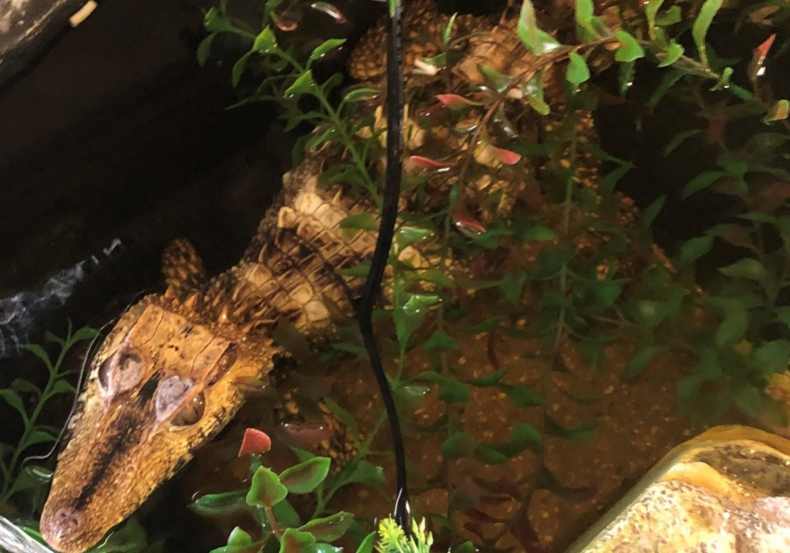 Quantities of cash were also shown in an image posted by the police.
Additionally, a picture of the reptile taken in by officers during the investigation was also released.
It showed what appeared to be a caiman, a smaller cousin of the alligator native to Latin America, immersed in water.
The county sheriff's office said that working with the City of Kilgore Animal Control, they plan to rehome the animal at Nature's Edge, an animal and wildlife rescue center in Dallas, around 119 miles north and west of Kilgore city.
A 44-year-old man from Kilgore was arrested at the scene. Rusk police said he had been charged with four controlled substance felony offences. His bond was set by the by Justice of the Peace Precinct 5 Jana Enloe for a total of $118,500.
In Texas it is legal to own an alligator but to do so state residents must have a Alligator Farmer Permit. This allows them to own live alligators for commercial purposes. This includes the sale of eggs, meat, skin and other parts of the animal.
Exotic pets, including various reptile species, are owned as pets by millions of Americans.
Statistics published in the 2017-2018 U.S. Pet Ownership & Demographics Sourcebook showed that 6,032,000 reptiles were owned as pets in the U.S., with 3,669,000 households owning reptiles of some kind.
Caimans live throughout Mexico, Central and South America, with the population estimated in the millions.
The common caiman is considered an exotic species in the U.S., but has become established in southern Florida where the ecology and average temperatures are warm enough to support the animals.
Caiman are generally smaller relatives of alligators and typically grow up to around 13 feet in length, weighing in at around 500 lbs in some cases.
Caiman were recently the subject of an episode of the Disney+ series The Mating Game. Footage showed males performing courtship songs to attract females.