Alvin Bragg May Not Be As Close To Trump Indictment As Thought
Despite being one of the main figures in the investigation, Stormy Daniels has apparently not yet testified to the special grand jury looking into hush money paid to her on behalf of Donald Trump.
Daniels, who claims she had an affair with Trump in 2006, met with New York prosecutors on Wednesday as part of the investigation into the $130,000 she was paid by former Trump lawyer Michael Cohen to keep the alleged affair a secret ahead of the 2016 Election.
Daniels' lawyer, Clark Brewster, tweeted that the adult film star spoke to the Manhattan district attorney's office to answer questions and agreed to make herself "available as a witness, or for further inquiry if needed." However, Brewster's statement did not say Daniels testified in front of the grand jury, and she has not been seen outside the building where the grand jury has been sitting, reported The New York Times.
It was previously believed that the fact prosecutors had invited Trump to testify in front of the grand jury meant that Manhattan District Attorney Alvin Bragg was nearing a decision on whether to take the unprecedented step of indicting a former President, seeing as Trump is potentially the main defendant in the case.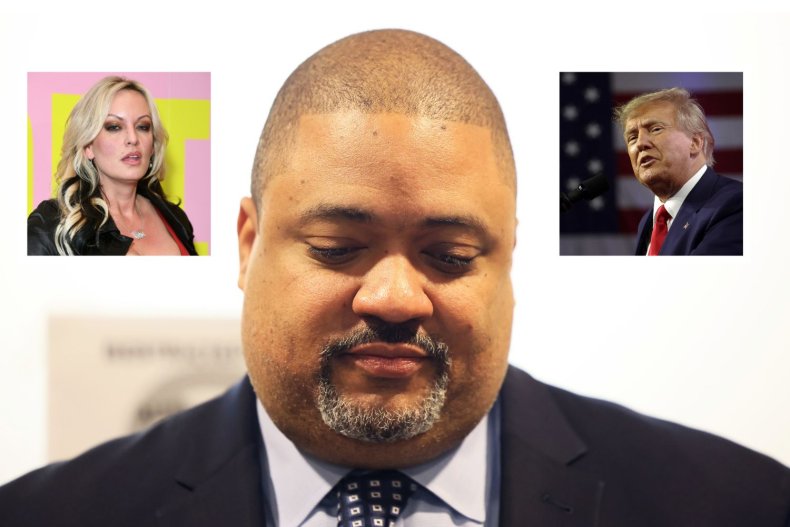 Under New York state law, potential defendants are required by law to be notified and invited to appear before a grand jury weighing charges. Such an invitation to testify before a grand jury often indicates a decision from prosecutors on indictments is near.
"Offering the defendant the opportunity to testify before the grand jury is really the last step before an indictment. It could even be days," former federal prosecutor Neama Rahmani previously told Newsweek.
There could be a delay in Bragg's decision on whether to indict Trump should Daniels actually be made to appear in front of the grand jury.
However, it is unclear if such an invitation will be triggered, seeing as Cohen, another key witness, has already appeared before the special grand jury to testify.
In 2018, Cohen was convicted of federal charges related to the hush-money payment.
Cohen paid Daniels $130,000 through a shell company he set up. The money was reimbursed by Trump, whose company logged the repayments as legal expenses.
Bragg's office is now looking into allegations the hush money amounted to an improper campaign contribution, or if The Trump Organization falsified business records while reimbursing Cohen under the guise of legal fees.
Trump denies having an affair with Daniels. Trump also alleges he is a "victim of extortion" and was forced to pay the money to Daniels, a claim denied by Daniels' legal team.
Newsweek has contacted Stormy Daniels' lawyer, Clark Brewster, for comment via social media.