Trump Indictment 'Likely' Once Michael Cohen Testimony Ends: Ex-Prosecutor
Former President Donald Trump's chances of being indicted are "very good" following testimony from his former attorney, Michael Cohen, this week before a Manhattan grand jury, according to legal experts.
Manhattan District Attorney Alvin Bragg investigated a payment of $130,000 allegedly made to adult film actress Stormy Daniels ahead of the 2016 presidential election. Cohen testified for three hours on Monday and is expected to resume testimony later this week.
Cohen's testimony is viewed as key evidence in the case, as he previously pleaded guilty to campaign finance charges after helping to arrange the payments. He has since turned on his former boss, who has maintained his innocence and has accused Manhattan prosecutors of engaging in a politically motivated "witch hunt" against him.
Experts told Newsweek on Tuesday that the chances of an indictment are high following Cohen's testimony, the details of which have not been made public.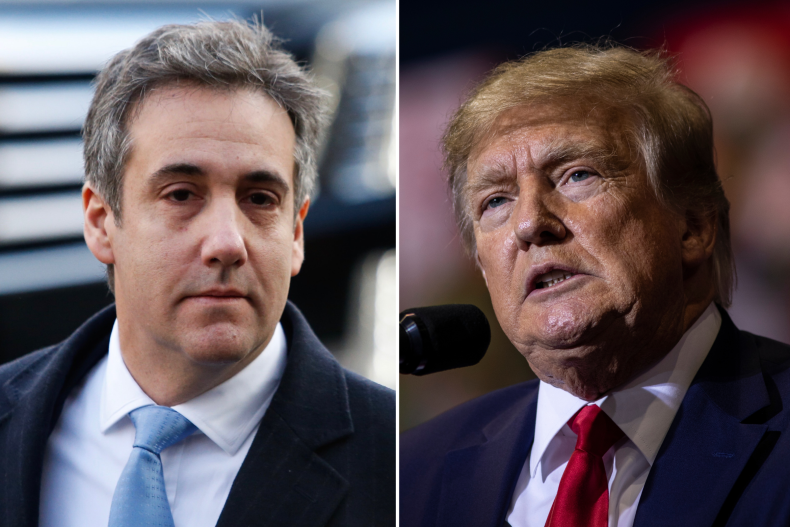 "I think the chances of President Trump being indicted are very good," said former U.S. Attorney Gene Rossi, predicting that prosecutors could present an indictment to the grand jury as soon as late this month.
Rossi explained why Cohen's testimony is so important to prosecutors' case to indict Trump, as he allegedly has at least one recording of Trump in September 2016 acknowledging a possible payment.
"Cohen is in the vortex of this conspiracy to violate the election laws," Rossi said. "If you go to guilty plea that he entered in August 2018, President Trump was listed as unindicted conspirator, and at that hearing, Michael Cohen said he was directed by president to hide the payments to Stormy Daniels."
Rossi said he believes an indictment is looming because prosecutors have offered Trump an opportunity to testify. He rejected the offer, a move Rossi described as "incredibly wise" because doing so would open him up to potential perjury charges and give prosecutors a "heads up" about the defense his legal team would use during a trial.
Former federal Prosecutor Neama Rahmani agreed that a Trump indictment is imminent following Cohen's testimony, also pointing to the district attorney's offer for Trump to testify.
"I think it's likely, reading the tea leaves," he said.
He said Trump could be indicted in a matter of weeks, or even sooner.
"I think it would be weeks, just based on what's being reported. They've grand juried everyone. They've gone through the potential witnesses for the grand jury," Rahmani said. "Offering the defendant the opportunity to testify before the grand jury is really the last step before an indictment. It could even be days."
He said that ahead of a potential indictment, prosecutors are likely considering the possibility of violence by Trump supporters. Legal experts have warned that a Trump indictment could potentially lead to violence similar to the January 6, 2021, U.S. Capital riot.
"This will be the most politically charged prosecution in American history," Rahmani said. "Things like security and how to handle it—you don't do something like this unless you plan to go all the way to Trump."
Trump attorney Joseph Tacopina previously said there is no legal basis for the case, telling the Associated Press, "To me, it's much ado about nothing. It's just another example of them weaponizing the justice system against him. And it's sort of unfair."