Ex-Asst. U.S. Attorney Issues Stark Warning About Michael Cohen Testifying
Michael Cohen's testimony against Donald Trump could be a gift and a curse due to his "white-hot hatred" for the former president, said former federal prosecutor Elie Honig.
Cohen was scheduled to testify in front of the Manhattan grand jury on Monday, the Associated Press reported, in relation to alleged hush money payments made by Trump to adult film actress Stormy Daniels ahead of the 2016 presidential election.
Trump's former attorney and "fixer" met with New York District Attorney Alvin Bragg in Manhattan last week for the 19th time to discuss paying Daniels $130,000 that he claimed was done at Trump's discretion. Cohen's testimony is viewed as crucial evidence being collected as part of a potential grand jury investigation.
Cohen was arrested in 2018 and pleaded guilty to multiple charges, including tax evasion and excessive campaign contributions. He was sentenced to prison that December and subsequently completed a three-year prison and home confinement sentence in 2021.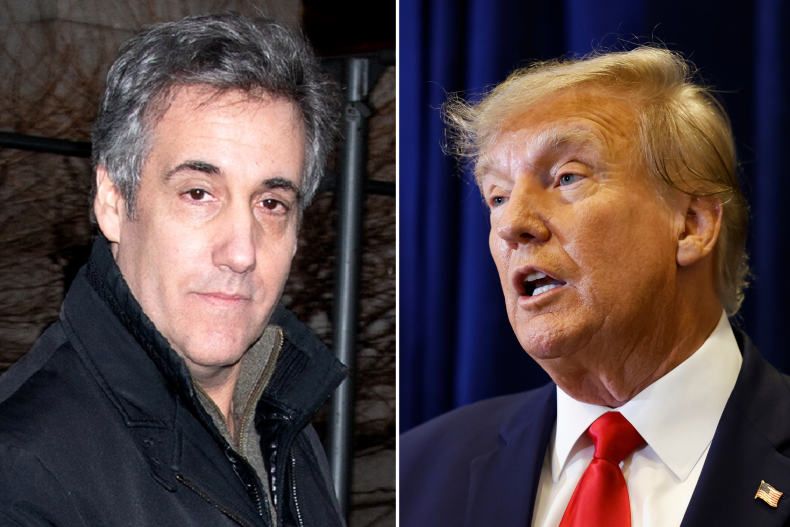 "On the one hand, Michael Cohen clearly had insider access—he was in the middle of this transaction, he pled guilty to it," Honig told CNN's Jim Acosta. "And many of the things that Michael Cohen has said since he did his prison time about Donald Trump have been proven to be true.
"The reality is, like it or not, Michael Cohen is going to be vulnerable to a searing cross-examination. He has been convicted of perjury, he has been convicted of tax fraud, and financial fraud. He denies that he did it but he pled guilty to those crimes."
He added: "Michael Cohen also, as you say, Jim, has a white-hot hatred for Donald Trump. He cannot open his mouth without saying anything negative about Donald Trump. That's his right."
Honig said that Cohen remains a "key witness" no matter how the jury interprets his relationship with Trump.
Joseph Tacopina, a lawyer for Trump, told Newsweek that Bragg's past comments hinder Cohen's effectiveness as a witness in this case.
"Alvin Bragg was recently quoted as saying that 'he could not see a world' where his office would bring a case in reliance on convicted perjurer and known Trump hater, Michael Cohen," Tacopina said via email. "Yet, in their scorched earth attempt to prosecute Donald Trump, the Manhattan DA continues to lower its standards by pursuing a case which legal experts have universally panned as baseless and not supported by the law."
Last Thursday, Trump railed at both Bragg and Cohen on Truth Social. The former president called Bragg, the first Black Manhattan D.A. in the history of the office, "racist" and said "he only cares about 'getting Trump.'"
Bragg and his office are "relying on the testimony of a convicted felon, disbarred lawyer, with zero credibility," Trump added, in reference to Cohen.
Rebecca Roiphe, a professor at New York Law School and a former Manhattan prosecutor, told Newsweek that Honig's concerns are valid when it comes to Cohen being a star witness.
"[Cohen] is an important witness but his credibility is in question, and therefore the prosecutors would have had to have corroborated what he said in order to have been persuasive in front of a grand jury," Roiphe said.
She said the Manhattan D.A.'s case against Trump presents a "legitimate question" about the pursuit of charges, considering they may be lesser in degree compared to Trump being involved in other legal situations—such as in Georgia in relation to allegedly attempting to overturn results of the 2020 election.
However, no matter Trump's stature, Roiphe said prosecutors take the "no man is above the law" mantra seriously even if certain individuals like him were once president and now running again for his party's nomination.
"The thing is that I think in certain kinds of cases, even if you are fairly convinced an individual committed a crime, one may not bring the charges forward due to reasonable doubt," she said. "I think it is wise if part of the consideration going into this is how easily [the prosecution] could prove this because I think it could be damaging to bring forward a charge and lead to a hung jury or even an acquittal."
New York-based attorney Andrew Lieb told Newsweek that Cohen "has an axe to grind when it comes to Trump and his testimony needs to be heard with a grain of salt."
"However," Lieb said, "the Manhattan D.A., Alvin Bragg, is no fool to this fact either and certainly plans to corroborate any testimony given by Michael Cohen with other sources. Stated otherwise, you don't go after a popular [former president of the United States] without multiple strings to weave the same web. This is about to get big really fast."
Newsweek reached out to Cohen's attorney, Lanny Davis, via phone and email and Elie Honig via email for comment.