Amazon Alexa Guessing Game Calls Amber Heard 'Abusive,' 'Liar'
Fans have shared videos of Amber Heard being named in a guessing game played on Amazon Echo devices, after the app asks if the person in question is considered "abusive" and "a liar."
Heard, 36, on Monday returned to court for the final week of her defamation trial with ex-husband Johnny Depp, who has sued her for $50 million after she wrote in a 2018 op-ed for The Washington Post that she was a domestic abuse survivor.
While Heard did not name Depp, 58, in the article, his lawyers have argued that it was clear she was referring to the actor. Heard is countersuing for $100 million.
As Depp and Heard took to the stand respectively at Virginia's Fairfax County Circuit Court in recent weeks, they accused one another of domestic violence during their ill-fated relationship. Both have denied the allegations.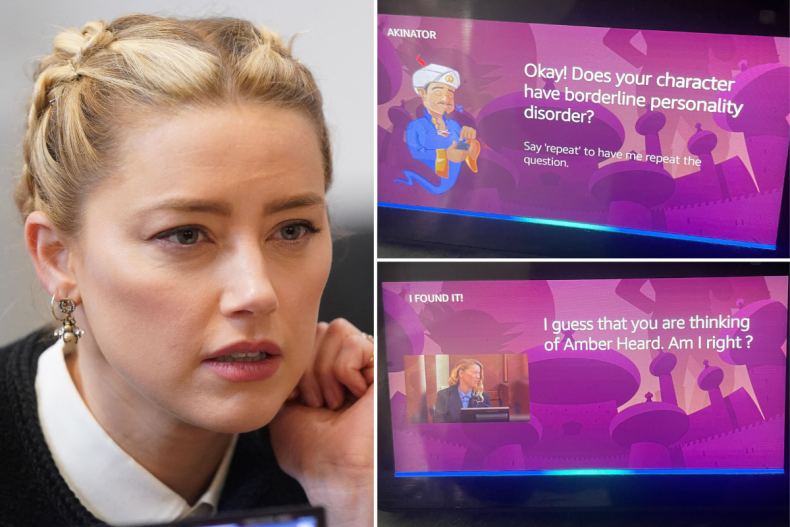 With the courtroom proceedings sparking heightened interest on social media, fans have taken to sharing video footage of themselves using their Amazon Echo devices to play a game called Akinator.
During the game, the app attempts to figure out which character you are thinking of by asking a series of questions like, for example, whether the person in question is a real person or a fictional character, and their gender.
"I can read your mind, think of a character. I will try to guess it," Alexa was shown saying at the start of one Akinator game shared by a TikTok user.
The game then asked for a host of clues to whittle down to the person in question, including where they live, whether they're a singer, if they appear in movies, and if they're in Aquaman, the 2018 movie in which Heard starred.
As the video progressed, the device was heard asking if "your character [is] considered abusive," and whether the person being guessed is "considered a liar."
After the TikTok user answered in the affirmative to those questions, Alexa said, via Akinator: "I guess that you are thinking of Amber Heard, am I right?"
The TikTok user, who uploaded the clips with hashtags showing support for Depp, confirmed in the video that that Heard was who they were thinking of.
Similar videos have appeared elsewhere on social media in recent days, showing the same result after the "abusive" and "liar" questions were asked.
Newsweek tried the game and found the same questions to be asked. Also added to the line of questioning was, "Does your character have borderline personality disorder?"
Earlier on in the trial, Dr. Shannon Curry, a psychologist hired by Depp's legal team to evaluate Heard, shared two psychiatric diagnoses in her testimony—borderline personality disorder and histrionic personality disorder.
A licensed clinical and forensic psychologist in California and Hawaii, Dr. Curry said she carried out a psychological evaluation of Heard using case documents, medical records, mental health treatments, and audio and video records.
In a game challenging the Akinator to identify Pirates of the Caribbean star Depp, no such questions were posed by the game.
The Akinator game is owned by video game developer Elokence. It has become so popular that there are a number of YouTube videos that have been shared of users attempting to outsmart the game.
Newsweek has contacted representatives of Heard, Amazon and Elokence for comment.
Throughout the trial, Heard has been subjected to an avalanche of negative social media posts and grossly misleading YouTube videos, with a faction of Depp fans regularly sharing clips and takes on the details they believe support their stance.
While a long-running petition has also called for Heard to be dropped from the Aquaman sequel, a number of social media users have spoken out in defense of the Texas native, stating that she has been treated unfairly by the public.
This is not the first time that Heard has faced off against Depp in court since the end of their marriage. Depp filed a lawsuit against British tabloid The Sun, which had labeled the actor a "wife-beater" in reference to Heard's allegations.
Heard accused Depp of domestic abuse during their divorce proceedings in 2016. The stars wed in 2015, with Heard filing for divorce from Depp the following year. Their divorce was finalized in January 2017.
While Depp had repeatedly denied ever having been violent to Heard during the three-week trial in London, the overseeing judge found that the U.K. publication's claims that the actor was abusive to Heard were "substantially true."
Depp, who was dropped from the Pirates of the Caribbean franchise in 2018, was "asked to resign" from Fantastic Beasts 3 following the verdict. He was subsequently replaced in his role as Gellert Grindelwald by Mads Mikkelsen.