Is Amber Heard Still in 'Aquaman'? Timeline of Her Turbulent Turn as Mera
Amber Heard's ongoing court battle with ex-husband Johnny Depp has led to discussion about her role in the Aquaman sequel, after she testified that the negative publicity surrounding her ill-fated marriage led to reduced screen time.
Heard, 36, has been sued for $50 million by Depp, 58, who has accused her of defamation over a 2018 op-ed she wrote for The Washington Post, in which she stated that she's a domestic abuse survivor.
While Heard did not name Depp in the article, his lawyers have argued that it was obvious she was referring to the actor.
Heard is counter-suing for $100 million.
Actress Heard's tumultuous marriage to Depp has been the focus of an avalanche of headlines in recent years, thanks to a libel court battle that took place in London back in 2020 and their ongoing defamation trial in Fairfax, Virginia.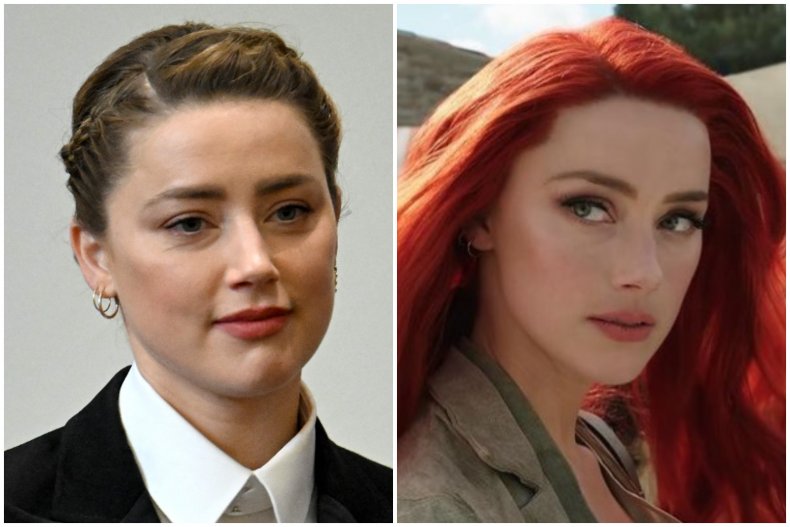 During current proceedings at the Fairfax County Circuit Courthouse, each star has accused the other of domestic abuse. Depp and Heard have each denied the other's allegations of violence during the relationship.
On Monday, Heard discussed how the bad publicity surrounding her had led to her fighting to be able to portray Mera once again, following 2018's Aquaman.
Heard stated that she was initially released from her Aquaman contract, before launching a campaign to remain in her role, which she told the court was ultimately a "very pared-down version."
Newsweek has taken a look at the timeline of Heard's involvement in the billion-dollar DC Comics franchise.
2017: Heard Makes Her Debut as Mera
Heard debuted as Mera in the 2017 superhero movie Justice League, making a minor appearance as the princess of an Atlantean kingdom.
The Hollywood Reporter revealed that she had entered negotiations to play Mera back in January 2016, with her casting confirmed two months later.
In a 2018 interview with The Hollywood Reporter, Heard told how Aquaman producer Zack Snyder described his vision of the character "as a warrior queen, with a crown and a sword."
"A strong, independent, self-possessed superhero in her own right. I was like, 'That's the kind of character I can get behind,'" Heard added.
2018: A Role Reprised
The following year, Heard reprised her role as Mera in the first Aquaman movie, whose star-studded cast included Nicole Kidman, Willem Dafoe, Patrick Wilson, Dolph Lundgren, and Yahya Abdul-Mateen II.
Jason Momoa starred in the titular role.
As well as hitting the promotional trail for the film, Heard also posted several photos of herself with her co-stars, including Momoa and Kidman. The movie is a certified hit, pulling in over $1 billion at the box office.
In a July 2018 interview with Collider, Heard told how she was sold on the role when she started reading the graphic novels from which the plot originated.
She added: "What really sold me on this project, I was doing my research and was reading the graphic novels, and in one of the first ones I read, there's a scene, some natural disaster in open water, a tsunami hits on the land, and of course Aquaman comes in and saves the day and civilians are like, 'Oh my god, it's Aquaman!'"
2019: Final Instagram Appearance (to Date)
Following the film's success, Heard would make what has so far been her final appearance on the official Instagram account of the Aquaman franchise.
While her co-stars have been featured on the account since, Heard was last included in any of its imagery on April 22, 2019, to mark her birthday.
Alongside a photo of the screen star sporting her character's signature fiery red hair, a caption read: "Happy Birthday to our Mera, @amberheard!"
2020: Fans Want Heard Out
By 2020, Heard and Depp's divorce, which was finalized in January 2017, grabbed headlines as the pair battled it out in a libel case in London.
Depp filed a lawsuit against British tabloid The Sun, which had labeled the actor a "wife-beater" in reference to Heard's allegations of domestic abuse.
Heard accused Depp of domestic abuse during their divorce proceedings in 2016. The stars wed in 2015, with Heard filing for divorce from Depp the following year.
While Depp had repeatedly denied ever having been violent to Heard during the three-week trial in London, the overseeing judge found that the U.K. publication's claims that the actor was abusive to Heard were "substantially true."
Depp, who was dropped from the Pirates of the Caribbean franchise in 2018, was "asked to resign" from Fantastic Beasts 3 following the verdict.
The fallout led to fans signing a petition on Change.org, in which they called for Heard to be removed from the Aquaman sequel.
Fans cited Depp's allegations that Heard was violent toward him during their relationship (which she denies) as reason for wanting her ousted from the big-budget project. The signature count for the petition, which remains active, has soared past four million.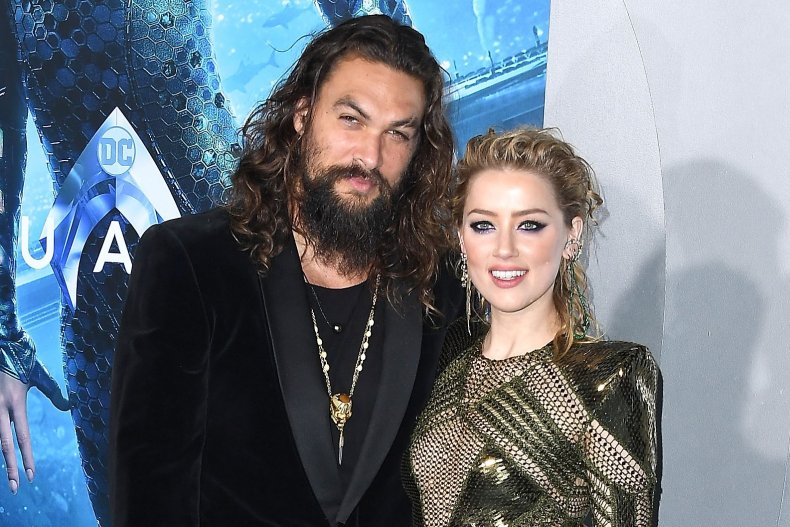 2020: Heard Insists She's Still On Board
In November 2020—several months before production on the Aquaman sequel started—Heard denied rumors that she would not be returning for the upcoming movie, whose full title is Aquaman and the Lost Kingdom.
She told Entertainment Weekly: "I'm super excited about the amount of fan love and the amount of fan appreciation that Aquaman has acquired and that it has garnered so much excitement for Aquaman and Mera that it means we'll be coming back. I'm so excited to film that."
"Paid rumors and paid campaigns on social media don't dictate [casting decisions] because they have no basis in reality," Heard added. "Only the fans actually made Aquaman and Aquaman 2 happen. I'm excited to get started next year."
2021: Production Begins
Despite protests from fans, Heard made her way to London to start shooting for her role in the anticipated movie. Principal photography started in June 2021.
In the days leading up to the start of filming, Heard took to Instagram to share a snapshot of herself posing alongside Momoa as she wrote that she was "ready to get back to this," adding the hashtag "#aquaman2."
Showing how dedicated she was to successfully pull off the demanding scenes, Heard also posted video footage of herself working out with weights.
Throwing in a pun about her toned abs, the actress captioned the clip: "Abs-olutely dying! #aquaman2."
Days later, Heard uploaded an image of a handwritten note that appeared to have been sent to her by the film's director, James Wan.
"Amber—Welcome back to Atlantis," read the note.
2021: Standing by Heard
Amid pressure to have Heard removed from the film, Aquaman and the Lost Kingdom producer Peter Safran told Deadline last July that the production was never "going to react to, honestly, pure fan pressure" to oust the actress.
"You gotta do what's best for the movie. We felt that if it's [director] James Wan and Jason Momoa, it should be Amber Heard. That's really what it was," he said.
He added, "One is not unaware of what is going on in the Twitter-verse, but that doesn't mean you have to react to it or take it as gospel or accede to their wishes. You have to do what's right for the film, and that's really where we landed on it."
Production finished on the film in January 2022.
2022: Heard Says She Was Released From Contract
While testifying in court on May 16, Heard was asked if she had been replaced in Aquaman 2.
Heard responded: "They released me from my contract. And I fought to stay in it, and they kept me in it. I just don't know how much I'm in, actually, of the final cut."
She later went on to state in the courtroom: "I don't know if I will even be in the final cut or how much I will be. It was difficult to stay in the movie."
Texas native Heard said that while she ultimately filmed scenes for the movie, it was a "very pared-down version of that role."
"I was given a script and then given new versions of the script that had taken away scenes that had action in it," she said. "That depicted my character and another character—without giving any spoilers away, two characters fighting with one another. They basically took a bunch out of my role. They just removed a bunch."
She added: "I fought really hard to stay in the movie. They didn't want to include me in the film."
It has also been suggested that Depp got Heard her role in the film—an assertion that the actress denied in court.
On Thursday, Heard's agent, Jessica Kovacevic, testified that Warner Bros. was considering recasting Heard in her role due to a lack of chemistry with Momoa, and not because of the bad press she received over her legal battles with Depp.
Aquaman and the Lost Kingdom is set to be released on March 17, 2023.
The final week of Heard and Depp's defamation trial will begin on Monday.