Amazon Union Alleges 'Retaliation' Firing; Company Says He 'Slapped' Woman
A union representing Amazon workers is alleging the online retail giant improperly fired an organizer involved in the first successful push to unionize one of the company's U.S. warehouses, but the company has denounced the accusation, saying the organizer was fired after he "slapped a female manager."
The Amazon Labor Union said in a tweet Thursday that it has complained to federal regulators over the company's termination of Pasquale "Uncle Pat" Cioffi, a lead organizer in the unionization of Amazon's Staten Island JFK8 warehouse in New York. The charges are the latest in an ongoing clash between Amazon and labor organizers.
Describing Cioffi as "one of our most influential and outspoken supporters," the union said on Twitter that Amazon's management targeted him with "four back-to-back investigations" after he joined the organizing effort at the Staten Island warehouse.
In another tweet, the Amazon Labor Union said that Cioffi, a process assistant, "was fired for arguing with a manager about mistreatment of workers." The union added that it had complained to the National Labor Relations Board (NLRB) and is requesting injunctive relief.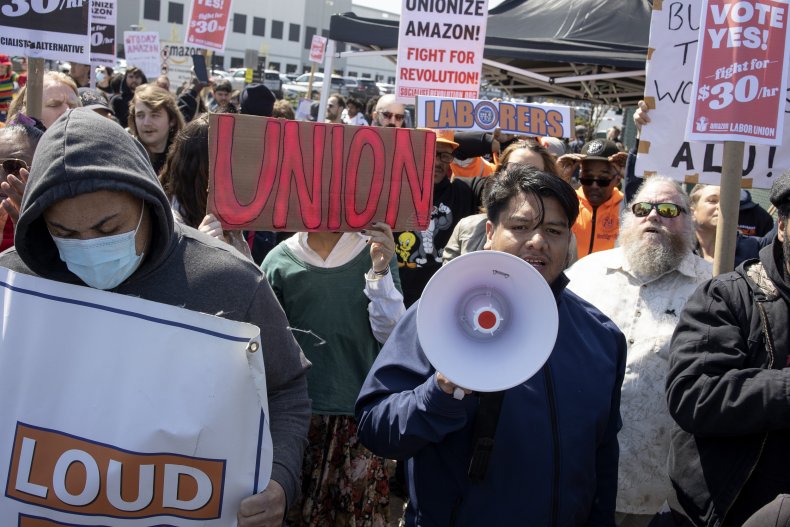 "Amazon fired our beloved Uncle Pat today!" Christian Smalls, Amazon Labor Union president, said in a tweet. "They retaliated against him for organizing ever since our last rally."
In addition to taking legal action, Smalls said the union "will go full steam ahead on this issue," adding "they f****d with the wrong uncle."
Amazon strongly denied the allegation that Cioffi was unjustly fired.
"While we normally wouldn't discuss personnel issues, we think it's important to share the facts here. Mr. Cioffi was let go following a thorough investigation that revealed he slapped a female manager and called her a 'bitch.' Amazon has zero-tolerance for any type of workplace violence," Amazon spokesperson Kelly Nantel told Newsweek.
Kayla Blado, spokeswoman for the NLRB, told Newsweek in an email that a complaint had been filed against Amazon June 8 in an administrative region covering Staten Island and other parts of New York City. She said she was unable to confirm names of employees in the complaint.
In April, an administrative law judge ruled that Amazon "unlawfully" terminated Gerald Bryson, an employee at the Staten Island JFK8 warehouse, two years ago.
The judge ordered the company to give Bryson his job back, along with lost wages and benefits. Amazon has disputed the ruling, saying Bryson was fired for "bullying, cursing at, and defaming a female co-worker over a bullhorn in front of the workplace."
Cioffi was a former longshore worker with the International Longshoremen's Association for about nine years before joining Amazon and was initially hesitant to back the union, according to an article from In These Times.
However, Cioffi told the magazine he changed his mind when he saw police arrest Smalls and other organizers for trespassing while out delivering food to workers. Cioffi is reported to have convinced hundreds of workers to back the union.
Workers at Amazon's Staten Island warehouse made history by voting to form a union on April 1. But Amazon has sought to overturn the vote, saying the union acted improperly in its unionization efforts. Other skirmishes between the company and union are also ongoing, as Amazon has continued to resist unionization efforts at other facilities.
Update 6/13/22, 4:20 p.m. ET: This article has been updated with comment from the NLRB.