Amber Heard Cries on Stand, Says People Want to 'Microwave' Her Baby
Amber Heard took the stand again Thursday as a witness in her defense team's rebuttal of defamation charges from ex-husband Johnny Depp and became emotional while testifying about the trial's impact on her life.
During the trial, Heard has accused Depp of physical and psychological abuse in their tumultuous marriage, which ended in 2016. Depp is suing Heard for $50 million, claiming a Washington Post op-ed she wrote defamed him, while she has countersued him for $100 million.
Heard attorney Ben Rottenborn asked her Thursday how statements made by Depp's former attorney Adam Waldman, who publicly accused Heard several years ago of making fake sexual assault allegations and conspiring to create an "abuse hoax," affected her. She said she has felt "harassed, humiliated, threatened every single day."
"Even just walking into this courtroom, sitting here in front of the world," Heard said, her voice emotional. "Having the worst parts of my life, things I've lived through, used to humiliate me. People want to kill me.
"People want to put my baby in the microwave, and they tell me that," she continued. "Johnny...promised me that if I ever left him, he'd make me think of him every single day that I live."
Heard denied she was snickering on the stand, saying, "I'm not sitting in this courtroom laughing, smiling and making snide jokes. I'm not. This is horrible. This is painful, and this is humiliating for any human being to go through. Perhaps it's easy to forget that, but I'm a human being."
She added, "I hope no one ever has to go through something like this."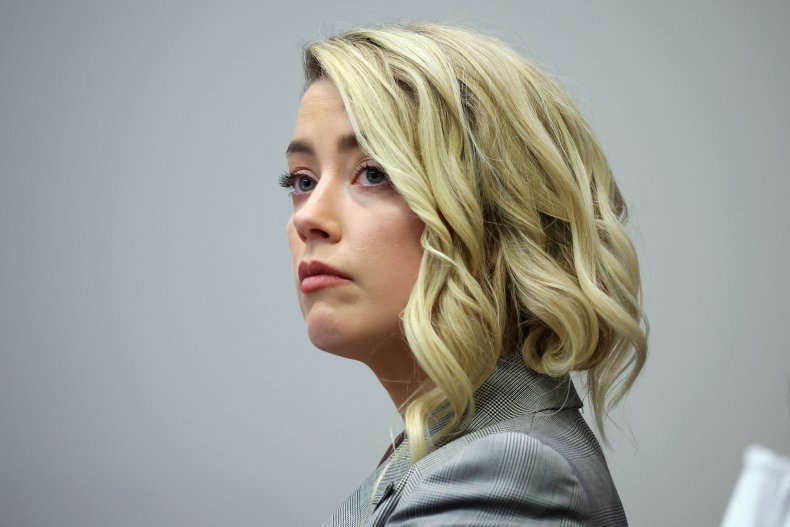 Depp sued Heard for defamation after the 2018 Washington Post op-ed, in which she said she was a victim of domestic violence, was published. The piece did not name Depp, but his suit claims that it cost him several acting jobs and damaged his reputation.
Heard has testified about various incidents in which she alleged she was the victim of Depp's domestic abuse. Depp has denied the accusations, alleging that he suffered from physical abuse himself because of Heard, which she has denied.
Heard said Thursday that she hopes to reclaim her voice after the trial is over.
"Johnny has taken enough of my voice," she said. "I have the right to tell my story, I have the right to say what happened to me, I have the right to my voice and my name. He took it long enough."
The trial, which is taking place in Fairfax, Virginia, has gone on for six weeks and is expected to come to a close Friday, when closing arguments will be made.
Newsweek reached out to a Heard representative for additional comment.
Follow Newsweek's live blog for trial updates.