Amber Heard on Johnny Depp: 'Absolutely. I Love Him'
Amber Heard has said she "absolutely" still loves Johnny Depp, despite their acrimonious split and subsequent legal battles.
Depp, aged 59, sued ex-wife Heard, 36, for $50 million over a 2018 op-ed in The Washington Post, in which she said that she was a domestic abuse survivor—a claim the jury found to be false and defamatory.
Following a six-week trial, the jury on June 1 awarded Depp $10 million in compensatory damages and $5 million in punitive damages. The judge adjusted the punitive damages to $350,000, as Virginia law limits punitive damages.
Heard, who countersued for $100 million, was awarded $2 million after it was found that Depp's former attorney, Adam Waldman, had made defamatory comments her.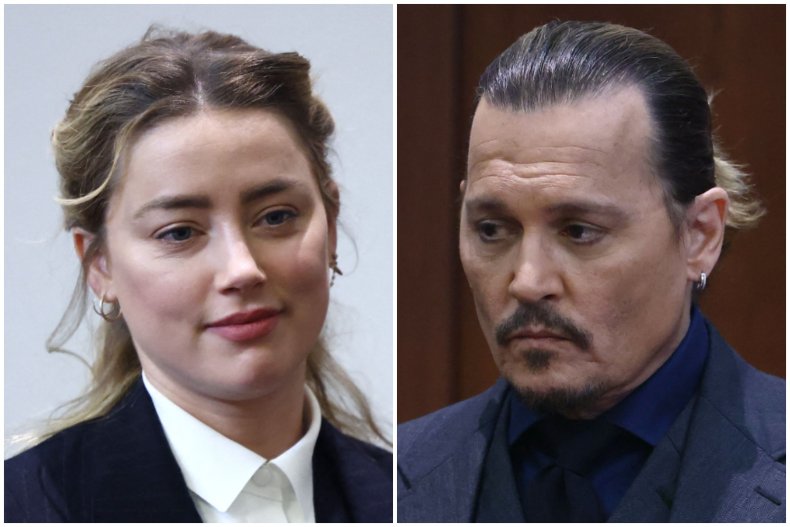 Throughout the proceedings at Virginia's Fairfax County Circuit Court, Depp and Heard leveled accusations of domestic abuse at one another. Both denied the allegations.
Heard, whose 15-month marriage to Depp officially ended in divorce in January 2017, has since sat down with Today's Savannah Guthrie for her first post-trial interview, which is set to air in full as a primetime special on NBC on Friday.
During the interview, parts of which have been released in daily excerpts, Guthrie said to Heard: "On the first day of the trial you issued a statement, and part of the statement said, 'I still have love for Johnny.'"
"Is that still true?" Guthrie asked, prompting Texas native Heard to answer: "Yes."
"After everything?" Guthrie—whose husband, Michael Feldman, served as a consultant for Depp's legal team, pressed.
"Absolutely. I love him. I loved him with all my heart," Heard said. "And I tried the best I could to make a deeply broken relationship work. And I couldn't."
"I have no bad feelings or ill will toward him at all," Heard continued of Depp. "I know that might be hard to understand or it might be really easy to understand. If you've just ever loved anyone, it should be easy."
Ahead of her court battle beginning back in April, Heard took to Instagram to release a statement that read, in part: "I have always maintained a love for Johnny and it brings me great pain to have to live out the details of our past life together in front of the world."
Elsewhere in her interview with Guthrie, Heard spoke about what she may tell her 1-year-old daughter, Oonagh Paige, about the trial when she gets older.
"I think no matter what, it will mean something," Heard said. "I did the right thing. I did everything I could to stand up for myself and the truth."
Heard, who has not revealed the identity of her child's father, is now looking forward to a quieter life now that the Depp trial has come to an end.
"I get to be a mom full-time, where I'm not having to juggle calls with lawyers," she said.