Amber Heard Says She's 'Not a Likable Victim' After Depp Trial Reaction
Amber Heard has called herself "not a likable victim" as she discussed the negative public reaction to her during her defamation trial against ex-husband Johnny Depp.
Heard, aged 36, was sued for $50 million by ex-husband Depp, 59, over a 2018 op-ed in The Washington Post in which she said that she was a domestic abuse survivor, a claim a jury found to be defamatory and false.
Following a six-week trial, the jury on June 1 awarded Depp $10 million in compensatory damages, and $5 million in punitive damages—adjusted to $350,000 because Virginia law limits punitive damages.
Heard, who had countersued for $100 million, was awarded $2 million by the jury, which found that Depp's former attorney, Adam Waldman, made defamatory comments about the Aquaman star.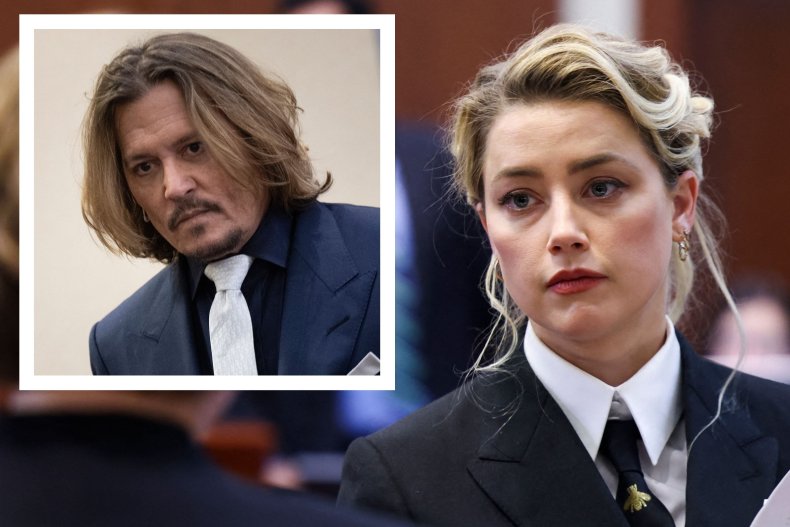 In her first sit-down interview since the conclusion of the high-profile trial, Heard was asked by Today's Savannah Guthrie about Depp's 2016 text message, in which he once vowed to deliver "total global humiliation" to her.
During a previous libel trial in London, the text message that Depp sent to his former talent agent, Christian Carino, was read out in court.
Depp hurled a series of insults at Heard as he referred to her then-boyfriend Elon Musk as "Mollusk."
"There's a text message where Johnny promises total global humiliation for you. Do you feel like that came true?" Guthrie asked.
"I know he promised it. I testified to this," Heard responded. "I'm not a good victim. I get it. I'm not a likable victim. I'm not a perfect victim. But when I testified, I asked the jury to just see me as human and to hear his own words, which is a promise to do this. It feels as though he has."
"I'm so f***ing happy she wants to go to fight this out!!! She will hit the wall hard!!!" Depp wrote on in his message, according to messages read out in court.
Depp wrote about meeting Heard, adding: "But, NOW, I will stop at nothing!!! Let's see if mollusk has a pair. Come see me face to face... I'll show him things he's never seen before... Like, the other side of his d*** when I slice it off."
Heard on Depp: 'I Love Him'
Despite their acrimonious split and subsequent legal battles, Heard told Guthrie that she "absolutely" still has feelings for Depp.
"I love him. I loved him with all my heart," said the screen star, whose 15-month marriage to Depp officially ended in divorce at the start of 2017. "And I tried the best I could to make a deeply broken relationship work. And I couldn't.
"I have no bad feelings or ill will toward him at all. I know that might be hard to understand or it might be really easy to understand. If you've just ever loved anyone, it should be easy."
Asked if she was "nervous" about what she can say in future following the trial, she said: "Of course. I took for granted what I assumed was my right to speak.
"I'm scared that no matter what I do, no matter what I say, or how I say it—every step that I take will present another opportunity for this sort of silencing, which is what, I guess, a defamation lawsuit is meant to do. It's meant to take your voice."
Heard's interview with Guthrie is set to air in full on Friday as a primetime special on NBC.