How America Lost Its Optimism
Exclusive Newsweek poll finds significant proportion of U.S. public feel their life is in a worse state today than it was in 2019.
Americans also increasingly pessimistic about the future of the United States.
The pandemic, a faltering economy and an atmosphere of increased domestic tension have impacted the mental health of millions.
Just over a year ago, President Joe Biden spoke of his desire to continue writing an "American story of hope, not fear. Of unity, not division. Of light, not darkness."
As America continued to navigate its way out of the pandemic, it was hoped 2022 would be the year society returned to some form of normality and began to look ahead to life after COVID.
However, the psychological impact of lockdown, coupled with ongoing economic problems, the war in Ukraine and the endless culture conflicts dominating the news cycle appear to have put paid to much of the positive feeling among the public.
Now, as 2023 begins, that sense of optimism appears to have been replaced by a pervading sense of despair, not just for our own futures, but that of the United States.
In a recent survey conducted by Redfield & Wilton Strategies on behalf of Newsweek, 42 percent of respondents said they felt more pessimistic about the future of the United States now than they did in 2019. By comparison 27 percent felt more optimistic.
The same study also revealed 36 percent of respondents felt their overall life was in a worse state now than it was in 2019. Some 26 percent said they felt they were in a better state now, with 33 percent admitting things were about the same.
What was once seen as a time for people to go out into the world and reconnect now appears to be receding into something else, with the Newsweek poll showing 42 percent of the U.S. public feel less sociable now than they did in 2019. The data also shows just 18 percent feel more sociable now than they did three years ago.
So how did America lose its optimism?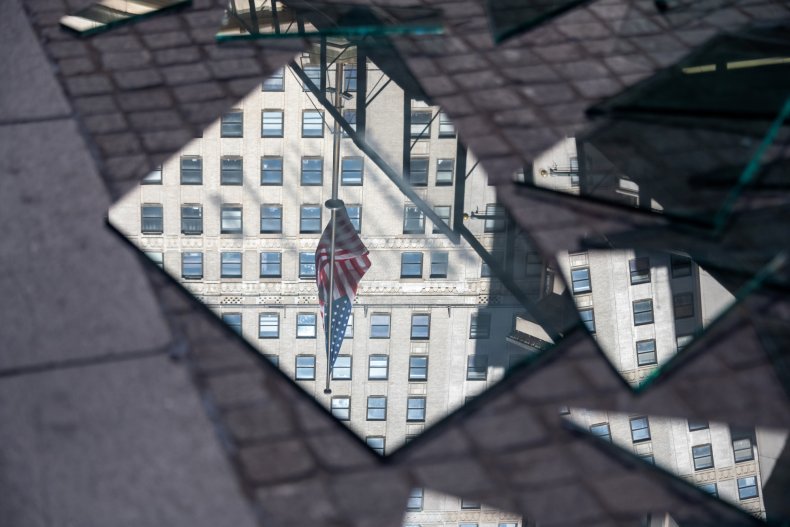 Bad Brain Chemistry
There's no denying that the pandemic took a significant toll on the mental health of millions across America. Research published in The Lancet Regional Health by researchers from Boston University found that, prior to the pandemic, around 8 percent of U.S. adults experienced some form of depression. By April 2020, that proportion had jumped to 28 percent. When researchers returned to survey the same group again in 2021, the figure rose to 32 percent.
While the World Health Organization recently acknowledged that we are in a "best position" to deal with COVID, the isolation lockdown created has left a lasting impression on the human psyche, as Terry Randolph, a licensed professional counselor, has seen first hand.
Randolph is chief program officer at Pyx Health, a telehealth service that supports those suffering from loneliness and social isolation. She told Newsweek she has witnessed firsthand how the pandemic has "exacerbated" these issues and continues to do so even as life returns to normal.
"As humans we're built to be connected to each other. We really crave those social interactions so when we experience isolation or perceived isolation, which is something the pandemic really heightened, it changes our brain chemistry," she told Newsweek.
"It really puts us in these negative thought pattern loops, much like chronic stress does, which then heightens our fear of the world around us. We trust people less and that then forces more isolation and less social interaction, which again, the pandemic facilitated as well."
Randolph believes it's crucial to view loneliness as a "chronic condition" and not only treat it that way but understand it "takes time to get out of those negative thought patterns."
Learned Helplessness
Dr. Danielle Kelvas, chief medical adviser for the sleep advice website Sleepline, believes the pandemic also led to a state of "learned helplessness" in the wider public.
A term first coined by psychologist Martin Seligman in 1967, learned helplessness refers to a state whereby an individual repeatedly experiences a stressful situation. In time they come to conclude it is beyond their control to change things, so do not make any attempt to do so, even when opportunities arise.
"Millions have died, lost their entire careers, and gone bankrupt," Dr Kelvas told Newsweek. "Without a perceived sense of control, humans naturally lose motivation and become pessimistic. This ripple effect from the pandemic will impact the population for years. We haven't seen the worst of the shockwave yet regarding learned helplessness."
While the effects of the pandemic are dissipating, other factors may also be contributing to this theoretical "shockwave" of learned helplessness. Worries over a potential recession remain prominent in the thoughts of many Americans, with a previous survey by the financial services website Bankrate finding 69 percent of U.S. adults are worried about the possibility of a recession before the end of 2023.
The war in Ukraine and Russia's rhetoric around the use of nuclear weapons also appears to be at the forefront of many people's minds, with polling by the Covid States Project finding 78 percent of U.S. adults are either somewhat or very concerned over the conflict.
Divided America
Yet while the current global political climate may have given pause for thought, domestically America emerged from the pandemic more divided than ever in the wake of flashpoints such as the killing of George Floyd.
"A lot happened during the pandemic that was NOT just a public health crisis," Dr. Terrell Lamont Strayhorn, a professor of higher education and women's, gender & sexuality studies from Illinois State University, told Newsweek.
"We simultaneously experienced historic reckoning with race, gender etc as displayed through #BlackLivesMatter, #MeToo, #AntiAsianHate and these continue. These movements and moments exacerbate COVID-related stress among women, people of color and distressed communities."
On a more general level, President Biden's struggles with the economy, coupled with the continued presence of former President Donald Trump in the discourse has left America with an increasingly partisan political system.
The recent midterm election results, which saw the Republicans win the House while the Democrats claimed the Senate, did little to alleviate this. An IPSOS survey conducted in the wake of the results highlighted the continued unease with just 41 percent of respondents saying they were relieved by the results compared with 50 percent who said they were left worried. The same study found that while 42 percent said they felt better about their fellow Americans, 37 percent felt worse now than they did before.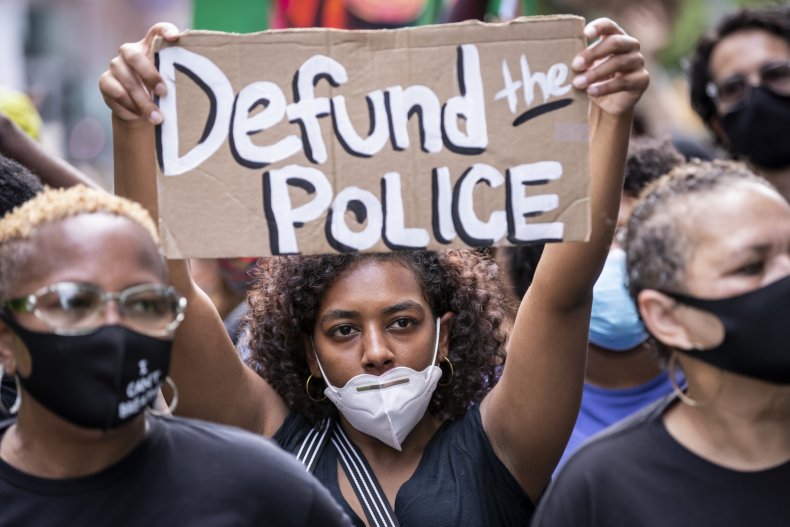 A Vicious Cycle
It's also important to acknowledge the role social media may be playing in shaping perceptions. According to a 2022 report by the Reuters Institute for the Study of Journalism, trust in the news is declining, with just 42 percent of people stating they trust most news most of the time.
The proliferation of bad news brought on by the pandemic and the various issues surrounding it has also seen many turn away from the news. The Reuters report found 38 percent of people now often or sometimes avoid the news, in a figure that represents a rapid rise on the 29 percent recorded in the 2017 report.
At the same time, social media has emerged as a popular source of information - and misinformation. In a 2022 Pew Research Center survey, 50 percent of 18- to 29-year-olds in the U.S. said they had "some or a lot of trust" in the information they get from social media sites. Further to this, 56 percent said the same about information gleaned from national news organizations.
While the proportion of those placing trust in information gleaned from social media slips to 36 percent among 30 to 49-year-olds and 25 percent for the age bracket of 50 to 64, that's still a significant proportion turning to sites like Facebook,
When you consider that, as per a Business Insider report, Facebook posts from misinformation sources get sxi times more engagement than reputable news sites, there's definite cause for concern. Dr. Kelvas is a staunch critic of the role social media has played in worsening mood and mental health.
"Something I have seen with my patients as a consequence of spending so much time at home is that many have developed social anxiety disorders and borderline agoraphobia," she said. "This funnels people to the news and social media, which collects data on us, and shows us more of what we tend to click on. If someone is feeling depressed or pessimistic, the internet will provide more in the same vein, creating a vicious cycle."
The isolation created by the pandemic coupled with the echo chamber of platforms like Twitter can have a hugely detrimental impact. "We get in those patterns of feeling afraid of the outside world, outside of our bubble and feeling distrustful of people who are not like us," Randolph said. "All of that kind of conspires to increase our sense of isolation, anxiety, fear and distrust and pessimism about the world around us."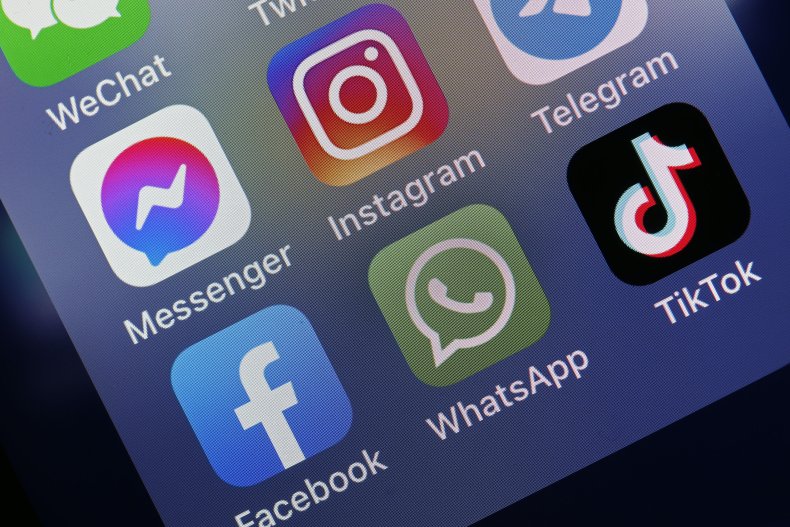 Collective Withdrawal
It all adds up to a volatile cocktail, summed up best by psychiatrist and author Dr. Mark Goulston who told Newsweek: "People have felt pummeled by the pandemic, the 24/7 (mostly bad/angry) news cycle, the uncertainty about the future and so there has been a collective withdrawal - like a deer hit by a car - to lick our wounds."
"They feel like if they interact they will be further exhausted," he adds. "But the more you push yourself to interact with people and to especially show caring and curiosity towards them, the more they will light up and show appreciation towards you."
Ultimately, in order to break the cycle, Randolph believes more time must be taken to focus on mental health and rather than look outwards to the world for positive reinforcement, seek it within ourselves through simple exercises like writing appreciation letters.
"We're going to have to really intentionally try and work at getting back to a state of feeling more optimistic and wanting to connect and be social with other people," she said. "We can't control certain things in the world but what we can control is how we interact with it."