Leslie Grossman Shares Sweet Way Macaulay Culkin Celebrated Son's Birth on 'AHS' Season 10
Macaulay Culkin and his partner Brenda Song welcomed their first child, a son named Dakota after the Home Alone star's late sister, on April 5, 2021.
The actor was in the midst of filming for American Horror Story Season 10 at the time, and his co-star Leslie Grossman has revealed the sweet way in which he celebrated his son's birth on set of Part One of "Double Feature", titled "Red Tide".
Speaking to Newsweek about working with the Richie Rich star, who plays prostitute Mickey, Grossman shared how he was the "proudest dad" on set.
She said Culkin would gush about his partner and son with his co-stars, showing pictures of them once he returned from hospital after being with Song at their son's birth.
"You know his partner Brenda Song was pregnant when we started, and actually gave birth while we were filming and he was just so focused on that," Grossman said of Culkin. "He's so in love with her and [was] so excited about the birth of their child.
"He was with her when she gave birth, but then he had to work two days later and [he] brought cigars for everyone and was the proudest dad, and so in love with her, and so excited about this new chapter in his life.
"I think he has so many things that are wonderful going on in his life right now, and it was really lovely to be around that."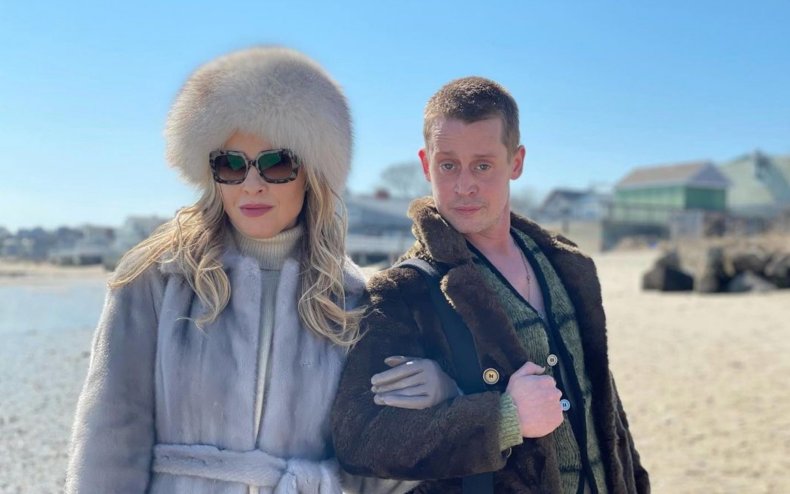 Grossman, who plays agent Ursula in "Red Tide", added: "He was thrilled, and just so excited, and showing everyone pictures.
"That's just a nice energy to be around. I'm so happy for him and I think he's in a really, really wonderful place in his life."
Grossman also heaped praise on Culkin as an actor, saying that while he was a newcomer to the AHS universe, he immediately was at ease on set because it's like a second home to him.
She reflected: "You know I don't have enough good things to say about him, he was so game, and lovely, and warm, and sweet, and there's an enormous vulnerability in him.
"He has this and it works so perfectly for his character because in person you kind of immediately want to take care of him, you know?
"He's so... there's no pretence, he is really open about who he is and also you just feel this is somebody who was raised working on set, and so he just seems very, very at home.
"He knows this better than anyone else knows this world, and not in an obnoxious way, in just a 'this is my comfort place,' you know? 'This is something I know like the back of my hand,' and it's probably like an old, cosy sweater that he puts on."
The pair share a number of scenes together in the season's third episode as Culkin's Mickey tries to get signed by Grossman's Ursula, and they start working together to make a business off of the mysterious pills that enhance writers' talent and cure writer's block.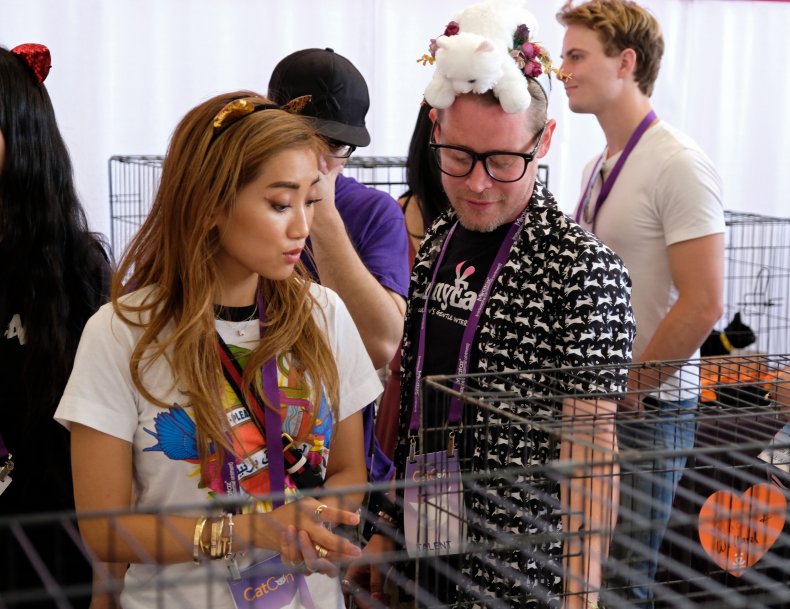 While they no doubt have more scenes together, Grossman said of what fans have seen so far: "He's just a wonderful scene partner, and really just engaged and made such good choices.
"It was an absolute pleasure to work with him, he's wonderful, I don't have enough good things to say about him."
She went on: "And what I love about him is he does not take himself seriously, he'll make jokes about [being in Home Alone].
"Some people have weird chips on their shoulders [about] whatever they had gone through in their younger years, and I found him to be incredibly open and really self-aware and fun, just really fun to be around."
Culkin made his American Horror Story debut in "Double Feature", but now he is part of the family he may well return for future seasons, like Grossman and many other actors who have appeared on the show.
And given how much praise Grossman gave Culkin for his work on the show, it seems reasonable to believe he'll be back sooner rather than later.
American Horror Story season 10 airs weekly on FX on Wednesdays, and it is available the next day on FX on Hulu.