Leslie Grossman Says Ursula Is Her Favorite Character in 'American Horror Story' Universe
The cast of American Horror Story make regular appearances in the franchise, taking on new roles each season of the anthology series.
Some actors, like Evan Peters and Sarah Paulson, have been part of the show's family since it first began in 2011, and Leslie Grossman has also appeared in multiple seasons after making her debut in "Cult" in 2017.
And the actor is currently starring in the horror show's 10th season "Double Feature", which has been split into two parts "Red Tide" and "Death Valley".
In the first she portrays Hollywood agent Ursula, a no-nonsense businesswoman who will stop at nothing to get her way, and who has quickly become Grossman's favorite character that she's portrayed on the show.
Speaking to Newsweek about the her character and what fans can expect from the new season, Grossman said she loved playing the agent because she was a "complete sociopath" who got the "best lines."
"There was just a lot in Ursula that I recognized in the characters that I have come across professionally," Grossman said of the part.
"Just that absolute disregard for anything involving a soul, and the only goal is money, power, and success, and that there are certain people that are not burdened by a conscience.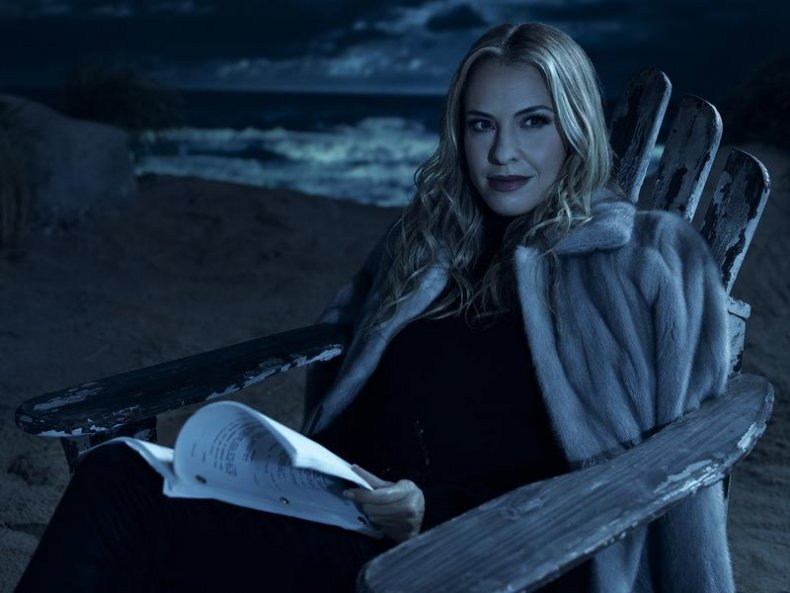 "A conscience would hinder their ability to be successful, and she's really a composite of many different people that I've interacted with and met over the years.
"Obviously this is an extreme case, because those people haven't been murderers, but, you know what? In their own special way, they've been metaphorical murderers in their desire to destroy anyone they feel is standing in their way, to use people for all their worth for their own gain and then drop them when they're no longer useful to them, that's a murder in and of itself."
In episode three of "Red Tide", Ursula makes it her mission to get a hold of the pills that writer Harry (Finn Wittrock) and others have been using to enhance their talent, and she is completely unfazed by the horror that surrounds her.
For example, Ursula doesn't even bat an eyelid when Harry's daughter Alma (Ryan Keira Armstrong) kills police chief Burleson (Adina Porter) just to drink her blood.
"I think that Ursula is not fazed by anything," Grossman reflected. "I think that she's probably seen the worst of human behaviour [by] becoming a successful agent, and I just think this is the next natural step.
"Oh, well she seems to have killed this person', that's something that has to be dealt with but it's just a minor distraction from what she really wants.
"I just think it was so fun to get to play that because it's obviously entirely the opposite to how I would have reacted in real life to a situation like that, so it's sort of fun to lean into that abject sociopathy.
"She's just a complete sociopath, and although she cares about what she cares about -which is money and success- the police chief being brutally murdered, lying on a table bleeding out in front of her is just a minor bump on the road to her ultimate goal, so that was a lot of fun to get to play."
When asked if she had a favourite season of AHS that she's been in, Grossman admitted that it was like "choosing your favourite children" but she felt that Ursula was the best character she's been able to portray, so far.
"I love all of them, but I will say this season that's airing now I think is my favorite, I really, really love Ursula," she explained.
"Even though the stuff she does is outrageous, she's actually quite grounded and I do feel that she is the most grounded character that I've been able to play, and to me this season feels like a Pinter play.
"Everyone is talking like everything is completely normal but there's this violence bubbling up just under the surface at all times.
"I just love the tenseness of it, the stillness, with those big bursts of violence which is even more shocking because it's this quiet winter town."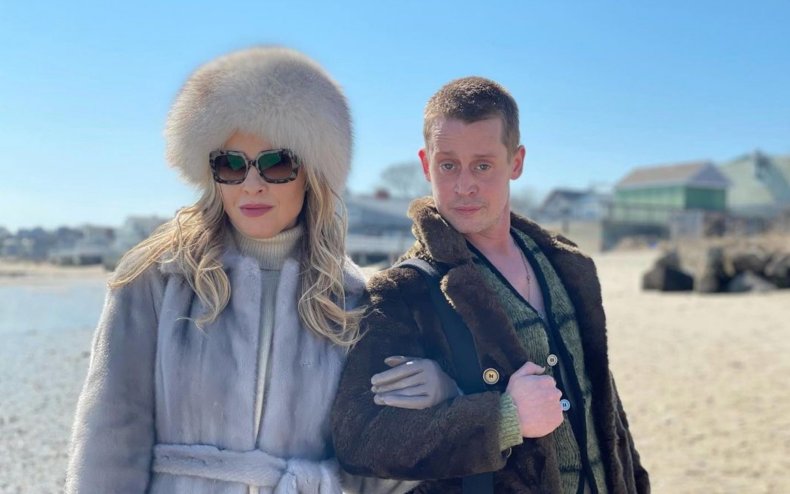 She went on: "From a personal standpoint, I get the best lines... and those monologues when I first see them in the script I think 'oh my god, how am I going to do this', but they always lock in immediately.
"I don't know what it is, but I just love that I get to say those words, I love the people I get to act with, the hair and make-up and the clothes, the lighting, the crew."
Discussing her co-stars, Grossman heaped praise on newcomer Armstrong for being "so fantastic" as nine-year-old Alma, and "jump[ing] into this feet first".
"I've seen a lot of bad stuff about kid actors, and she defies every one of those things," the actor gushed. "She is such a natural force of nature, a great talent, it was such a joy to get to work with her, I loved all my scenes with her."
Grossman also spoke highly of Peters and Frances Conroy, who play writers Austin Sommers and Belle Noir respectively, and shared how much she loved their singing scenes.
She said excitedly: "Is that not the best, are those karaoke scenes not incredible? They both have beautiful voices. To me, is there anything more instantly iconic than Belle and Austin? Just incredible!"
Grossman also detailed how they filmed the season while Los Angeles was the biggest Covid hotspot in the world, which made it "a little scary" to return to work.
"It was a little scary to go back, but I did feel very protected. We had no issues with that first half with any [Covid cases], nobody got it, we didn't need to shut down," she explained.
"I felt that Disney had really excellent protocols in place, so it became almost like, as corny as this sounds, almost like a little haven.
"I got to go to work and shut out all the other stuff that was going on in the world and just focus on this work. So, it was just really good for me to get to do that."
While she couldn't share too many details about the rest of "Red Tide" and how it may, or may not, link to "Death Valley", Grossman did share how excited she was to see fans' reactions to the first half's finale.
"Oh my god I'm so excited to know what you think," she said. "I'm really curious to know what you think because I have to say the finale is something else, it goes in some pretty wild directions so I'm excited for people to see it."
American Horror Story season 10 airs on FX weekly on Wednesdays, and it is then released the next day on Hulu.