'American Horror Story' Season 10, Episode 4 Preview: Belle's Bloody Backstory Revealed
American Horror Story Season 10 only has two episodes left of its first story, and dozens of questions about the blood-drinking residents of Provincetown that the FX show has to answer.
According to the previews of Episode 4, titled "Blood Buffet," AHS is about to answer some of those stories. The trailer hints that the episode will be that American Horror Story staple, the flashback episode.
Particularly, the trailer for "Blood Buffet" seems to focus on the gruesome twosome that is Belle Noir (played by Frances Conroy) and Austin Sommers (Evan Peters).
When we first met the two of them at the start of Double Feature, they were already acclaimed writers with an addiction to mysterious black pills—and, of course, human blood.
Per the trailer, however, Episode 4 looks ready to reveal how they got to be the monsters they air.
What to expect from American Horror Story Season 10, Episode 4
The official synopsis for "Blood Buffet" reads, "the dark history of Provincetown and its residents are brought to light."
In the trailer, we are in the not-too-distant past. We see a bedraggled Belle who is very different from the glamorous vamp that we met in Episode 1. It seems she is in the same position Harry Gardner (Finn Wittrock) was in at the start of the show, and has come to P-town to try and clear her writer's block.
Luckily, The Chemist (Angelica Ross) is here to help. She offers Belle one of the black bills that has caused so much drama over the last few episodes, and asks, "you want to know about the side effects?"
Of course, AHS fans know the side effects already. The pills will unlock all the creativity of any true artists that take them, but also make them crave human blood. As for the un-creative, they turn those into Nosferatu-like creatures of the night.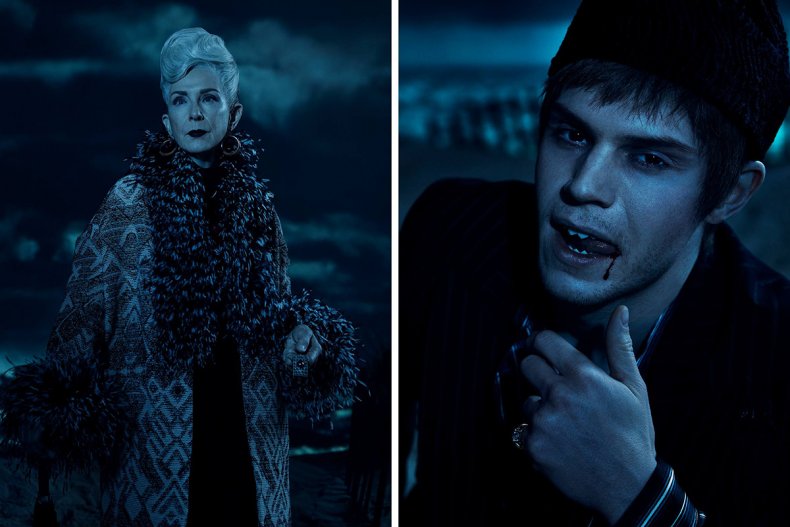 As we already know, Belle takes the pills, saying she'll do "whatever it takes" to get over her writers block.
The episode also looks set to go into more detail about what happens to those who are not true artists but do take the pills. The promo features an unnamed man who takes the pills, and then starts to notice his hair falling out. As the Nosferatu monsters are all bald, it seems he is about to become one of them.
"Blood Buffet" also looks to reveal a new side of Belle's accomplice Austin. We see him perform in the Provincetown bar (as we have before), but this time he is in drag.
It was first revealed in April that Evan Peters' character would be in drag for some of AHS Season 10 after fan sites leaked the news from set. In the trailer, we see fellow drag queens in the bar cheering him on. Among them is likely to be RuPaul's Drag Race All Stars winner and Cher impersonator Chad Michaels, who was confirmed back in May. Other Drag Race queens have spoken on social media about auditioning for the show, so do not be surprised to see a few there.
As revealed in the promo, it is after this performance that Austin appears to meet Belle for the first time. We see her offer him one of the black pills and say, "let's go get you fed."
American Horror Story continues Wednesdays at 10 p.m. ET / 9 p.m. CT on FX.