American Pickers' Mike Wolfe Reveals What 'Doesn't Work' in the Show Today
Mike Wolfe dispelled rumors that American Pickers is "scripted" during a back and forth with viewers on social media.
The creator and co-host of the long-running reality show was interacting with fans on TikTok and Instagram after sharing some behind-the-scenes footage online. He addressed topics like former host Frank Fritz, the alleged absence of Danielle Colby and the lack of diversity amongst his crew.
One thing which was consistently brought up, and often batted away by Wolfe, was the topic of American Pickers becoming more "staged" and "scripted" over the years.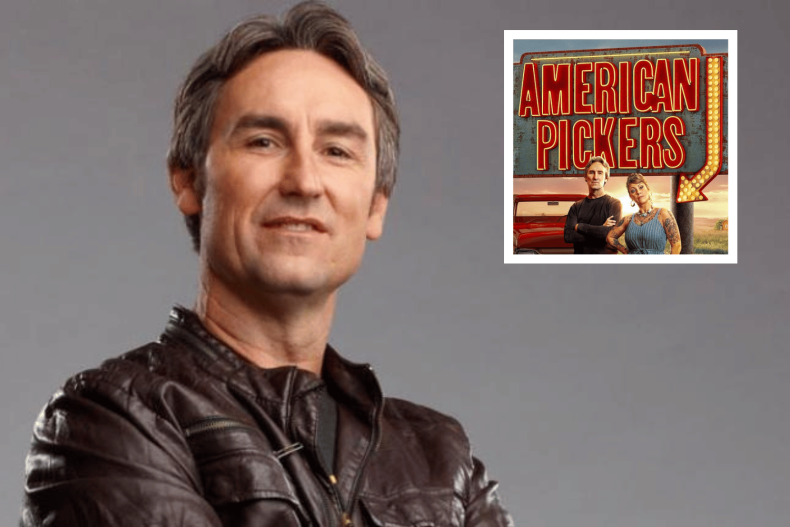 American Pickers has been a fan-favorite on the History Channel for over 13 years, with Season 24 currently airing. Over that time there have been some changes to the way the show is shot and produced, which Wolfe addressed after hearing from fans.
Responding to a fan's comment, Wolfe admitted there's less "freestyling" on the show now. "If you notice we don't do that anymore. It doesn't work into the show we're too recognizable now. Miss that though it was fun and exciting," he wrote.
The lack of freestyling doesn't mean that the entire show is staged, as Wolfe was quick to point out when other people left comments suggesting so.
When one TikTok user commented "[too] bad it's all staged," Wolfe took exception to the insinuation. "Staged meaning we know where we're going. Yep true story. [Scripted?] Negative," he replied.
He elaborated after another person made a similar suggestion.
"There is no script for this show when we're picking we either find something or we don't. Yes there are thru stories to make what we do into a show," Wolfe wrote.
The comments and responses from Wolfe were instigated by the host of American Pickers sharing a video which highlighted the names and roles of the behind the scenes team.
Many of the comments asked Wolfe why Antiques Archaeology shop manager Colby was missing from the video, seemingly worried that she'd gone the way of former host Fritz and had been removed from the show. Wolfe assured several fans that she was back in the office, implying that she's still a part of the show.
It was announced in July 2021 that Fritz would be leaving the cast of American Pickers, despite being a co-host since it began in 2010. He later suffered a stroke in July 2022 which prompted fans to urge Wolfe to make amends with Fritz. Seemingly unprompted, Wolfe addressed Fritz' contribution to the show.
"Nothing will ever replace Frank we miss him. Very much like y'all do," Wolfe wrote.