America's Got Talent has featured plenty of emotional auditions this year, from the nurses who found time during the pandemic to form a choir to Nightbirde, the singer who auditioned for the show after being given a 2 percent chance of survival of cancer.
For many viewers, however, the most tear-jerking audition from this edition of the NBC talent show was Matt Mauser, who appeared in the July 6 audition of the show. The singer appeared on the AGT stage a year after losing wife Christina Mauser in the January 2020 helicopter crash that also killed Kobe Bryant and family.
On the show, he paid tribute to his wife and performed Phil Collins' "Against All Odds (Take a Look at Me Now)," while his three children stood supporting their father in the wings.
Speaking to the judges, he introduced himself by saying: "On January 26, 2020, I lost my wife, in the same helicopter crash that killed Kobe Bryant."
Speaking to America's Got Talent host Terry Crews, he paid tribute to his wife, who was the assistant coach to Bryant of Team Mamba, the girl's basketball team of which Bryant's daughter Gianna was a member.
Matt Mauser said: "She was just this very humble, powerful, beautiful human being. When she left that day, she kissed me and she said, 'I love you.' And that was the last thing my wife ever said to me."
Asked by AGT judge Simon Cowell why he decided to share his story on the show, the singer said: "I'd like to make sure that my children see that, in spite of the grief that we've been through this year, that that grief is not going to define who we are as a family. And that my children see that you have to find joy in life and you have to continue."
Prior to his audition airing, Mauser appeared on Access, when he was asked how music had helped him get through the loss of his wife. He said: "Music heals...when I needed to grieve or I needed to have an outlet just to kind of just express myself it was through music."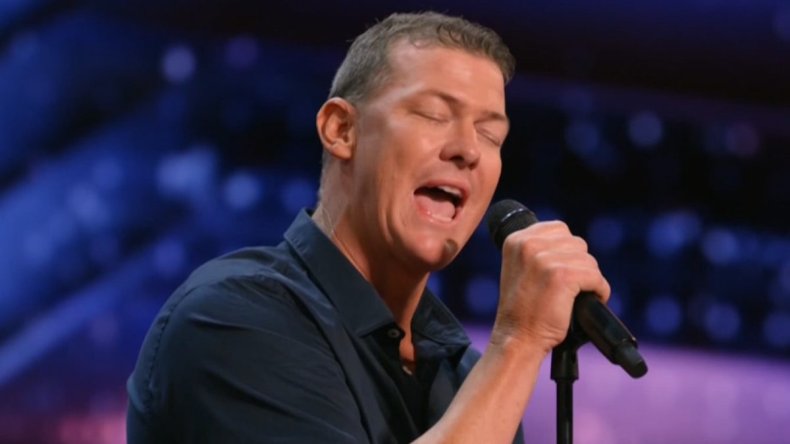 In that interview, he revealed he had been approached to audition for the show. He said of this: "First i was reluctant, I didn't know if it was something I was ready to do...I was a little nervous that I might fall apart so I had to find the strength.
"I thought it would be inspirational not only for me but for my children to see that in spite of having lost the most important person you've ever known you gotta get back up and you gotta keep trying.
"It's what my wife would have said. And do I just listened to what she would say, and she would say 'get up and do it.' So I did."
America's Got Talent 2021 airs Tuesdays at 8 p.m. ET / 7 p.m. CT on NBC.