Amid Silence, Cuba Calls on Biden to End 'Cruel' Blockade He Too Sought to Change
A senior Cuban official is calling on President Joe Biden to once again strive for reconciliation between the two longtime foes after the previous administration tightened the United States' decades-long blockade on the Communist-led island.
So far, the White House remains silent.
"There has been no high-level contact," Carlos Fernández de Cossío Domínguez, director of the Cuba Foreign Ministry's General Division for the United States, told Newsweek.
"The Biden administration has publicly stated that a policy review process towards Cuba is underway," he added. "We do not know the true pace and scope of this process."
The review is one of many announced by U.S. officials since the departure of former President Donald Trump. President Biden has called into question a myriad of his predecessor's policies, reversing a number of key foreign policy issues including arms control treaties, the war in Yemen and climate change in his first 100 days in office.
But he's yet to deliberate on Cuba, where Trump rolled back a historic rapprochement pursued by his predecessor, former President Barack Obama, whom Biden served as vice president.
Perhaps most frustrating to Havana is the Biden administration's hesitance to repeal Cuba's inclusion on the State Department's list of state sponsors of terrorism, a controversial decision made in the final days of the Trump administration.
Cuba was removed from the list during the 2015 warming of ties between the Cold War-era enemies, and its redesignation means more woes for the island nation, as it remains subject to a wider economic embargo that has now spanned some 13 U.S. presidencies.
"The inclusion of Cuban entities in the unilateral lists of the State or Treasury departments discourages investments in our country and substantially limits the entry of foreign currency, but Cuba is not a sponsor of international terrorism, nor does it represent a threat to the United States," Fernández de Cossío said. "It is known to the President of the United States, the Secretary of State, officials of the Department of State, and those in charge of issues of law enforcement and compliance."
Trump's last-minute move, "in addition to constituting an unsubstantiated slander, has additional practical implications for Cuba," which "is a victim of terrorism, a scourge that for decades has been organized, financed and perpetrated by the U.S. government, or by individuals and organizations based in its territory," Fernández de Cossío argued.
However, he said there was room for cooperation, rather than further antagonization.
"Our country maintains a consistent and documented position of intolerance against terrorism in any of its manifestations," he said. "It is expressed in the will to maintain bilateral cooperation mechanisms to confront this scourge for the benefit of both countries. U.S. authorities linked to law enforcement can attest to Cuba's will, capacity, and seriousness in fulfilling its commitments in the fight against terrorism."
But even removing Cuba from the terrorism list once again would leave in place the expansive economic boycott that applies not only to U.S. businesses but also to foreign firms looking to trade with Cuba. The policy has been repeatedly condemned by the United Nations, and Fernández de Cossío calls it "a violation of International Law."
"It is also a cruel policy and without any moral foundation," he added.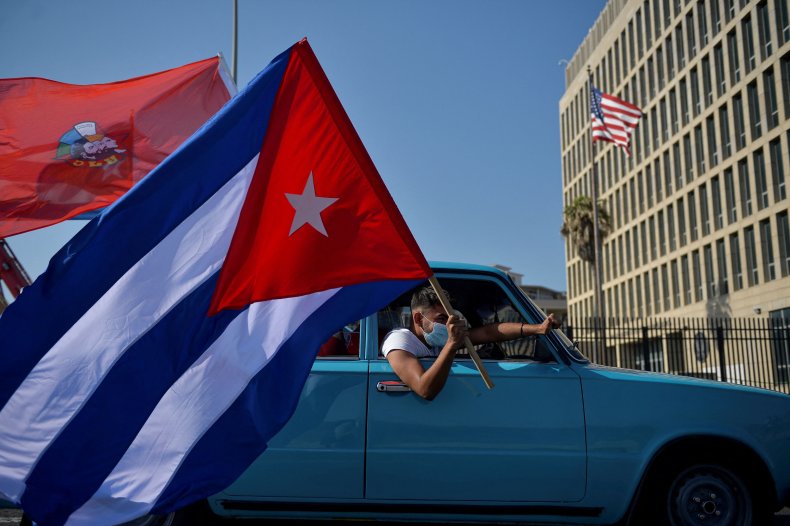 The beginning of broad U.S. sanctions on Cuba dates back to the uprising that resulted in revolutionary leader Fidel Castro overthrowing U.S-backed President Fulgencio Batista in 1959. Faced with U.S. hostility for nationalizing lucrative industries, Castro turned to the Soviet Union for support, and soon set Cuba up to be a major flashpoint in the global geopolitical contest between Washington and Moscow.
Castro would lead Cuba in one form or another for roughly half a century, before eventually ceding power to his younger brother Raúl in 2008, the same year Obama was elected. The elder Castro would live to see the landmark reestablishment of ties with Washington, the first U.S. presidential visit to Cuba and even another high-profile trip made six months later by the current first lady, Jill Biden, in October 2016.
Today, Fernández de Cossío looks back fondly on Jill Biden's tour, which he called "an opportunity in which she exchanged with Cuban counterparts on issues of culture, education and health."
"We suppose that she appreciated that our country, with a modest economy and few natural resources, has an appreciable social development and a developed capacity to equitably attend to the social problems and the most pressing needs of the vast majority of the population," he said.
But weeks later on November 8, 2016, Trump was elected president with a sworn anti-socialist agenda that sought to once again isolate Cuba. Fidel Castro died on November 25, and the Obama administration came to an end in January 2017.
"The Trump administration applied a policy of tightening the economic blockade against Cuba," Fernández de Cossío said, "expressed in the adoption of more than 240 coercive measures, of which 55 were implemented in the context of the COVID-19 pandemic, which prevent or complicate the acquisition of supplies necessary to face the pandemic, with the clear intention of aggravating the Cuban economic and social scenario."
Such measures, he argued, "damage bilateral relations, hinder the economic development of the country, and their effects inevitably affect the daily life of the Cuban people in all spheres."
Joe Biden has acknowledged the harm inflicted upon everyday Cubans. As vice president, he spoke in support of Obama's efforts to relax travel and trade restrictions on Cuba, and he promised to roll back Trump's strategy during his presidential campaign, saying in September that he would "try to reverse the failed Trump policies that inflicted harm on Cubans and their families."
At the same time, Biden has echoed the longstanding accusations of authoritarianism, human rights violations and Cuba's involvement in the crisis in leftist-led Venezuela, where Nicolás Maduro has held onto power despite U.S.-backed attempts to oust him. Biden has so far extended the prior administration's approach to Venezuela, and there has been no major change in the approach to Cuba.
White House spokesperson Jen Psaki told reporters last month that a shift in Cuba policy was "not currently among President Biden's top priorities," and she used identical language earlier this week when asked about it again by journalists.
The absence of direction comes despite what may be a major development on the island just 90 miles off the coast of Florida. Raúl Castro, who left his presidential position in 2018, has announced his resignation as the head of the Cuban Communist Party. This marks the first time in six decades that a member of the Castro family will not be leading the nation, as President Miguel Díaz-Canel assumed the top position during Monday's congress.
But even in the wake of this milestone transition, a senior Biden administration official told Newsweek that no contacts with Cuba were planned until the end of the internal review.
"We are currently reviewing policy toward Cuba, and have no meetings or announcements at this time," the senior administration official said. "It is for the Cuban people to speak to the results of the party congress."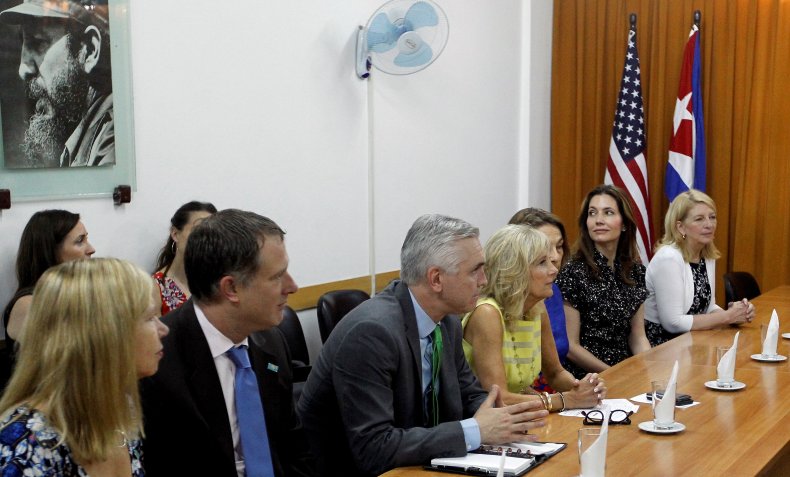 A State Department spokesperson offered Newsweek a similar response, adding that "our diplomats regularly meet with Cuban officials on matters of U.S. national interest, including human rights, both in Washington and in Havana."
The latest State Department global human rights report published late last month accused Cuba of various offenses including arbitrary detainment and execution, press censorship and political and cultural repression. Cuba has vehemently rejected the allegations listed in the report.
Fernández de Cossío confirmed, however, that lower-level talks took place between the countries, but said work here too has been hindered as a result of Trump administration measures.
"Contacts between officials of both governments take place through the embassies in Havana and Washington, whose operation was also limited by a unilateral decision of the United States," he said.
The U.S. embassy in Cuba, the 2015 opening of which was celebrated by Biden, remains in limited operation in response to suspected microwave or sonic attacks that targeted U.S. personnel in a series of events termed "Havana syndrome" but were never officially linked by the U.S. to the Cuban government, which has always denied any role in the alleged affair. The measure was one of many under Trump that set back burgeoning ties between Washington and Havana.
As for Biden's approach, the senior administration official outlined a formula that would be based both on political ideology and the interests of a key U.S. constituent.
"The United States is focused on democracy, human rights, and empowering the Cuban people to determine their own future," the official said. "We know that our Cuba policy will be governed by two principles. First, support for democracy and human rights will be at the core of our efforts; we will empower the Cuban people to determine their own future. Second, Americans— especially Cuban-Americans—are the best ambassadors for freedom in Cuba."
The State Department spokesperson also echoed this position.
The Cuban-American community, much of which can be traced to a diaspora that has fled Castro's rule, and influential members have expressed largely hawkish views toward Communist Cuba. Trump attacked Cuba, Venezuela and Nicaragua at length during his presidential campaign stops in Florida, a major state he won in November despite losing the contest nationally.
Prior to Biden, only two U.S. presidents since 1928 had managed to secure the election without winning Florida.
Republicans have long been especially skeptical of letting go of what Obama referred to during his detente as "the last vestige of the Cold War in the Americas."
Florida Senator Marco Rubio, a Cuban-American, tweeted last week that "Raul Castro stepping down as head of the Communist Party in #Cuba isn't real change, adding that "real change is already underway nonetheless." He's joined by fellow Florida Senator Rick Scott and fellow Cuban-American Texas Senator Ted Cruz in pursuing legislation that would block Biden's ability to repeal Cuba's state sponsor of terrorism designation.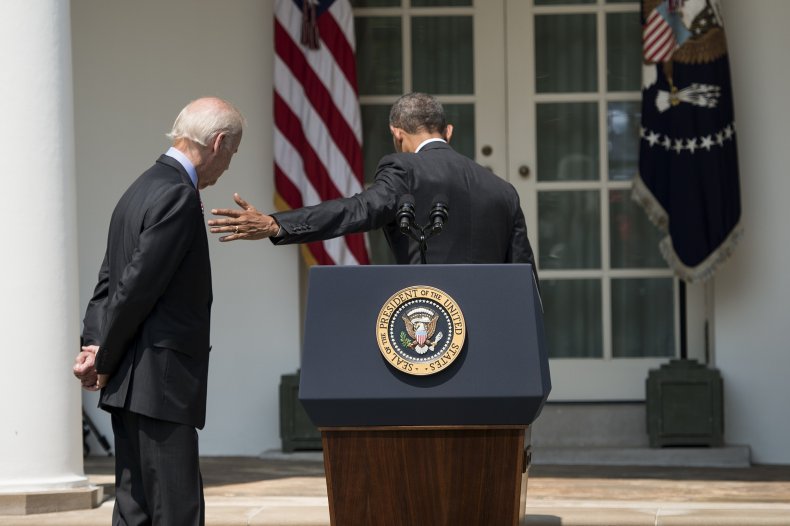 A number of Democrats, on the other hand, have pushed for a policy that more closely resembled that of Obama. Among them, Massachusetts Representative Jim McGovern hailed what he saw as progress in various Cuban sectors under the Obama administration's approach, and urged the Biden administration to "not make the mistake of moving slowly and incrementally" in remarks on the House floor last month.
"We need to act now," McGovern added at the time.
Up to 80 members of Congress, as well as activist groups like the Alliance for Cuba Engagement and Respect, Foundation for the Normalization of Relations with Cuba, Cuban Americans for Engagement and Bridges of Love have petitioned Biden to pursue dialogue with Cuba.
Fernández de Cossío, for his part, told Newsweek he felt average U.S. citizens would sympathize with Cuba's plight if they understood the extent to which the blockade hurts the country and its people.
"It is difficult to suppose that the common citizen of the United States agrees or is in line with his or her government punishing the entire population of a neighboring country for more than 60 years with the purpose of causing economic instability, hardship, lack of supplies and the suffering of the entire population," he said.
"Because to maintain this morally unsustainable policy," Fernández de Cossío said, "the United States government has resorted to deception, distortion of the truth, concealing information, and trusting in its ability to ensure that the majority of the people of the United States ignore what happens in Cuba."
He saw a broad consensus against Trump administration policies that created a situation in which he argued "U.S. citizens and business sectors alike are limited in developing a relationship that has proven to be beneficial to both countries."
"The Trump administration interrupted bilateral political exchanges, official dialogue and cooperation between the two countries based on mutual interests and benefits with positive results that were recognized by both parties," Fernández de Cossío said.