For years, Democratic candidate Ammar Campa-Najjar condemned Abu Yusuf al-Najjar, the man once believed to have been associated with the terrorist attacks at the 1972 Munich Olympics.
Now, Campa-Najjar, who isrunning against indicted Republican Congressman Duncan Hunter, tells Newsweek that his view has greatly changed of al-Najjar — his grandfather.
"I condemned him because I presumed — I accepted the premise that my grandfather was absolutely the mastermind or involved in the Munich attack. And if he was, hell, I would be the one to take him out," Campa-Najjar says. "Now, I found that it's disputed. So, upon that evidence, you can't have your beliefs immune to evidence."
The decision for the 30-year-old to view his grandfather's alleged past with "renewed skepticism" is a major shift for the congressional candidate, one that he says came after considering a wider array of facts and evidence, some of which points to al-Najjar not being affiliated with the deadly terrorist plot that occurred nearly four decades ago.
At the same time, Hunter, the embattled Republican representative of California's 50th Congressional District who will soon stand trial for allegedly misusing a quarter of a million dollars in campaign funds, continues to issue "Islamophobic" campaign attack ads about Campa-Najjar's long-deceased grandfather in an effort to capitalize on the complex and unclear history of a political foe's family. On the campaign trail last year, Hunter also continually suggested that Campa-Najjar was a national security risk.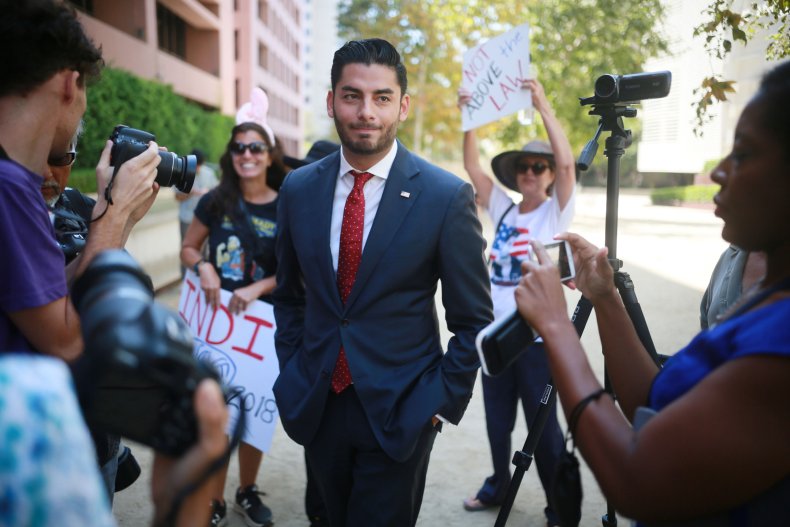 The man behind the Munich Olympic attack that killed several Israeli athletes, Abu Daoud, died in 2010 at 73-years-old. The attack was carried out by Daoud's Palestinian militant group, Black September, which was reportedly an offshoot of Fatah, a major political party within the Palestine Liberation Organization (PLO). As part of a wider operation to track down those responsible for the attack and affiliated with Black September, al-Najjar was assassinated a year later in 1973 by Israeli forces.
But al-Najjar's involvement in the terrorist attack has been called into question at several points in history, which has become the reason of Campa-Najjar's hesitance to continue condemning his late relative. At the time, al-Najjar was a founding member of Fatah and the PLO Executive Committee, according to Rashid Khalidi, an Arab studies expert atColumbia University. In the years leading up to his assassination, Khalidi said al-Najjar was the "equivalent of the foreign ministry" as head of the PLO Political Department.
And based on an 8-year investigation by Israeli journalist and New York Times Magazine writer Ronen Bergman, al-Najjar was one of several Palestinian men killed whom were neither involved in the terrorist attack nor Black September.
"The people who were killed had no connection to Munich whatsoever," Bergman told The Times of Israel last year, referencing the Palestinians whom the Israeli government targeted in the wake of the attacks. Najjar was one of them.
Bergman published the book Rise and Kill First: The Secret History of Israel's Targeted Assassinations, which he said provided further details about Israel's targeted killing programs based on previously unpublished documents and1,000 interviews, including with people ranging from intelligence community officials to political leaders.
Khalidi told Newsweek that Bergman's book made Israel's effort to find and kill those responsible for the Munich attack "suspect at best, and complete fabrication in many cases."
He also pointed to an interview Daoud conducted with Al Jazeera prior to his death, in which Daoud claimed in Arabic that those killed by Israelis for their alleged roles in Black September or the Munich attack, which would include al-Najjar, Campa-Najjar's grandfather, were not involved.
It's based on these accounts, which go against the long-held narrative that al-Najjar was involved in the Munich terrorist attack or Black September, that Campa-Najjar says he can neither condemn nor exonerate his grandfather.
"Upon learning these new revelations, the only honest position is to look at these claims with renewed skepticism, withhold judgment and not condemn someone who 'had no connection to Munich whatsoever,'" Campa-Najjar says. "If he was involved in any terrorist attacks, I still condemn him. If these reports are true that he had no involvement, then there's nothing to condemn."
Campa-Najjar had long-condemned his grandfather, who died 16 years before he was born. And working under the Obama administration at the Labor Department, Campa-Najjar held a security clearance. Still, Hunter's campaign has claimed that, because of his opponent's family history—which Campa-Najjar considers uncertain—he is a national "security risk," someone who is "working to infiltrate Congress" and someone who was supported by the Muslim Brotherhood.
Campa-Najjar, a Palestinian Mexican American who says he is a Christian, lost to Hunter by a little more than three percentage points last year in the heavily Republican district located just outside of San Diego. Campa-Najjar relaunched his campaign to unseat Hunter in 2020 on January 3—the day that the 116th Congress was sworn into office. Hunter's campaign has continued to make reference to Campa-Najjar's grandfather in mailers and suggested the candidate is tied to terrorism, something that was done as recently as within the past few days.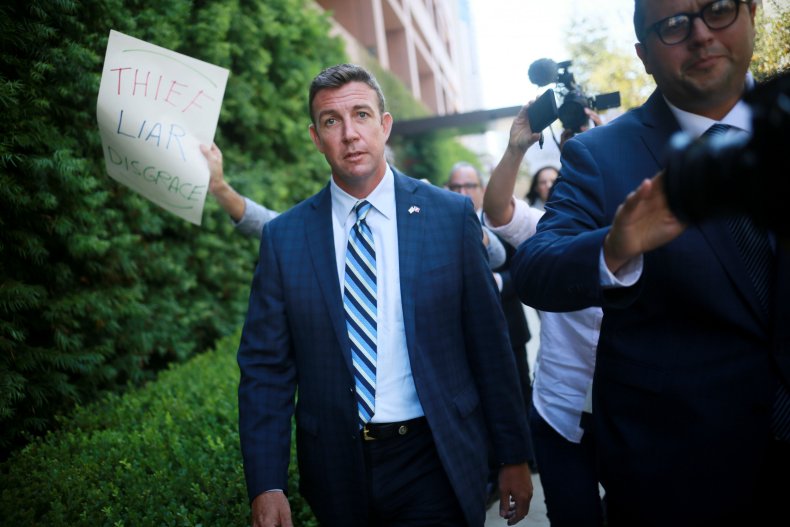 At one of Hunter's recent court appearances, Campa-Najjar said he confronted his opponent's campaign manager, Roger White, about the continued attack ads regarding his family history. White said they were unaware of any disputing evidence showing al-Najjar was not involved in the Munich attack or Black September, according to Campa-Najjar.
The Democrat also said that he extended an invitation via White for he and Hunter to talk privately about their campaigns and to meet one another for the first time face-to-face.
"I would pledge to him that I won't attack him on his court case or his family situation, and he won't attack me on unproven claims of my family," Campa-Najjar said.
Hunter's spokesman, Michael Harrison, disputed this account, telling Newsweek it was a "photo op Ammar manufactured." He said that Campa-Najjar's conversation with White was "significantly brief and, according to the accounts I received, Ammar wasn't even clear who Mr. White was or the role he has with the campaign."
So far, the proposed meeting between Hunter and Campa-Najjar has not transpired.
Prosecutors recently alleged in a new court filing that Hunter, a six-term congressman, illegally used campaign funds to fund several extra-marital affairs for years and that he and his wife had been struggling financially. Prosecutors had already alleged the couple illegally spent $250,000 of campaign money on items like personal vacations, video games and liquor. Despite his wife pleading guilty, Hunter has maintained his innocence and pleaded not guilty.
Harrison did not indicate that Campa-Najjar's new reluctance to condemn his grandfather over possible false accusations would change how Hunter campaigns.
"Congressman Hunter typically does not have his opponent's actions or statements dictate how he proceeds with his own campaign," Harrison said in a statement. "How Mr. Campa-Najjar characterizes his grandfather's role in the terrorist attack in Munich is entirely up to Mr. Campa-Najjar."
Harrison cited a 1996 Washington Post story that quotes Campa-Najjar's father, Yasser Najjar, acknowledging the alleged role of al-Najjar in the Munich terrorist attack and offering praise. Harrison continued, saying that Campa-Najjar "has also never addressed" his father's role as a former senior PLO official. He's since retired.
Najjar was killed when Campa-Najjar's father was just 11-years-old, leading Campa-Najjar to question his father's credibility in praising his grandfather. And although Campa-Najjar and his father do not have a close relationship with one another, he respects the role that his father played as a top PLO official who, he said, worked to broker meetings and negotiations with foreign countries, including Israel.
"My dad — his last memory of his father was walking over his dead body and his mom, who had nothing to do with anything, at the age of 11," Campa-Najjar said. "How much do we know about our parents at the age of 11? Not a whole lot. So, I didn't know what he knew and if it was credible."
Campa-Najjar urged those who have heard or read about previous allegations involving his grandfather and terrorism to judge his candidacy based on his platform.
"Since we don't know whether he was involved or not, just look at me as who I am. Look at my policy, look at my record, look at my experience," he said. "And trust that my knee jerk reaction in the midst of all this—it was to condemn my grandfather for terrorism without even having the full information yet."
Correction: This story was updated to correct the spelling of Rep. Duncan Hunter's spokesman, Michael Harrison.