In McConnell, McGrath Faces Opponent With Worse Approval Rating Than Trump
Democratic candidate Amy McGrath and Republican incumbent Mitch McConnell are set for a tight race for Kentucky's Senate seat, with the latter facing a popularity crisis ahead of November's vote.
In McConnell, McGrath faces one of the most recognizable faces on Capitol Hill, as the Senate Majority Leader and a figure in Congress for decades.
While that familiarity could help against a lesser known candidate, it also has its downsides with McConnell currently suffering a bleak favorability rating-even lower than President Donald Trump's nadir in popularity.
According to Real Clear Politics' average of favorable/unfavorable polls, Trump has a net unfavorable rating of 14.6, compared to McConnell who is almost 10 points worse, with 23.5.
In the latest The Economist/YouGov polling, 27 percent of respondents said they had a favorable view of McConnell, with 47 percent unfavorable and 26 percent stating they did not know.
For Trump, 42 percent said they had a favorable view, 53 percent unfavorable and 5 percent did not know.
While more viewed Trump unfavorably compared to McConnell, more also had a positive view of him too, taking the House majority leaders net approval below the president's.
The poll was conducted June 21 to 23, among 1,500 U.S. adult citizens.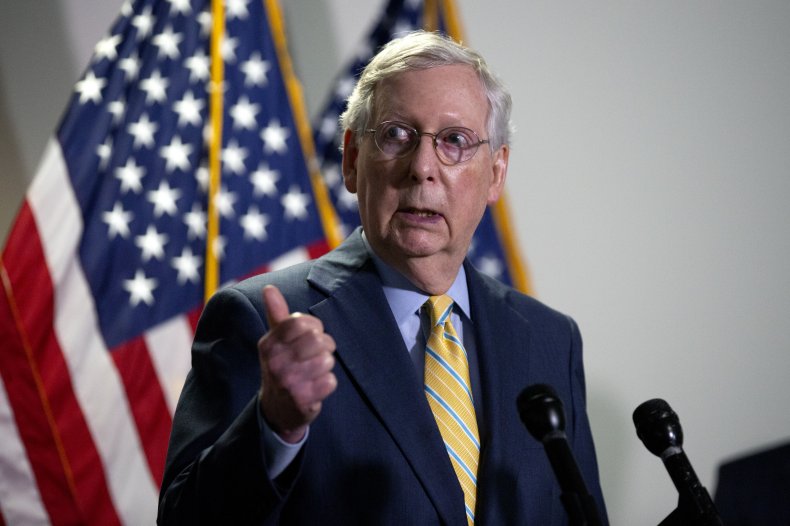 McConnell's issues in popularity come amid tight polling between him and McGrath.
Polling earlier this year put the pair close to even, with a survey from RMG Research finding 41 percent stating they would vote for McGrath and 40 for McConnell.
When their positions on congressional term limits were factored in, her support went to 45 percent, while McConnell's fell to 30.
The poll was conducted May 21 to 24, among 500 registered voters in Kentucky.
Despite this, polling in June put McConnell back on top in the race when pitted against McGrath.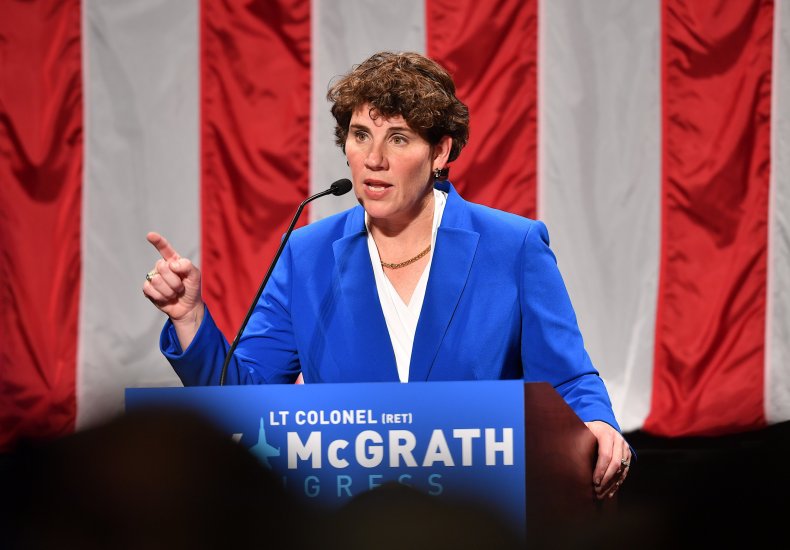 However, these polls came before McGrath defeated her opponent Charles Booker in the Democrat's Kentucky primary.
McGrath released a statement following her win outlining her desire to defeat McConnell.
"I'm humbled that Kentucky Democrats have nominated me to take on Mitch McConnell in the general election and can't wait to get started in sending him into retirement and finally draining the toxic Washington political swamp that he built," she said.
As she attempts to beat McConnell at the ballot boxes, she has already led him on fundraising, with around $19.3 million cash on hand for her campaign compared to his $15.4.
Ousting McConnell would be seen as a major coup for the Dems, who has consistently refused to allow bills passed in the Democratic-led House through the GOP Senate.
In November, the Democrats will be looking at the wider goal of flipping the Senate, with several GOP Senators at risk.
Newsweek has contacted the McConnell and McGrath campaigns for comment.