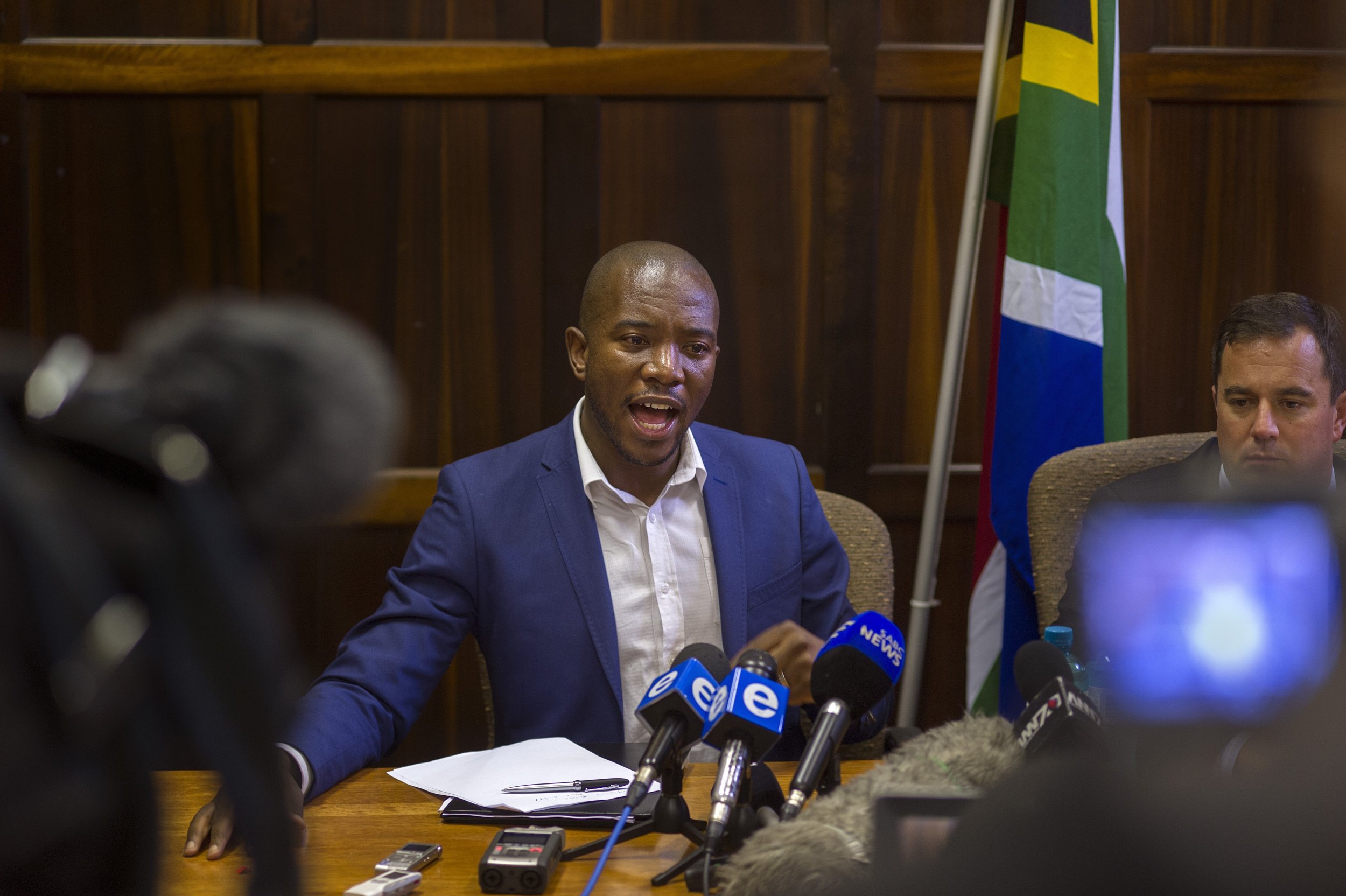 South Africa's main opposition leader, Mmusi Maimane, has accused the African National Congress (ANC) of abandoning its role in establishing a nonracial society.
Maimane, who is the first black leader of the opposition Democratic Alliance (DA), tells Newsweek he fears the ANC is polarizing South African society along racial lines after losing its legitimacy in other areas.
Racial tensions in South Africa have been stoked in recent weeks. A Facebook post on January 2 by South African estate agent Penny Sparrow, a former member of the DA, referred to black people as "monkeys." The post sparked a furious response, with #RacismMustFall trending in South Africa and the South African Human Rights Commission launching an investigation into the comments. The DA suspended Sparrow's membership and has initiated criminal proceedings against her as a result of the comments.
South Africa abandoned the apartheid system of racial segregation in the early 1990s, yet the social and economic status of black and white South Africans remains vastly different. Census data from 2012 showed that black South Africans earned around 60,613 rand ($3,600) per year. While this was an average increase of 169 percent over 10 years, black South Africans still earned less than a sixth of their white counterparts, who made approximately 365,134 rand ($21,800) per year. According to 2014 statistics, 40 percent of black South Africans were unemployed—a 3 percent drop since 1994—compared to 8 percent of white people in the country.
According to Maimane, the ANC has failed to live up to this mandate to create a nonracial South Africa. "The ANC has forgotten about that role," says Maimane. "They've given up on it because you can't just talk nonracialism and govern as though black lives don't matter."
ANC national spokesperson Ziza Kodwa tells Newsweek that Maimane's claims were a "deflection from the real conversation" facing South Africans. "Our view is that South Africa is not a racist society," says Kodwa. "We continue to have very few individuals who, when they speak, it may appear as though we have reversed the gains of 1994. That's why we must find ways to make sure that we deal with these individuals so that they do not undermine our gains of being a nonracial society."
In response to Sparrow's post, the ANC stated it intends to propose a specific law criminalizing "any act that perpetuates racism or glorifies apartheid." Sihle Zikalala, ANC chairperson for the eastern province of KwaZulu Natal, has also proposed that schoolchildren should be taught about social cohesion and racism in order to secure the future of a nonracial society in South Africa.
The ANC has also accused those behind the recent Zuma Must Fall campaign—who have organized marches across South Africa in protest at President Jacob Zuma's leadership and perceived government corruption—of racism. In response to a huge Zuma Must Fall banner that was erected on the side of a Cape Town building on Friday, Kodwa called on all South Africans to "declare war on racism" and referred to the campaign as "a ploy to divert a real conversation on racism that finds expression in the comments of a minority belonging to a particular party that is intent of achieving the impossible return to a racist past."
According to Maimane, such rhetoric is dangerous and risks dividing South African society among racial lines. "Once a liberation movement loses its legitimacy, sometimes there is a need to mobilize on the basis of race," says Maimane. "My fear is that the ANC has got to that point because South Africa's economy is in bad shape, socially South Africans are finding life harder."
Born in the Soweto township of Johannesburg where ANC legend Nelson Mandela lived for part of his life, Maimane became leader of the DA in May 2015. Historically, the DA has been seen as a party for white people, a view reinforced by incidences such as former DA politician Dianne Kohler Barnard sharing a Facebook post in praise of apartheid leader P.W. Botha in September 2015. Barnard was expelled from the DA in October 2015.
Maimane, who addressed the nation on the topic of race and identity at the Apartheid Museum in Johannesburg on Tuesday, rejects that description and says that his party is ready to play a role in forming the future of South Africa. "We are at a critical juncture as a nation," says Maimane. "The DA has a very crucial role in restoring that nonracial vision."
This article originally incorrectly stated that Nelson Mandela was born in Soweto, Johannesburg. Mandela was actually born in Mvezo, Transkei, South Africa, and spent part of his adult life in Soweto.