Anderson Lee Aldrich's Dad Was 'Scared' Son Was Gay After Club Q Shooting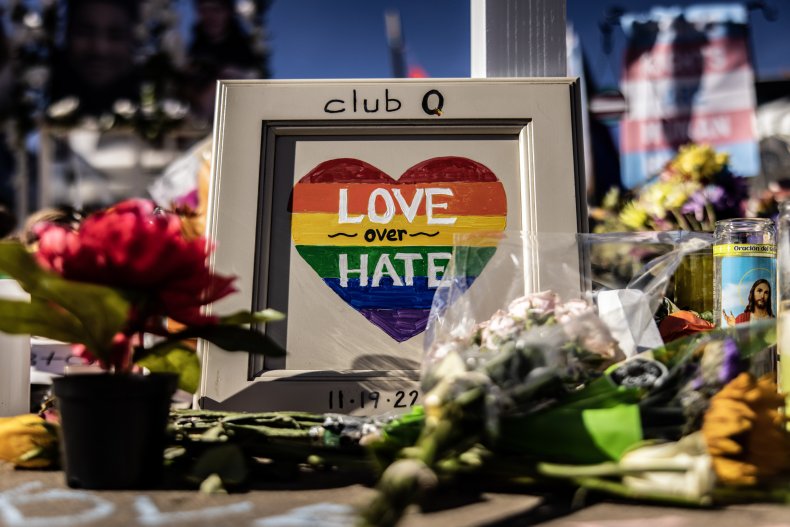 The father of mass-shooting suspect Anderson Lee Aldrich says he was "scared" his son might be gay after learning that the deadly attack took place at an LGBTQ club.
Aaron Brink, a 48-year-old mixed martial artist and porn actor also known as "Dick Delaware," told CBS affiliate KFMB that one of his first reactions to the deadly shooting was concern that his son's sexual orientation might clash with his values as a Mormon and "conservative Republican."
"They started telling me about the incident, a shooting... Then I go on to find out it's a gay bar," said Brink. "I was like, 'Oh my God, is he gay?' I got scared, 'S***, is he gay?' And he's not gay, so I was like, 'phew!'"
"I'm a Mormon and I'm a conservative Republican," he continued. "And we don't do gay, we don't do gay... I'm glad he's not gay."
Brink went on to lament that he had "let his son down" by "[praising] him for violent behavior really early," apparently telling his son that violence "is instant and you'll get immediate results." He urged the public to "forgive [his] son."
Aldrich, 22, is accused of killing five people and injuring at least 17 others after opening fire with an assault rifle at Club Q in Colorado Springs, Colorado, on Saturday. Club patrons managed to disarm and subdue the suspect during the shooting.
Brink said that he had believed Aldrich was dead for six years after his ex-wife, the daughter of a "MAGA" Republican California state lawmaker known for praising January 6 rioters, told him that their son had changed his name to Anderson Aldrich and killed himself.
He learned that his son was not dead after a "pissed off" Aldrich contacted him over the phone six months ago. Brink told KFMB that his involvement in the porn industry and an appearance on the reality show Intervention, where he was shown battling a methamphetamine addiction, may have been the reason for his son's name change.
While a motive for the shooting is unclear, many have blamed the incident on recent anti-LGBTQ rhetoric, pointing out that the club was planning to host an all-ages "drag brunch" only one day after the shooting.
Right-wing anti-LGBTQ activists have increasingly claimed, without evidence, that all-ages drag performances are being used to "groom" children to be sexually abused or to become gay or transgender.
"Club Q is horrific proof that anti-LGBTQ+ rhetoric and extremism are fueling physical attacks and threats against our community," Human Rights Campaign tweeted on Wednesday. "For our families, our friends, our community — this violence must end."
In a court filing on Tuesday, attorneys for Aldrich said that their client identifies as gender non-binary and uses they/them pronouns. Some have expressed skepticism, pointing out that there had been no previous evidence of the non-binary identity and suggesting that the claim may be an attempt to "troll" the LGBTQ community.
El Paso County Sheriff's Office booking records refer to Aldrich as "male." Brink used he/him pronouns while speaking about his son during the KFMB interview. Aldrich's mother also "referred to her son as he and him" in text messages on the day of the shooting, according to The Daily Beast.
A bruised and battered Aldrich appeared remotely for an initial court appearance Wednesday and remains behind bars without bail. Aldrich is expected to be formally charged with multiple counts of murder in a court appearance tentatively scheduled for December 6.
Newsweek has reached out to the Human Rights Campaign for comment.