Andrew Cuomo Hasn't Taken Press Questions for 8 Days in Wake of Sexual Harassment Allegations
New York Governor Andrew Cuomo, once a daily presence amid the coronavirus pandemic, has been staying out of the public eye in the wake of sexual harassment allegations made against him.
Cuomo's briefings became a daily fixture during the first few months of the pandemic, as he held 110 consecutive meetings with the press between March and June of last year.
But the governor hasn't taken questions from the press since February 22 and hasn't made any public appearances since February 25, as first reported by the Rochester Democrat and Chronicle. His absence was particularly notable on Monday, which was the one-year anniversary of New York's first confirmed case of the virus.
Cuomo's lack of public appearances comes after three women have accused him of inappropriate behavior and sexual harassment over the past week.
Lindsey Boylan, a former aide to the governor, was the first to make public allegations. In a Medium post published last Wednesday, she recounted an instance where Cuomo allegedly kissed her as she attempted to leave his office after a meeting.
"The Governor's pervasive harassment extended beyond just me. He made unflattering comments about the weight of female colleagues. He ridiculed them about their romantic relationships and significant others. He said the reasons that men get women were 'money and power,'" Boylan wrote.
Cuomo's administration denied Boylan's claims of inappropriate behavior as "simply false."
Days later, Charlotte Bennett, also a former Cuomo aide, told The New York Times that the governor made her uncomfortable with questions about her sex life and asked whether she would consider dating an older man.
On Monday, Anna Ruch also told the Times about alleged unwanted advances. Ruch said that she met Cuomo at a wedding in September 2019, where he put his hand on her exposed lower back. When she removed it with her hand, Ruch alleged the governor said she seemed "aggressive," then put his hands on her cheeks. A photo of the alleged incident was included in the newspaper's story.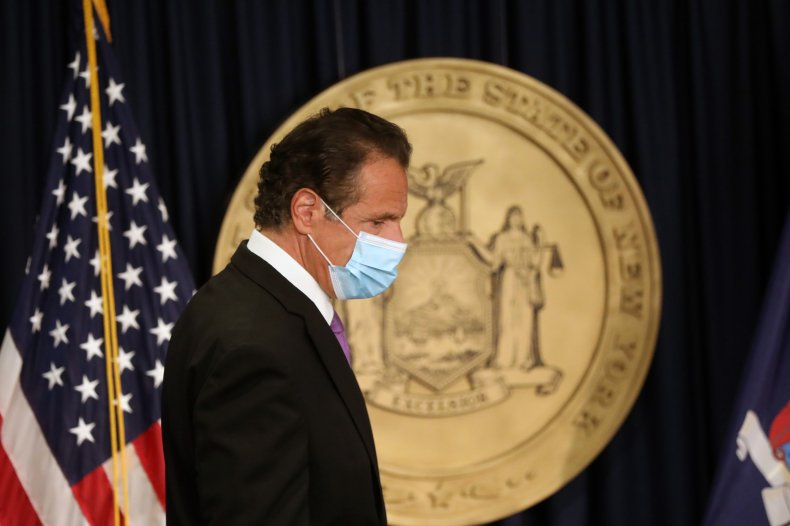 Cuomo responded to the sexual harassment allegations on Sunday by saying his "playful" banter had been "misinterpreted as an unwanted flirtation."
"I now understand that my interactions may have been insensitive or too personal and that some of my comments, given my position, made others feel in ways I never intended," the governor said in a statement.
On Monday, New York Attorney General Letitia James said her office was formally proceeding with an investigation into the sexual harassment allegations against the state's top Democrat after she received a referral from his office.
The referral, James said in a statement, gave her "the authority to move forward with an independent investigation into allegations of sexual harassment claims made against Governor Cuomo. This is not a responsibility we take lightly, as allegations of sexual harassment should always be taken seriously."
Newsweek has reached out to the governor's office for comment on his lack of public appearances but did not hear back before publication.
On Tuesday, New York Mayor Bill de Blasio was asked during a press briefing about Cuomo not appearing in public and whether his absence hurts the state's pandemic response.
"I think all leaders have to answer tough questions from the media regardless whether it's convenient," de Blasio responded.