Trump Could Be Indicted for Three Crimes, Conservative Former Judge Says
A conservative former judge with a history of comments challenging former President Donald Trump says he believes Trump's indictment is likely imminent in the wake of revelations he illegally removed top secret documents from the White House during his tenure.
In a Wednesday column for The Washington Times, Andrew Napolitano—a conservative media personality and former New Jersey Superior Court judge who once said he was on Trump's shortlist for the U.S. Supreme Court—said he believed Trump could face federal indictment for a number of crimes stemming from a recent FBI raid of his home.
These included the removal and concealment of national defense information, giving that information to those not legally entitled to possess it, and a possible obstruction of justice charge by failing to return that information.
"I don't think the government would've gone through this without planning in advance to indict him," Napolitano told Newsmax host Eric Bolling on Wednesday afternoon. "It pains me to say it, and I don't think he should be indicted. But I think the people that will make this decision have already made up their minds and they'll make this presentation to the grand jury right after the midterm elections."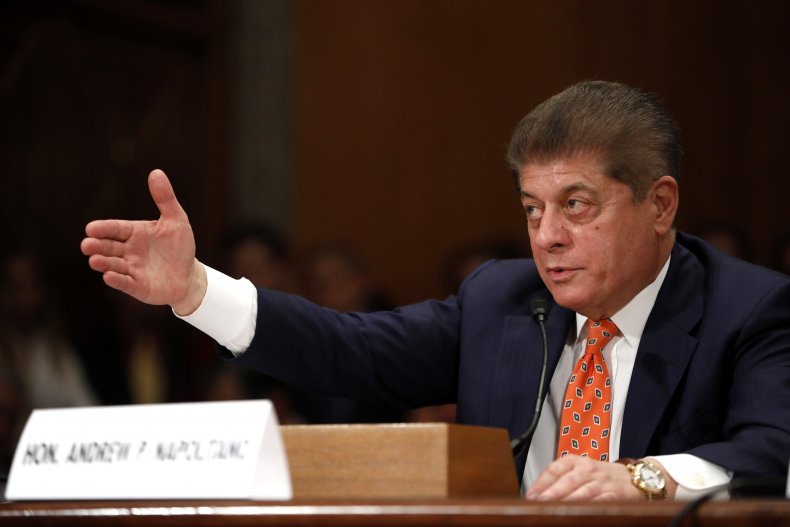 While Trump has insisted he declassified the documents in his possession prior to removing them from the White House, Napolitano insisted that point was irrelevant. Under the law, it doesn't matter if documents containing national defense information, or NDI, are classified or not, he wrote, saying it is always criminal to have NDI in a non-federal facility—something Trump essentially admitted to in an appearance on Real America's Voice on Thursday morning—to have individuals without security clearances move that information from one place to another, and to keep it from federal authorities while they are seeking it.
"Stated differently, the absence of classification—for whatever reason—is not a defense to the charges that are likely to be filed against Mr. Trump," Napolitano wrote in the op-ed.
Napolitano, however, has a legacy of questionable legal claims concerning the former president.
He called Trump's decision not to participate in hearings leading up to his first impeachment in 2019—which Napolitano argued was potentially justified—a "mistake." The Senate later voted against convicting Trump. Napolitano also cast regular doubt on Trump's political survival late into his presidency, including aspersions Trump regularly abused his power in imposing tariffs on countries like China.
The political calculus of bringing charges against Trump has regularly been weighed by legal experts as well as by politicians like Senator Lindsey Graham, who has threatened "riots in the streets" if criminal charges are filed.
However, other members of Trump's party—including some sitting members of Congress—have begun to appear open to the idea Trump may have broken the law as they await additional clarification on details of the raid in a yet-to-be-scheduled briefing from the Department of Justice.
"They should never be taken from the White House in the first place," Ohio Republican Senator Rob Portman said about the documents during an appearance on Morning Joe on Thursday. "But we just don't know the details yet."