Andrew Yang Changes Parties, No Longer Sure 'Being a Democrat is the Right Thing'
Former presidential candidate and entrepreneur Andrew Yang has announced his breakup with the Democratic Party on Twitter.
Yang explained in an October 4 blog post that he changed his voter registration from Democrat to Independent and described the experience as "strangely emotional." He joined the party in 1995 to vote for Bill Clinton's re-election at the age of 20.
During those years, Yang said he was a "staunch Democrat" and helped organize and fundraise for politicians like John Kerry, Barrack Obama and Bernie Sanders.
He voted for Hillary Clinton against Donald Trump in 2016 and when the Republican won, Yang said he was surprised and "took it as a red flag and call to action."
Yang continued working for the party after becoming "more of a household name" after running for president. He even ran under the party again in hopes of becoming Mayor of New York City earlier this summer.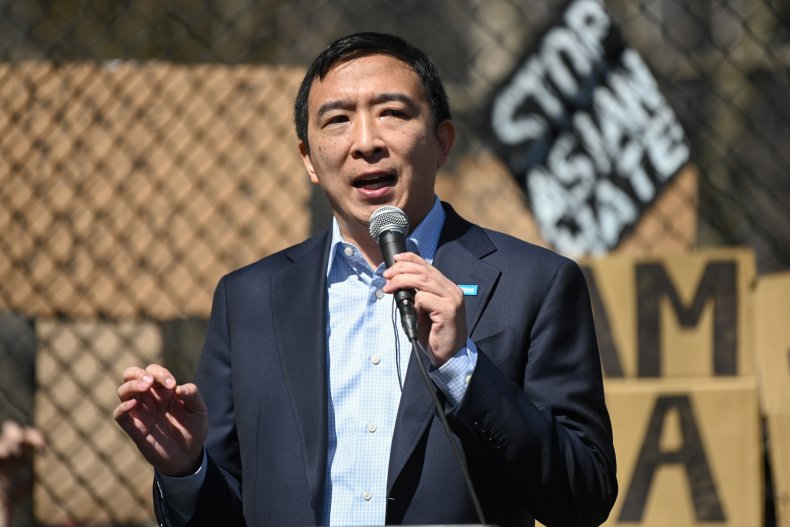 But despite that, Yang is leaving the party.
"I've been a Democrat my entire adult life," he wrote. "And yet, I'm confident that no longer being a Democrat is the right thing."
Yang clarified that he's not suggesting other registered voters change their political affiliations because it could disenfranchise those that live in "very blue or very red" parts of the country. However, he said he felt a shift in mindset as soon as he did.
He explained that his goal is to advance society but right now, he feels the "system is stuck." Yang believes this is partly due to the polarization between both political parties and that by not belonging to either, he can be "more honest about both the system and the people in it."
The businessman has previously suggested that he would be launching his own party and it's expected to tie into the launch of his new book Forward: Notes on the Future of Our Democracy on October 5, according to Politico.
His desire for a third party came from his experiences running for office. Yang explained that one area of key reform is to address open primaries and ranked choice voting to give voters more choice in the election.
"I believe I can reach people who are outside the system more effectively. I feel more...independent," he wrote.
Yang added that he's practical and sees partisan arguments as performative while he's often thinking about how an issue can actually be solved. He explained that by breaking up with the party and building his own team the impact will be greater.
"Perhaps it's the nature of my upbringing, but I'm actually more comfortable trying to fix the system than being a part of it," he wrote.
Yang's announcement was met with both praise and criticism on Twitter. Some social media users expressed that they also felt fed up with the Democratic Party while others worried the formation of another party would disrupt the system.