Andrew Yang Receives Surge of New Followers on Twitter After Democratic Debate Performance
Analysts may not have considered Andrew Yang the victor in the final Democratic presidential debate of the year, but the entrepreneur emerged as the clear winner on social media, according to figures which showed he had had gained more Twitter followers that any of his rivals.
During the sixth Democratic debate in Los Angeles that lasted for over three hours, Yang had the least speaking time of all his rivals, according to Politico, which noted that he spoke only 9.3 percent of the time, compared with Bernie Sanders, who held the floor more than 17 percent of the time.
However, when it came to social media traction, Politico reporter Dan Diamond noted on Twitter that Yang was well ahead of his rivals, gaining 4,767 followers.
This was almost three times more than the nearest contender, Amy Klobuchar, who gained 1,982, and around eight times more than Joe Biden's 614, whom The Washington Post considered to be the debate winner.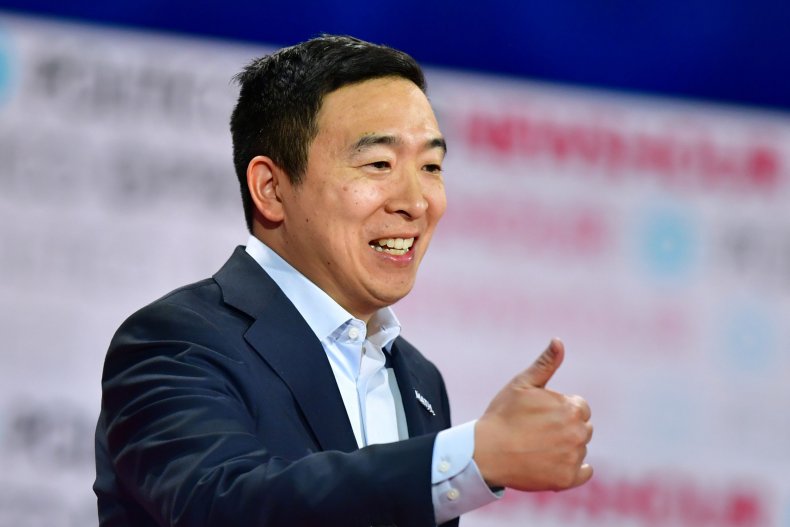 This meant that Yang's social media followers gew by 0.44 percent, compared with Klobuchar's 0.24 percent, and well ahead of Biden's 0.02 percent, Diamond tweeted, although he did issue a health warning as to the figure's significance, given that data on Twitter can be "incredibly fuzzy given bots, starting points, etc."
Yang was also the second most tweeted about candidate of the six, behind Biden, according to Twitter Gov. Newsweek has contacted Yang's election campaign for comment.
On stage, Yang, the son of immigrants, said it was "both an honor and disappointment to be the lone candidate of color."
Discussing the racist slurs he has encountered in his life, he said "black(s) and Latinos have something much more powerful working against them than words—they have numbers," CNN reported.
He linked the lack of candidates of color with a key plank of his agenda, universal basic income, in which each person older than 18 would get $1,000 a month, a move that he argues would make the economy more equal if people themselves, rather than government, decided how to use the money.
"I guarantee if we had a freedom dividend of $1,000 a month, I would not be the only candidate of color on this stage tonight," Yang added.
Yang's popularity is growing among many younger voters, and his followers are called the "Yang gang." He brandished his youth credentials when he crowd surfed during a rally of supporters in Costa Mesa, California.