Is Angela Merkel Going Back on Germany's Refugee Policy?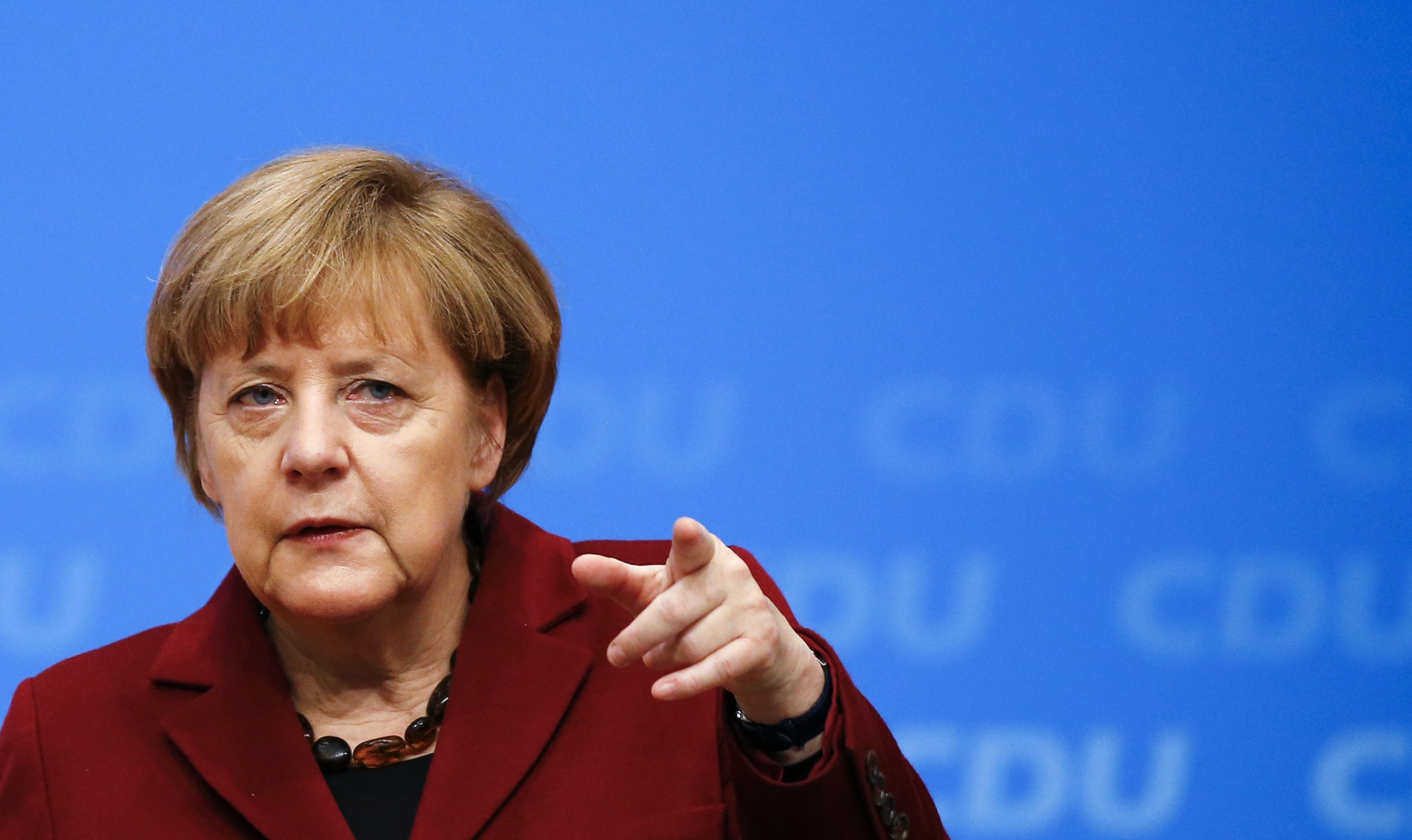 German Chancellor Angela Merkel is under pressure. Hailed as Mama Merkel for her September decision to open borders and let Syrian refugees in, she is now implementing measures to stem the overwhelming influx of refugees and asylum seekers.
Speaking on Monday, Merkel said that she plans to "noticeably reduce the number of refugees," Reuters reports. She also told her center-right aligned Christian Democratic Union (CDU) party that her open-minded decision in September towards refugees was a "humanitarian imperative," but it is time to "tangibly reduce" the number of arrivals.
On December 4, the German interior ministry told Newsweek that it expects the arrival of around 970,000 refugees by the end of 2015—four times the level of 2014. According to spokesman Tobias Plate, around half of this number have already applied for asylum.
Despite being named Time magazine's Person of the Year on December 9, the 61-year-old's approval ratings have decreased recently. German politicians in both major parties in Merkel's coalition—the CDU and the Social Democratic Party (SPD)—are voicing their concerns. Critics of Merkel's policy have become more articulate, even within her own party, suggesting that her latest decision to " dramatically decrease " arrivals factors into a wider narrative: one that connects Merkel's open-mindedness towards incoming refugees to her popularity.
But, is the first woman to become Chancellor in Germany—someone who has led the country for over a decade—willing to let poll results and criticism change her mind? What Merkel didn't detail in her speech on Monday is the number of asylum applications that the German government is willing to grant.
From the beginning of the year to the end of November, the EU received an estimated 1 million asylum applications. Germany received the highest number of applications, taking up to 360,000 requests for asylum by the end of October, having already accepted 104,000 applications during the third quarter of this year.
Merkel may perhaps be using the u-turn in policy to win over dissenters in government. On September 5, she said that there is " no limit " to the number of asylum applications the country will accept, adding every applicant will get a fair hearing.
It is difficult to tell where Merkel stands. She, and other EU leaders, signed an agreement on November 24 with the Turkish government to curb the number of refugees. The 28-member states have vowed, over two years, to provide $3.2 billion to help raise living standards for 2.2 million Syrian refugees now living in Turkey, in return Turkey will assist the EU in reducing numbers via stricter border controls. This is something that non-governmental organization Human Rights Watch (HRW) finds problematic. Wenzel Michalski, Director of HRW in Germany, told Newsweek that recent reports of Turkish authorities detaining refugees have come as a direct result of that agreement. "The EU have given the Turkish government a lot of money, for what?"
He believes that Merkel is playing a political "double trick" to placate the "large numbers" of people who are against accepting refugees in Germany. But, refugees Michalski says, account for 1.25 percent of the population in Germany. In Lebanon, they account for 25 percent. "When boats were sinking in the Mediterranean in Lampedusa—when the refugee crisis began two years ago—Merkel told me that there is no limitation on the number of asylum applications granted," he says. Despite his criticisms, if the government does go ahead, Michalski says "to set up better screening facilities," they will significantly improve conditions for both asylum seekers and refugees.
For Merkel—someone who jumped to leadership through the ongoing crisis in Ukraine, amid Greece's financial meltdown and after a series of coordinated attacks in Paris—it seems unlikely that she will go back on a policy that is defining her as a world-class leader. Her popularity, too, looks like it may be on the upswing following a nine-minute standing ovation from her party, with German media portraying Merkel's appearance on Monday in Karlsruhe, southwest Germany as "one of the most important speeches in her career."