Who Is Angelo Quinto? Man Dies After Police Kneel On Neck For 5 Minutes, Family Say
Angelo Quinto died after a police officer kneeled on his neck for almost five minutes while he was having a mental health crisis, his family said.
Quinto, a 30-year-old Navy veteran, was having an episode of paranoia when his 18-year-old sister Isabella Collins called Antioch, California police for help on December 23, 2020.
John Burris, a prominent civil rights attorney representing Quinto's family, said the officers that responded that night didn't attempt to de-escalate the situation, but instead immediately grabbed Quinto from his mother's arms and pushed him to the ground.
One put a knee to Quinto's neck and another restrained his legs, Burris said at a news conference last week. "On the way down, he said, 'Please don't kill me. Please don't kill me,'" Burris added.
Quinto had been suffering from anxiety, depression and paranoia in the few months before this death, the family's attorneys wrote in a wrongful death claim filed last week.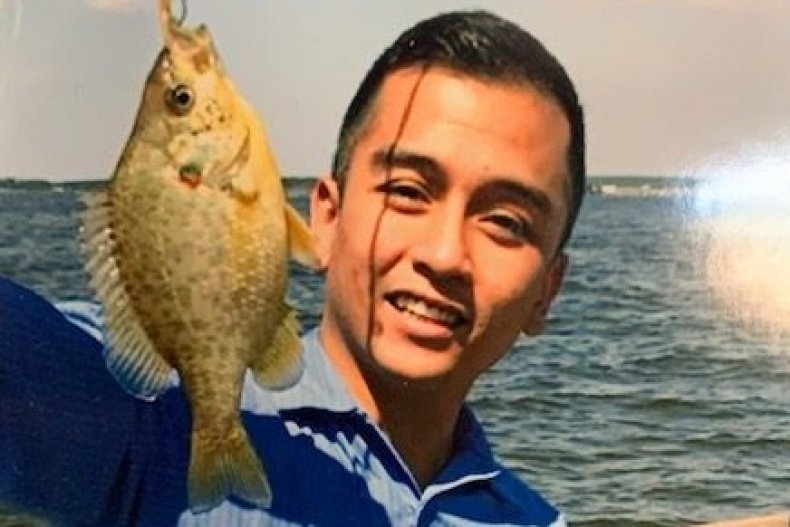 The claim said that "at no time while being restrained did Mr. Quinto resist physically or verbally. After being restrained for almost 5 minutes, Mr. Quinto became lifeless."
Part of the encounter was filmed by Quinto's mother, Maria Quinto-Collins.
"What happened?" she is heard saying at the start of the clip. Officers are seen rolling an unresponsive Quinto onto his front, revealing his bloodied face. He had his hands cuffed behind his back.
She said at the news conference that she had, at the time, trusted that the officers knew what they were doing. But her son was taken to a hospital, where he never regained consciousness and was pronounced dead three days later, the claim said.
Burris also noted the parallels between Quinto's death and the killing of George Floyd.
Floyd, a Black man, died after a Minneapolis police officer kneeled on his neck for almost eight minutes in May last year. His death triggered protests against police brutality and racial injustice across the U.S. and abroad.
"These Antioch police officers had already handcuffed Angelo but did not stop their assault on the young man and inexplicably began using the 'George Floyd' technique of placing a knee on the back and side of his neck, ignoring Mr. Quinto pleas of 'please don't kill me,'" Burris said.
"This horrific incident provides a haunting reminder that a seemingly minor call for help from the police can have deadly consequences for the person in need of help when the police use force first without verbally assessing the situation."
At the news conference, Burris also noted that the officers didn't appear to turn on their body cameras.
The East Bay Times reported that Antioch police waited more than a month to inform the public about Quinto's death, and only when the newspaper inquired about it.
A spokesman at the time told the newspaper that Quinto suffered a "medical emergency" and that more information would be released after "several unknowns" were cleared up. No other information has yet been released by the department.
Lt. Tarra Mendes told the East Bay Times last Thursday that the investigation is still ongoing. "As soon as it is completed, we will be able to provide the public with more information," Mendes said.
Authorities have not released a cause of death for Quinto. Burris said an independent autopsy is pending.
An online obituary for Quinto says he was born in the Philippines, but moved to the U.S. when he was in middle school. It said he had "worked long and hard" to achieve his dream of being in the Navy, and had been honorably discharged for medical reasons.
Before his death, he had been working "tirelessly" to start a career in online gaming, the obituary said. "His creativity, humor, and drive will be missed greatly by his family and friends," it said.
At the news conference, Collins said she regrets calling the police for help that night. "I want to bring him back, but if we can't do that we want justice in any way we can get it," she said.
The Antioch Police Department and Burris have been contacted for additional comment.