Conservative commentator Ann Coulter lashed out at Donald Trump and other Republicans in light of reports that the president would likely sign a bipartisan deal to keep the government funded, even though it didn't include much of the $5.7 billion Trump had demanded for a border wall.
"We thought Trump was going to be different," Coulter lamented in a Wednesday Twitter post.
Coulter shared a tweet by Representative Mark Meadows, who chairs the House Freedom Caucus, which is made up of the most conservative Republicans. In the post, Meadows complained about how much he thought Trump and the Republicans had compromised when it came to meeting the demands for the wall.
"Only in Washington, D.C., can we start out with needing $25 billion for border security measures and expect applause when we come up with $1.37 billion," he wrote. Coulter, sharing his tweet, took it a step further, saying: "Only in the Republican Party."
In December, analysts and critics speculated that Trump had refused to sign a bipartisan budget to keep the government fully funded without at least $5.7 billion in border wall funding because of criticism from Coulter and other conservative pundits, such as Sean Hannity and Rush Limbaugh. That decision led to the longest partial government shutdown in U.S. history, leaving about 800,000 federal workers without paychecks through the holidays and into the new year. It also removed billions of dollars from the U.S. economy and hurt GDP growth.
The president finally agreed to sign a three-week stopgap budget after 35 days, allowing the government to fully reopen as negotiations between congressional leaders from both parties continued. That budget was essentially the same as the one he'd refused to sign before the December holidays. Now, as the budget deadline looms near, the president is reportedly expected to sign a longer-term budget bill that includes $1.37 billion for border fencing, significantly less than the $5.7 billion he had demanded for a wall, and far shy of the $25 billion that was previously estimated as necessary to build such a structure.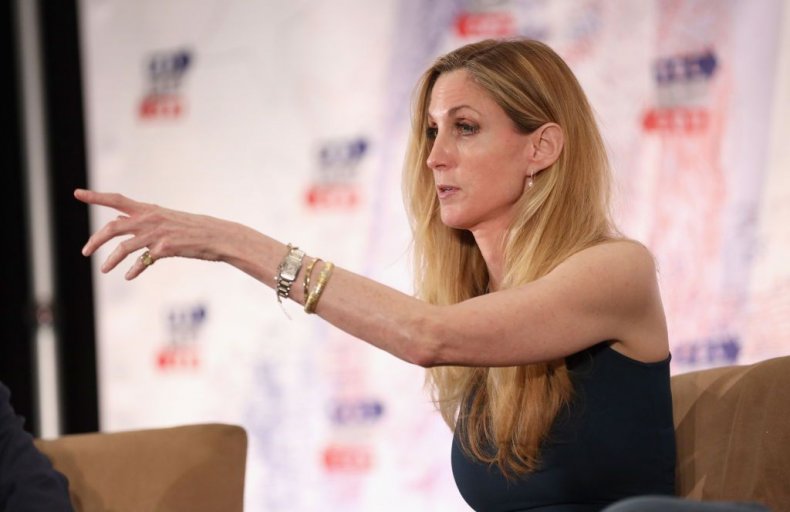 While Trump has defended his border wall demands as a way to decrease crime and prevent drugs from entering the country, opponents have repeatedly pointed out that the structure would do little to affect either. Statistics show that the majority of drugs brought into the country from Mexico come through legal ports of entry, indicating that improved detection technology, not a wall, is what's needed. Numerous studies also show that immigrants, documented and undocumented, commit crimes at rates significantly lower than U.S. citizens who were born here.. Although Trump has characterized the wave of immigrants and asylum seekers entering the U.S. at the southern border as a "crisis," analysts have repeatedly explained that undocumented immigration actually remains at historic lows.
Regardless, Coulter and other conservatives have continued to push the president to fulfill his signature campaign promise and "build the wall." In January, Coulter suggested that Trump's re-election depended on the wall getting built. Although she wrote a book titled In Trump We Trust, Coulter has since become a harsh critic of the president, consistently mocking him for failing to construct the wall.