Anne Heche's Ex James Tupper Slams Rumors Late Actress Was 'Crazy'
Anne Heche's ex, James Tupper, defended the late actress while commenting on a tribute posted by their former co-star Emily Bergl.
The trio worked together on the ABC series Men in Trees, and Bergl, 47, recently spoke out about Heche, slamming those who called her "crazy."
"'You worked with crazy Anne Heche?' 'So how crazy was she?'" the Shameless star began her lengthy Instagram post on Saturday, August 13.
Bergl said these types of questions were "usually the first out of people's mouths."
"Anne was not only a genius, but one of the most astoundingly focused and prepared actors I've ever worked with. I don't think I ever saw her miss her mark," Bergl continued, adding that her "strength seemed super human."
"She would work for 12 hours, invite everyone to the bar, drink a couple of doubles, and be back at work at four AM. As I would roll in feeling barely human, she would walk into the makeup trailer, always on time, her smiling face luminous without a lick of makeup," she explained. "Scene after scene, her work would be flawless, and yet always remained spontaneous. I don't think she was capable of phoning it in. And then she would do it all again the next day."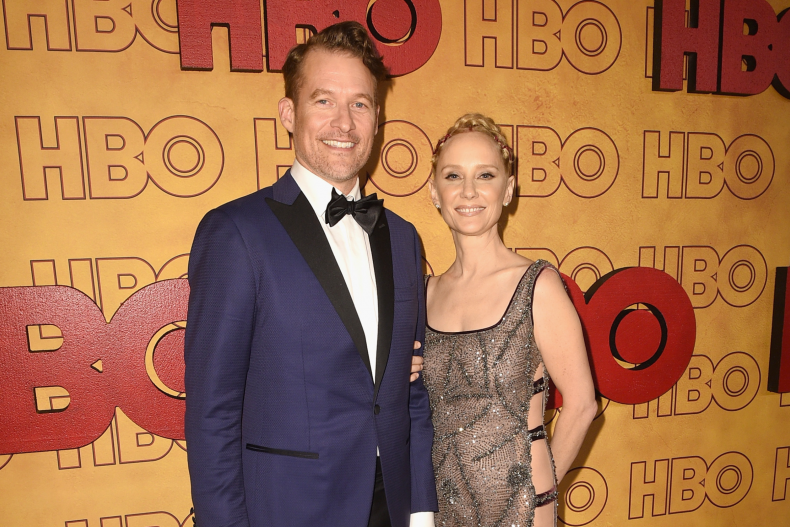 The Marvelous Mrs. Maisel actress added that Heche "was talking about mental health before it was acceptable to talk about those struggles," and despite several "harrowing" life experiences, she was always "joyous" and "so much fun to be around."
The England native concluded her post with a note encouraging followers to purchase Heche's memoir Call Me Crazy.
"We so rarely investigate the abuse, the gaslighting, the misogyny, the homophobia that drives people to finally take up the 'crazy' mantle that's been placed upon them," she said.
In the comments, Tupper, 57, wrote: "Oh god thank you for writing this. Is all completely accurate and true. love you e." At the time of publication, his note had garnered 292 likes.
Newsweek reached out to Tupper for further comment.
Other celebrities posted messages as well, with Rosie O'Donnell writing: "Beautiful," while Amanda Seyfried said: "Truly incandescent woman. She was fearless and truthful and so, so wonderful to watch."
Heche began her long-term romance with Tupper in 2007 after meeting on Men in Trees while she was still married to husband Coleman Laffoon. In an interview with The Telegraph in 2011, the Donnie Brasco alum joked that she was "eternally engaged."
"I've already said yes. When I'm 60, I'm happy to walk down the aisle," the Ohio-born actress said at the time. "I've been married before and so has he. I don't know what either of us would gain or what would change that would benefit us."
The pair broke up in 2018 and shared one child together, son Atlas, 13.
Heche was declared legally dead on Friday, August 12, one week after she crashed her blue Mini Cooper into a Mar Vista, California home. She was 53.
"Today we lost a bright light, a kind and most joyful soul, a loving mother, and a loyal friend," Heche's representatives said in a statement obtained by Newsweek. "Anne will be deeply missed but she lives on through her beautiful sons, her iconic body of work, and her passionate advocacy. Her bravery for always standing in her truth, spreading her message of love and acceptance, will continue to have a lasting impact."
Social Media Tributes
Heche's representatives initially said she was in stable condition following the accident, but later revealed she had "suffered a severe anoxic brain injury" and was in a coma.
Following news of her death, the Emmy Award winner's other exes shared heartfelt messages via social media.
"This is a sad day," Ellen DeGeneres tweeted. "I'm sending Anne's children, family and friends all of my love."
"In the wake of Anne's passing, I just wanted to say a few things: One, I love her and I miss her, and I'm always going to," Laffoon said in a video on Instagram. "Two, Homer is OK."
Heche is survived by Homer Laffoon, 20, the former couple's son.
"He's grieving of course, and it's rough, it's really rough, as probably anybody can imagine. But he's surrounded by family and he's going to be OK."