Anne Heche Said She Warned Portia de Rossi off Ellen DeGeneres: 'Red Flag'
Anne Heche stated that she had warned Portia de Rossi off embarking on a romance with Ellen DeGeneres several years ago.
Heche was critically injured after her Mini Cooper crashed into a home in Los Angeles on August 5, setting it on fire. TMZ also shared footage showing that Heche's vehicle had reportedly hit an apartment complex's garage shortly before the crash.
Footage captured from doorbell cameras at the time caught what appeared to be Heche's car traveling at a high speed in the moments before the collision, in the neighborhood of Mar Vista.
One week after her subsequent hospitalization, Heche, 53, passed away on August 12, with her representative saying in a statement that the mother of two would be "deeply missed" by those whose lives she had touched.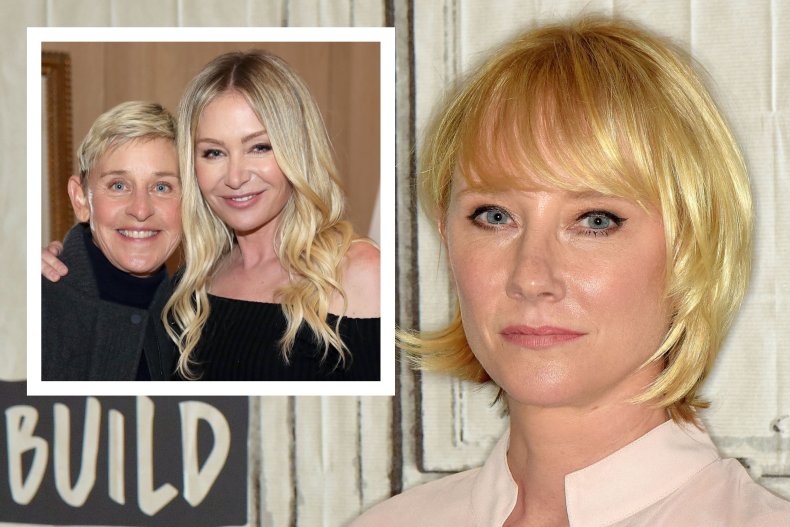 Since the incident, renewed attention has been paid to episodes of Better Together, the podcast that Heche had hosted with her friend, Heather Duffy Boylston.
In one episode, which debuted on YouTube on June 28, 2021, Heche spoke candidly about her relationship with DeGeneres, whom she dated between 1997 and 2000.
Heche also alleged that DeGeneres' now-wife Portia de Rossi had told her that she was planning to embark on a romantic relationship with the comedian several years ago. DeGeneres and de Rossi have been married since 2008.
"Portia came to my wedding [to Coleman Laffoon in 2001] because I was on Ally McBeal with her. Portia even said, 'I'm gonna go after Ellen,'" Heche said.
Heche said she told the Arrested Development star: "You won't be the poster child, girl, because guess what, that poster child has already been taken. And by the way, it wasn't a great spot. But... yours ain't gonna be any easier."
"And I'm telling you now, like, red flag, red flag, red flag!" Heche said she told de Rossi, 49, of DeGeneres, 64.
Heche also cracked jokes with Boylston about DeGeneres' penchant for purchasing Porsches before eventually marrying a woman called Portia.
Despite Heche's purported warning, there is no indication of any issues in DeGeneres and de Rossi's relationship, with the stars having celebrated 14 years of marriage on Tuesday.
When contacted about Heche's podcast claims, a representative of DeGeneres told Newsweek that the comedian "only wants the best for Anne's family during this very difficult time."
Newsweek has reached out to a representative of de Rossi for comment.
Elsewhere in the podcast episode, Heche accused DeGeneres of banning her from her hugely popular The Ellen DeGeneres Show, allegedly making networks and studios reluctant to hire her because of her hindrance in promoting projects.
"We're finding now, people coming to us, and we're getting information about how she blocked you in ways that we had no idea," Boylston said to Heche of DeGeneres. "What we're finding is that that show was held over apparently your head as a tool for going out.
"If you're on a show, if you're in a film, they've got to go through the Ellen Show to promote it. And guess what? Ellen blocked you from the show, and everybody knows that—so much so that friends of ours who have gone on the show have told us that they have been told specifically in the green room before they go on the show not to bring up your name."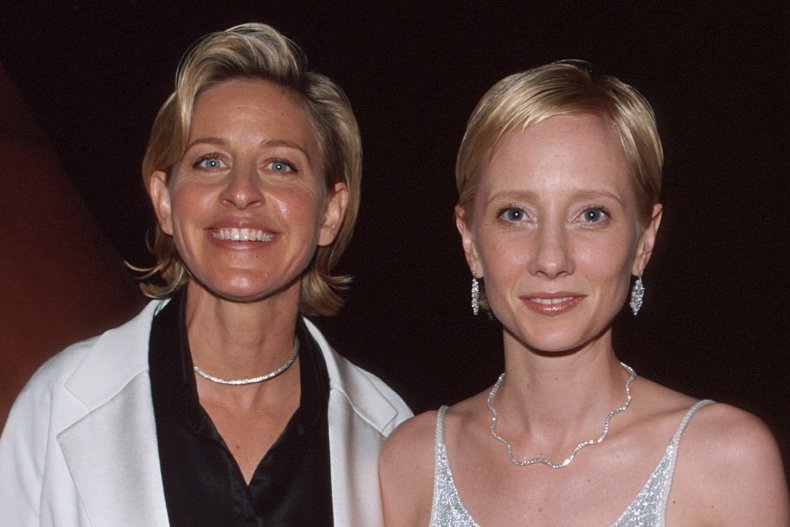 Boylston went on to say that "people are coming forward that I'm speaking with and saying, 'Well, our hands were tied with the Ellen Show.' And if you think about all the studios, the TV shows, the films that considered you and then though, 'Oh wait, there's that Ellen c***block that we have to consider. Let's just hire Mira Sorvino."
"That's right," said Heche, before imagining an alleged stance that DeGeneres would have taken. "You have her in your movie, you have her in your show, you ain't gonna get promo on mine."
"I broke up with her because her goal was to have a lot of money and mine was to find love," Heche later said. "Hers was, I want 60 billion. Good luck, our forks are never going to meet. The further we stay on with this, the further we will be apart."
Amid Heche's hospitalization following her car crash, DeGeneres was approached in Santa Barbara, California, by a reporter who asked if she had spoken to the Men in Trees star.
"We are not in touch with each other, so I wouldn't know," she told the Daily Mail cameras regarding Heche's condition, before wishing her the best. "I don't want anyone to be hurt," she said.
Shortly after Heche's death was announced, DeGeneres shared a statement on Twitter that read: "This is a sad day. I'm sending Anne's children, family and friends all of my love."
DeGeneres had previously said that their breakup came as a shock, telling The Los Angeles Times in 2001: "She walked out the door, and I haven't spoken to her since. I don't have the answers."