Another Stimulus Check? Senior Citizens Group Fundraises to Lobby for $1,400 Payments
The Senior Citizens League is fundraising to support its efforts to lobby Congress to support additional stimulus checks of $1,400 targeted to Social Security recipients amid the ongoing pandemic.
The federal government previously sent out $1,200 direct payments to most Americans back in March 2020, as lockdowns to curb the spread of the coronavirus were implemented across the country. Then, in December 2020, Congress approved an additional stimulus check of up to $600 for most Americans. After President Joe Biden took office, Democrats pushed through a stimulus check of $1,400 for most Americans.
However, as inflation has surged and the fallout from the pandemic persists, the Senior Citizens League is urging members of Congress to approve another stimulus check targeted to elderly Americans.
"We're midway through December. A busy time of year and an expensive time. If you're anything like me, you keep an eye on your budget. Do you know what could really help with that budget? A one-time emergency stimulus check for Social Security recipients," said a holiday fundraising email sent out on Thursday by the organization's chairman, Rick Delaney.
"Donate today to help us secure this $1,400 payment to you," he wrote.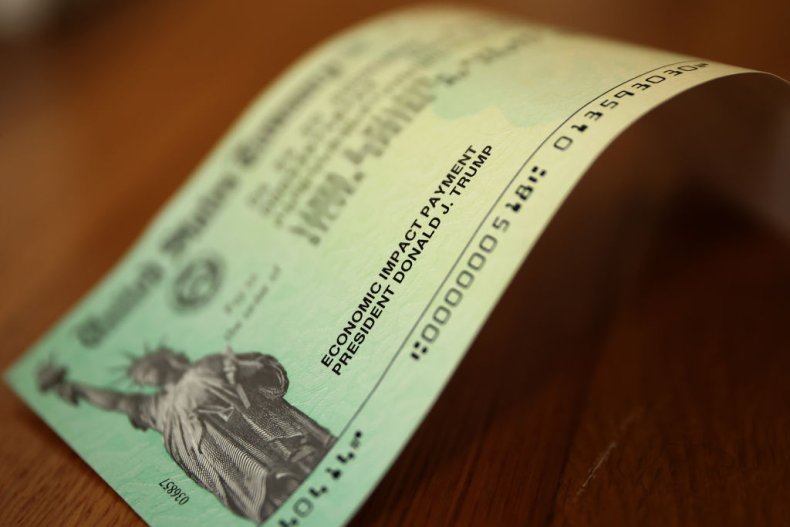 "This stimulus check...is a more immediate benefit that you need now and that we're working on getting for you," the email continued. "Pandemic, inflation, job loss. These are realities in all our lives and this emergency check could be a lifeline to a lot of people," Delaney added.
The organization's December newsletter explained that tens of thousands of people have already signed a petition calling on lawmakers to approve new $1,400 stimulus checks for seniors.
"As of November 12, 2021, more than 87,500 of you have signed our petition calling on Congress to provide another round of $1,400 stimulus checks, this time targeted to Social Security recipients," the newsletter said.
The newsletter goes on to explain that it is "advocating for stimulus payments to Social Security recipients because like an advance refundable tax credit, stimulus payments are not counted as income. Thus a $1,400 stimulus check would not increase taxable income but could help offset higher taxes."
Newsweek reached out to the organization's media representative for further comment but did not hear back before publication.
In November, when the petition had just 75,000 signatures, a representative of the Senior Citizens League told Newsweek that the group was surprised by the significant support the effort had received.
"We really were taken by surprise. We really weren't expecting that kind of response," Mary Johnson, the group's Social Security and Medicare policy analyst, said at the time. "It was sort of a flood of signatures we got in the first month. That really made for a big, big, wonderful, supportive push to get it started."
A Change.org petition calling on Congress to approve $2,000 monthly stimulus checks to all Americans for the pandemic's duration has garnered nearly 3 million signatures.
"I'm calling on Congress to support families with a $2,000 payment for adults and a $1,000 payment for kids immediately, and continuing regular checks for the duration of the crisis," the petition, which was launched by Stephanie Bonin of Denver, says.
Despite the demand for further stimulus checks and their popularity, Congress currently appears unlikely to approve more direct payments in the near future. However, more than 80 Democratic lawmakers have publicly voiced support for additional payments, including monthly stimulus checks.