'Ant-Man 3' Director Peyton Reed Responds to Bad Reviews
There's "always pressure" when making a Marvel film, and Ant-Man and the Wasp: Quantumania director Peyton Reed hopes that early negative reviews won't detract from fans' enjoyment of the movie, he told Newsweek
The film is only the second Marvel release to receive a Rotten rating by critics on Rotten Tomatoes. (The first was Chloe Zhao's Eternals.) Ant-Man 3 has an average rating of 49 percent, based on 226 reviews on Rotten Tomatoes.
In a conversation with Newsweek about the Paul Rudd–starring film, which is Reed's third effort as a director, he reflected on how he feels about the superhero flick's critical reception and addressed the pressures of making such a huge-scale film.
Ant-Man and the Wasp: Quantumania kick-starts Phase 5 of the Marvel Cinematic Universe franchise. In it, Rudd's Scott Lang (Ant-Man), his daughter Cassie (Kathryn Newton), Hope van Dyne (Evangeline Lilly), and Hope's parents, Janet van Dyne (Michelle Pfeiffer) and Dr. Hank Pym (Michael Douglas), get transported into the Quantum Realm after Cassie sent a signal into it.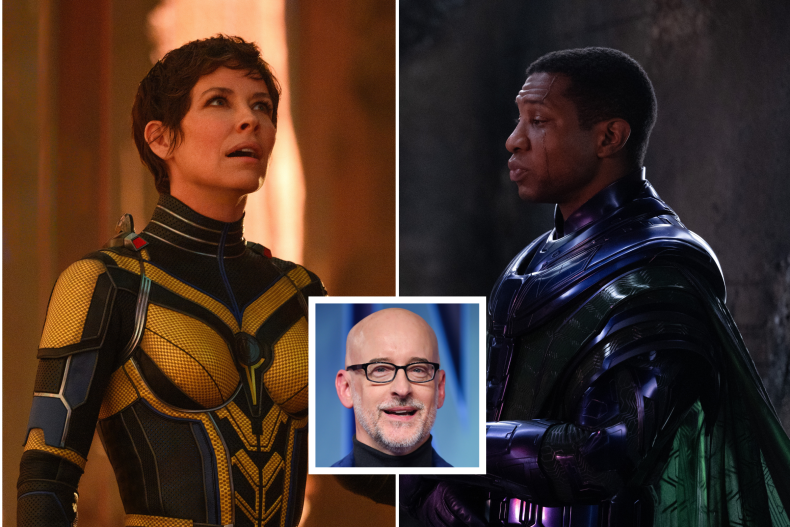 There, Ant-Man goes head-to-head with Kang the Conqueror (Jonathan Majors), and Janet has to face up to the dark truths about her 30 years spent in the realm.
Among the criticisms of Ant-Man and the Wasp: Quantumania is that it doesn't raise the stakes in the right way for a film of this importance to Phase 5 and beyond, and as such it feels "too big and too small," according to Polygon. Also, the film relies so much on CGI that viewers can "practically smell the green-screen," according to Empire.

But not all the reviews have been bad. In fact, the film has mostly received three-star reviews, and critics are united in their praise for Majors as Kang and have complimented Pfeiffer's emotional turn as Janet. Some critics have given the film a 5-star review, so the reaction has been mixed.
Reed said: "There's always pressure, every movie has its pressure, right? I mean, I've never done a movie where you don't feel pressure. Not so much from the outside. I feel a self-imposed pressure, as you do on any project you're working on. You want it to be great, and you want to tell the best version of that story possible.
"And, with Quantumania, the fact that we got to make a third Ant-Man movie, I really wanted to do something that emotionally sort of progressed these characters in an organic way but also opened up that world and made good on sort of introducing the quantum realm into the MCU," he said.
Of his hopes about the public's reaction, he said: "I really am excited, I hope the movie connects with audiences. And there's a lot going on in this movie. It's really a very dense movie in terms of introducing a lot of new characters and also spending time with the old characters, so I'm excited about it."
So far, the public has given the film a much better reception on Rotten Tomatoes, with an audience rating of 84 percent.