When Will 'Ant-Man and the Wasp: Quantumania' Be Streaming on Disney+?
Ant-Man and the Wasp: Quantumania is Marvel's latest major project and the movie is hitting theaters in a big way on Friday, February 17.
The film sees Scott Lang (Paul Rudd) get transported into the quantum realm alongside his daughter Cassie (Kathryn Newton), Hope Van Dyne (Evangeline Lilly) and Hope's parents, Janet Van Dyne (Michelle Pfeiffer) and Dr. Hank Pym (Michael Douglas), after Cassie sent a signal down into the region.
It is there that Ant-Man is faced with his most terrifying adversary yet, and indeed the next big baddie of the Marvel Cinematic Universe (MCU), Kang the Conqueror (Jonathan Majors).
But while the film will be out in cinemas, some viewers might be waiting to see when it starts streaming. Here is everything that we know so far.
Where Will 'Ant-Man and the Wasp: Quantumania' Be Streaming?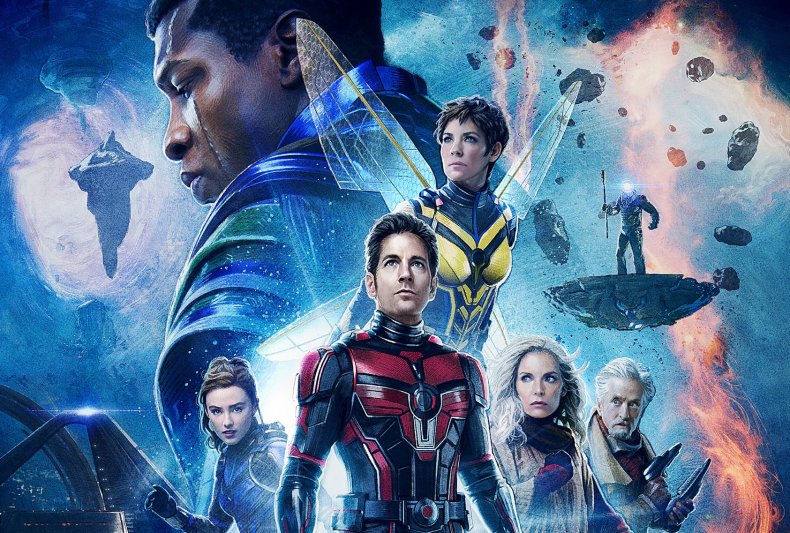 With the exception of the films of Marvel characters that Sony has distribution rights to (that is, the Spider-Man and Venom films), all Marvel movies appear on the same streaming service.
That streamer is Disney+, where viewers will have the chance to watch the MCU in multiple ways, including in chronological order, or in release order.
When Will 'Ant-Man and the Wasp: Quantumania' Stream?
Disney+ took some time to determine exactly when MCU films would come to streaming. Black Widow was available on Disney+ at the exact same time it came to theaters, while Shang-Chi and Eternals took 71 days and 69 days, respectively.
Doctor Strange and the Multiverse of Madness, meanwhile, took a shorter 47 days to come to the platform. Meanwhile, Marvel's most recent, and hugely successful, release Black Panther: Wakanda Forever came out in theaters on November 11 and then on Disney+ on February 1—83 days in total.
As such, it can be estimated that Ant-Man and the Wasp: Quantumania's release will depend on its success at the box office, and given the negative reviews that the film has received, it may not be as strong as expected (the film has been given a rotten rating of 48% by critics on Rotten Tomatoes).
The film's director, Peyton Reed, spoke to Newsweek about the critics' response to the movie, and he talked about the high stakes involved in a Marvel production.
"There's always pressure, every movie has its pressure, right?" Reed said. "I mean, I've never done a movie where you don't feel pressure.
"Not so much from the outside, I feel a self-imposed pressure, as you do on any project you're working on. You want it to be great, and you want to tell the best version of that story possible.
"And, with Quantumania, the fact that we got to make a third Ant-Man movie, I really wanted to do something that, emotionally, progressed these characters in an organic way but also opened up that world, and made good on sort of introducing the quantum realm into the MCU."
Going on to share how he hopes Marvel fans will react to the film, he went on: "So, I really am excited, I hope the movie connects with audiences.
"And there's a lot going on in this movie, it's really a very dense movie in terms of introducing a lot of new characters and also spending time with the old characters, so I'm excited about it."
Marvel and Disney haven't officially confirmed when the third Ant-Man film will be released on streaming, but it should have a minimum of a 45-day theatrical window as that's somewhat of an industry standard for big blockbusters. Both Paramount and Warner Bros. put out their major releases to streaming services Paramount+ and HBO Max, respectively, after that time.
The success of Black Panther: Wakanda Forever shows that a film's box office results will determine if this will be extended, but 45 days has become the norm.
With that in mind, Ant-Man and the Wasp: Quantumania should be expected to come out, at the earliest, on the week of April 3, likely on April 5 as Wednesday is the day that new titles typically premiere on Disney+.
Ant-Man and the Wasp: Quantumania is out in theaters now.