'Ant-Man and the Wasp: Quantumania' Cast: Who's Who in the Quantum Realm
Phase 5 of the Marvel Cinematic Universe (MCU) kicks off with the release of Ant-Man and the Wasp: Quantumania, which arrives in theaters on Friday.
The film follows Ant-Man (Paul Rudd's Scott Lang) as he is transported into the Quantum Realm along with his daughter Cassie (Kathryn Newton), Hope Van Dyne (Evangeline Lilly) and Hope's parents, Janet Van Dyne (Michelle Pfeiffer) and Dr. Hank Pym (Michael Douglas).
While there, Ant-Man and Cassie are taken to the MCU's new big bad: Kang the Conqueror (Jonathan Majors), who demands Scott's assistance in escaping the realm he has been exiled to.
As well as these returning actors, the film features new cast members who play characters that all live in the Quantum Realm. Here is everything you need to know about them.
Who's Who in the Quantum Realm
In Ant-Man and the Wasp: Quantumania, the new characters are either on Kang's side or against him. These are the five to take note of:
1. Quaz
Quaz is played by William Jackson Harper. The character has telekinetic abilities that allow him to know immediately if anyone is trying to lie to him and also tell him who is rebelling in the Quantum Realm.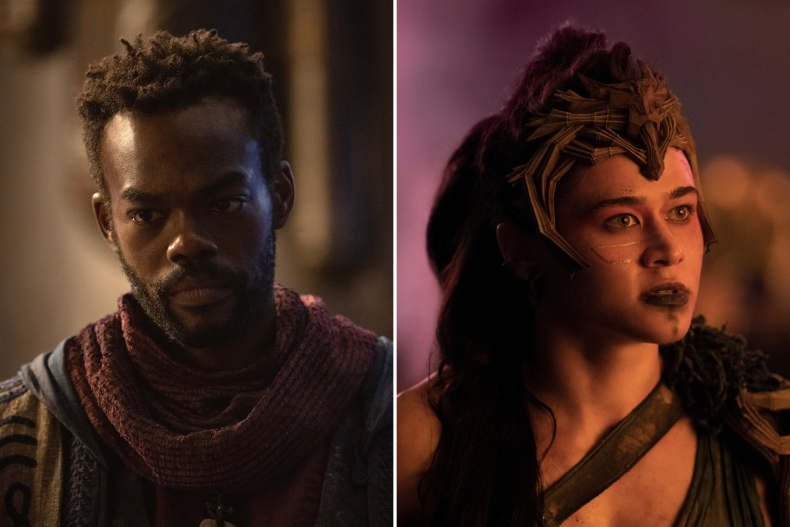 2. Jentorra
Katy O'Brian portrays Jentorra, a freedom fighter who is the leader of the rebellion in the Quantum Realm. She will not stand by and watch as injustice occurs and will stop at nothing to defeat those trying to harm the innocent people of the realm.
3. M.O.D.O.K
M.O.D.O.K, or Mechanized Organism Designed Only for Killing, is played by an actor that fans will recognize from past Ant-Man films: Corey Stoll.
Stoll first appeared in Ant-Man, in which he played Darren Scott, aka Yellowjacket, and he was an adversary of Scott's before being defeated and sent into the Quantum Realm.
Scott assumed that Darren had died during the encounter, but he didn't and instead was transformed into M.O.D.O.K.
4. Veb
Veb is portrayed by David Dastmalchian, who previously appeared in the first two Ant-Man films in the role of Kurt.
For fans who worry there might be some confusion about having the same actor playing two characters, fret not. Dastmalchian is simply lending his voice to the CGI character who is part of Jentorra's rebellion.
5. Krylar
Bill Murray makes a cameo in Ant-Man and the Wasp: Quantumania as Krylar, an old acquaintance of Janet Van Dyne's whom she met during the 30 years she was trapped in the Quantum Realm.