At least three Democratic representatives known for their vocal anti-war positions have spoken out against President Donald Trump's intervention in Venezuela's political crisis.
As Venezuelan President Nicolás Maduro entered his second term earlier this month, the country became increasingly destabilized by protests against what has been widely seen as government mishandling of economic woes that have led to historic hyperinflation, lack of essential goods and a mass exodus of refugees from the socialist country.
On Wednesday, opposition leader and National Assembly President Juan Guaidó declared himself president, a move recognized by the Trump administration, which then cut ties with Maduro and called for him to step down.
Critics have likened Trump's decision to a coup attempt, as well as the latest episode in an extensive history of U.S. intervention in the region. On Twitter, Representative Ilhan Omar of Minnesota argued Friday that Trump's move was illegal, likely rooted in a desire to access Venezuela's oil reserves, and irresponsible given the government shutdown. That impasse, the longest in U.S. history, arose from a standoff over the president's $5.7 billion border wall proposal.
"We cannot hand pick leaders for other countries on behalf of multinational corporate interests. The legislature cannot seize power from the President, and Venezuela's Supreme Court has declared their actions unconstitutional," Omar tweeted. She also shared a Democracy Now article in which former U.N. independent expert Alfred-Maurice de Zayas argued that Trump's move was illegal.
"We can't afford to get involved in costly interventions abroad when tens of millions struggle to access housing, healthcare, and clean water right here at home. U.S. meddling abroad always ends badly for us, and the people we claim to be 'liberating,'" she added. "If we really want to support the Venezuelan people, we can lift the economic sanctions that are inflicting suffering on innocent families, making it harder for them to access food and medicines, and deepening the economic crisis. We should support dialogue, not a coup!"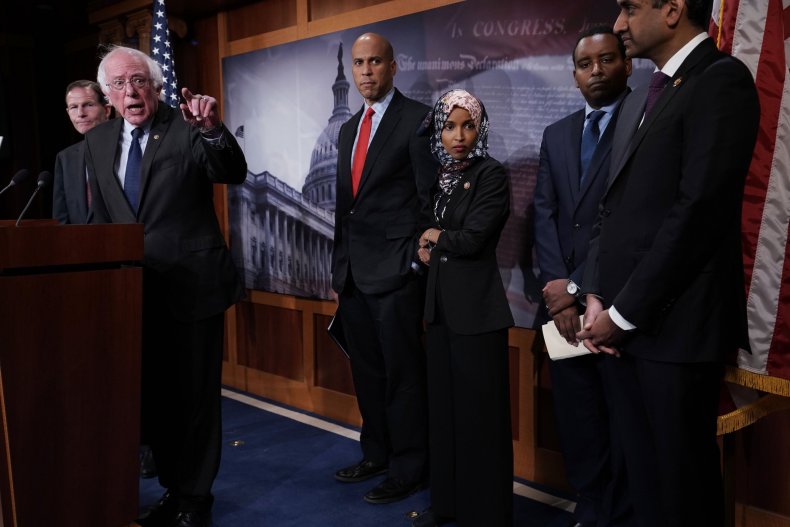 Omar became the first Somali-American, and one of the first two Muslims, voted into Congress in November when Democrats took control of the House of Representatives. She was born in the Somali capital of Mogadishu, and her family fled civil war and lived in a refugee camp in Kenya before resettling in the United States. Since taking office earlier this month, she has been a vocal opponent of U.S. intervention abroad, including its support for Saudi Arabia's war against the Zaidi Shiite rebels known as Ansar Allah, or Houthis, in Yemen.
Now she has taken on U.S. involvement in the Western Hemisphere. The Trump administration has discussed the prospect of regime change in Venezuela, a move that would follow decades of U.S. efforts to defeat socialist movements in Latin America through coups and support for right-wing forces.
As the international community reacted to the crisis on Thursday, Omar tweeted: "A US backed coup in Venezuela is not a solution to the dire issues they face. Trump's efforts to install a far right opposition will only incite violence and further destabilize the region. We must support Mexico, Uruguay & the Vatican's efforts to facilitate a peaceful dialogue."
Omar's statement followed that by another vocal critic of U.S. support for the Saudi-led campaign in Yemen. California Representative Ro Khanna also condemned plans to oust Maduro, whose economic policies he criticized. Khanna said in a statement, "The United States should not anoint the leader of the opposition in Venezuela during an internal, divided conflict."
"There is no doubt the Maduro's economic policies have been terrible, and he has engaged in financial mismanagement and also political authoritarianism. But crippling sanctions and threats of military action are making life worse for ordinary Venezuelans, and the U.S. stands alone in its decision to impose economic sanctions against the Venezuelan government," Khanna said.
"We should work to support the efforts of Uruguay, Mexico and the Holy See for a negotiated settlement and end the sanctions that are making the hyperinflation worse. I plan to circulate a letter to my colleagues in the Trump Administration urging them to immediately change course in its policy toward Venezuela," he added.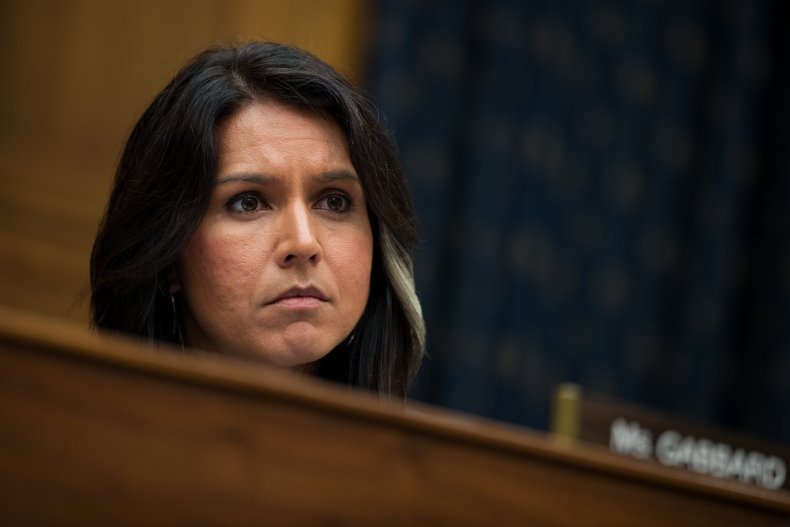 At least one presidential hopeful has also weighed in against Trump. Representative Tulsi Gabbard of Hawaii has been outspoken in her criticism of U.S. adventurism across the globe, especially in Syria, where she traveled to meet Syrian President Bashar al-Assad in 2017. Washington and its allies have accused the Syrian leader of war crimes, including the use of internationally banned chemical weapons against civilians and the U.S. sponsored insurgents attempting to overthrow him following a 2011 rebel and jihadi uprising against his rule.
Gabbard, Khanna and Omar have tacitly backed Trump's decision to pull troops out of Syria, whose government considers the U.S. military presence illegal. They have also supported Trump's calls for a diplomatic solution with North Korea as the U.S. conducted an unprecedented peace process with the nuclear-armed state. But Gabbard pointed out what she felt to be hypocrisy in the administration's approach to Venezuela.
"In the morning, Trump promises Kim of North Korea, 'We won't wage regime-change war against you.' In the evening, Kim watches Trump carrying out regime-change in Venezuela. Kim looks at our actions, not empty promises," Gabbard tweeted. "The United States needs to stay out of Venezuela. Let the Venezuelan people determine their future. We don't want other countries to choose our leaders—so we have to stop trying to choose theirs."
Vermont Senator Bernie Sanders, an independent and self-proclaimed democratic socialist, argued that Maduro's government "has been waging a violent crackdown on Venezuelan civil society, violated the constitution by dissolving the National Assembly and was re-elected last year in an election that many observers said was fraudulent."
He also noted that "the economy is a disaster" and said the U.S. "should support the rule of law, fair elections and self-determination for the Venezuelan people" as well as "condemn the use of violence against unarmed protesters and the suppression of dissent."
Still, he maintained that the U.S. "must learn the lessons of the past and not be in the business of regime change or supporting coups—as we have in Chile, Guatemala, Brazil, and the Dominican Republic." He added, "The United States has a long history of inappropriately intervening in Latin American countries; we must not go down that road again."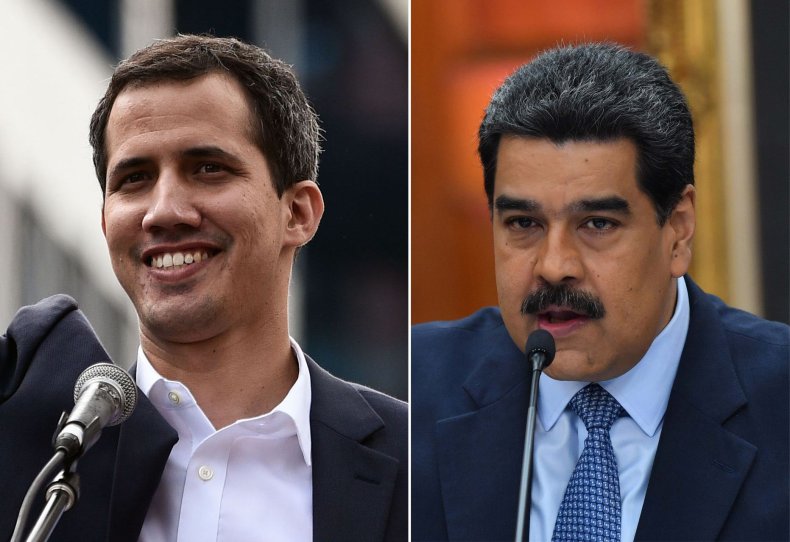 Fellow democratic socialists Michigan Representative Rashida Tlaib, also one of the first two Muslims voted into Congress in November, and New York Representative Alexandra Ocasio-Cortez have not yet publicly commented on the issue. But the Democratic Socialists of America (DSA), of which they were both members, did comment in a lengthy, deeply critical statement.
"We call upon the US government to immediately cease and desist all attempts to intervene in the internal politics of Venezuela and break with its shameful legacy of imperial control in the region," the organization wrote. "Further, we call upon DSA chapters and DSA-supported political representatives to mobilize in this particularly critical moment around a campaign of solidarity with the Venezuelan people, aimed specifically at reversing the US government's disastrous and counterproductive sanctions against Venezuela."
Many Republicans have voiced support for Trump's actions on Venezuela, while Democratic reactions have widely ranged from mixed to muted. House Speaker Nancy Pelosi tweeted Thursday that "America stands by the people of #Venezuela as they rise up against authoritarian rule and demand respect for human rights and democracy."
The Venezuela crisis has also polarized the international community, with U.S. allies like Canada and the U.K., along with Argentina, Brazil, Chile, Colombia and Peru, recognizing Guaidó. Meanwhile, longtime critics of Washington's foreign policy, such as Bolivia, Cuba and Nicaragua as well as China, Iran, Russia, Syria and Turkey, have come out in support of Maduro.