Antifa in Charlottesville, Ahead of Unite the Right Rally, to 'Keep the Community Safe' Activist Says
As far-right demonstrators converge on Charlottesville for the "Unite the Right 2" rally on Sunday, Antifa activists will be there to "keep the community safe."
Taking place one year after the first "Unite the Right" rally, which brought together neo-Nazi groups, members of the Ku Klux Klan (KKK) and the alt-right in what has been promoted as a "white civil rights movement," thousands of white nationalists and counter protesters have converged on the Virginia city. Last year's rally was marked by tragedy, as a white nationalist protester rammed his car into a group of counter demonstrators, fatally killing 32-year-old Heather Heyer. Dozens were also injured at the protest.
As was the case last year, Antifascist – known as Antifa – activists will be present, planning to use "self-defense" tactics when necessary to protect counter demonstrators.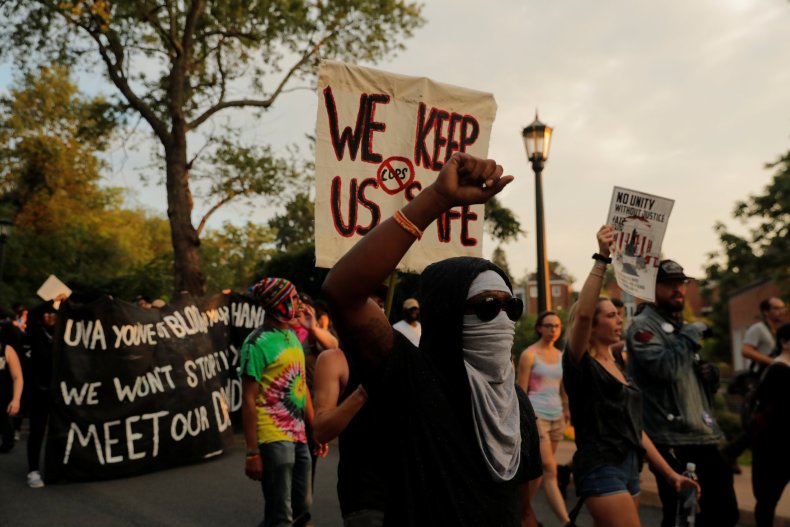 "I can't tell you for certain that we'll be using active self-defense against the fascists," Vincent, an Antifa organizer with Smash Racism DC, who declined to give his last name to protect his identity, told Mic on Saturday. "What I will say is we will be there tomorrow and we will try and keep the community safe," he added.
Antifa activists rose to prominence after fights were reported between members of the loosely-connected group with white supremacists at rallies last year. In one high-profile violent incident, alt-right provocateur Richard Spencer was punched in the face on the street in Washington, D.C., following Trump's inauguration. Videos and GIFs of the attack went viral and sparked a national debate over whether it is acceptable to "punch a Nazi."
Makia Green, 26, a co-organizer of the Black Lives Matter's D.C. chapter, voiced her support for Antifa demonstrators, saying they have helped protect protesters in the past.
"I believe in self-defense," Green told Mic. "I support [Antifa] and I can recognize how they have protected people of color and stood up for people of color in this fight."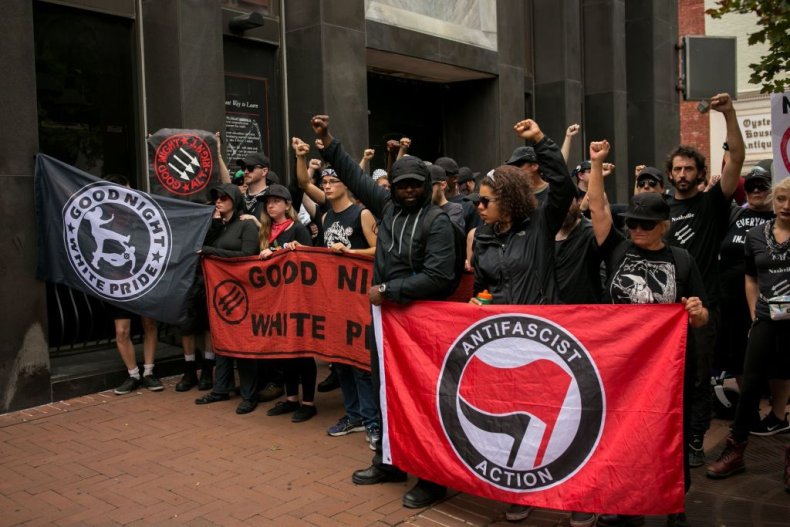 Antifa has been criticized for allegedly standing in the way of white supremacists and fascists freedom of speech. Groups like the alt-right have touted their "First Amendment rights" to promote their White Nationalist agenda, arguing that groups like Antifa and BLM pose a threat to their freedom. Spencer has also said that Antifa is "winning" the fight.
"Antifa is winning to the extent that they are willing to go further than anyone else," he told his followers in March, after antifascists disrupted one of his college visits at Michigan State University, forcing him to end a speaking series. "They are willing to do things that no one else is willing to do."
Although right-wing groups have even called Antifa terrorists and accused them of provoking violence, the activists see themselves as defenders against fascism and argue that their rivals are far more violent.
"If you actually look at the incidents, the fascists, the right wing, have done much worse violence," Vincent told Mic. "It's them who drove a car through a crowd. It was them stabbing people on subways."