More Than Half of American Jews Believe GOP Bears Responsibility for Record Levels of Antisemitism in U.S: Report
More than half of American Jews believe the Republican party is responsible for the current levels of antisemitism in the U.S., including nearly one in five who believe they bear "total responsibility," according to a survey.
The poll, conducted by the American Jewish Committee (AJC), revealed a series of concerns and issues faced by American Jews today amid continuing reports of record breaking amounts of anti-Semitic incidents in the country.
The survey, described as the largest and most comprehensive ever on the subject of antisemitism in the U.S., was released ahead of the one-year anniversary of the Tree of Life synagogue massacre on Pittsburgh, which left 11 people dead.
One of the questions asked on a scale of one to 10— one meaning "no responsibility" and 10 meaning "total responsibility"—how much responsibility does the Republican party bear for the current levels of antisemitism.
A total of 54 percent gave a score of at least seven, with 17 percent giving a "total responsibility" score of 10.
When the same question was asked about the Democratic party, 17 percent gave a score of seven or above, with 30 percent giving a "no responsibility" score of one.
Discussing President Donald Trump, 62 percent of American Jews said they strongly disapprove of the way he is handling the threat of antisemitism in the U.S., with a further 11 percent saying they somewhat disapprove.
Last year, Trump was criticized ahead of his visit to the Tree of Life synagogue to pay tribute to the victims of the shooting over his failure to fully denounce white supremacy and the far-right, including infamously referring to those who marched in neo-Nazi rally in Charlottesville in 2017 as "good people."
"You yourself called the murderer evil, but yesterday's violence is the direct culmination of your influence," leaders from Jewish group Bend the Arc: Pittsburgh wrote in an open letter to Trump urging him not to visit the city.
Among some of the other findings include 50 percent of American Jews describing antisemitism in the country today as "somewhat of a problem," with an additional 38 percent say it's a very serious problem. Only two percent of those taking part in the study described antisemitism in the U.S. as not a problem at all.
One quarter also said they have avoided places, events or situations over concerns for their own safety because they were Jewish.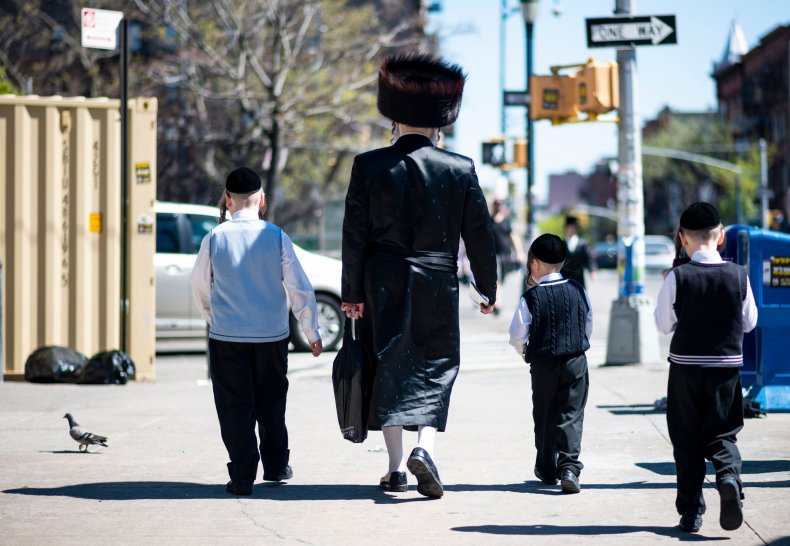 Elsewhere, three quarters of Jewish people who said they were the victim of an anti-Semitic attack or incident said they did not report it to anyone, with only three percent saying they went to the police.
Nearly one third (31 percent) of those taking part in the study said they admitted to avoiding wearing, carrying, or displaying things that might help people identify them as Jewish when in public over fears they may be attacked.
"American Jews could not be clearer about the reality of antisemitism in the U.S.," said AJC CEO David Harris. "Our survey provides, for the first time, an in-depth assessment of American Jewish perceptions of, and experiences with, antisemitism in their own country.
"This hatred is real, comes from multiple sources, and is growing. It needs to be taken seriously and dealt with in a sustained, multi-pronged response."
A total of 1,283 Jewish people over the age of 18 took part in the survey carried out between September 11 and October 6, with a plus or minus 4.2 percent.