AOC Accuses Sinema of Putting 'Lobbyists Over People,' Shows Off Higher Fundraising Haul
Progressive Representative Alexandria Ocasio-Cortez accused Senator Kyrsten Sinema of putting the interests of "lobbyists over people," touting her higher fundraising haul as evidence of support for the progressive agenda.
Sinema, an Arizona Democrat, has emerged as a key moderate pushing back against President Joe Biden's Build Back Better agenda. Along with Senator Joe Manchin, a moderate West Virginia Democrat, Sinema has raised concerns about the high price tag and some provisions included in an initially $3.5 trillion proposed budget reconciliation package.
Progressives have pushed back against Sinema's and Manchin's opposition, accusing the two moderate senators of making their political decisions based on the influence of their corporate donors.
"It's 2021. You don't have to put corporate lobbyists over people to legislate, fundraise, and win," Ocasio-Cortez wrote in a Twitter post on Sunday.
"It's insulting to tell everyday people who worked tirelessly for a majority that they must suffer insane drug prices, no voting rights, & climate disaster for political convenience," she added.
The progressive congresswoman retweeted a post from the official People for Bernie [Sanders] account. The group's tweet compared the third-quarter fundraising hauls of Sinema and Ocasio-Cortez. Notably, the New York progressive raked in over half a million dollars more than the Arizona moderate.
"Q3 fundraising totals: AOC: $1,679,781, Kyrsten Sinema: $1,138,017," People for Bernie wrote.
In a Twitter post earlier on Sunday, Ocasio-Cortez thanked supporters of her campaign. "Not only are you why we can do this work, but you also prove that we can elect and support people to Congress free of dark money & corporate lobbyists."
Sinema has faced substantial backlash from progressives over her opposition to the $3.5 trillion reconciliation package, which would accomplish much of Biden's Build Back Better agenda. The legislation would fund universal pre-kindergarten, two years of community college, extended child tax credits, ways to address climate change and a number of other key Democratic priorities. Sinema has suggested she would back a smaller version of the bill, but it remains unclear how Democrats will compromise.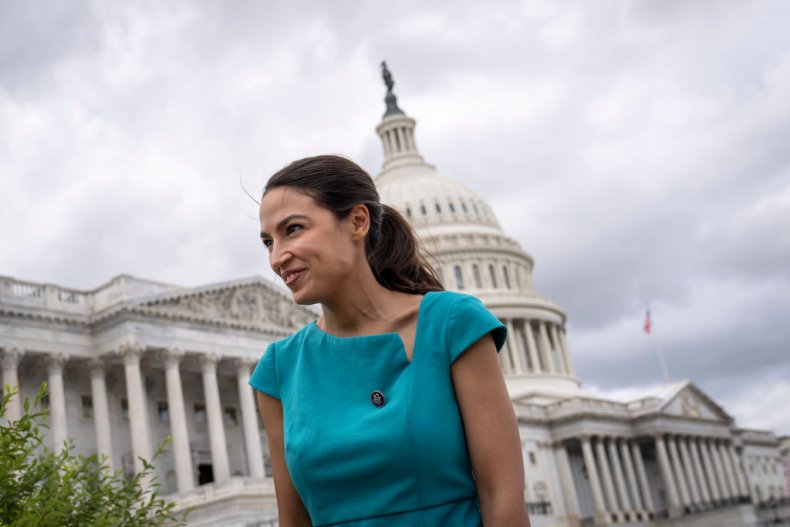 Meanwhile, recent polling out of Arizona by Data for Progress suggests that Sinema's popularity has waned significantly. The survey results found that the Democratic lawmaker trailed potential primary challengers by substantial double-digit margins in hypothetical matchups.
Three-quarters (75 percent) of the Arizona respondents to the poll also said they disapproved of the job Sinema is doing in Congress. That number included a sizable majority (57 percent) who said they "strongly disapprove" of the senator's performance.
Newsweek reached out to Sinema's office for comment but did not immediately receive a response.