Bernie Sanders, Pramila Jayapal Insist There's No Divide Between Progressives, Moderates
Progressive leaders Senator Bernie Sanders and Representative Pramila Jayapal have insisted that there is not a divide between moderate Democrats and progressives in Congress—pointing out that the vast majority of Democratic lawmakers support President Joe Biden's Build Back Better agenda.
Senators Joe Manchin, a West Virginia Democrat, and Kyrsten Sinema, an Arizona Democrat, have emerged as the primary opponents to Biden's "human infrastructure" reconciliation bill. While a few other moderates have expressed concerns with the high price tag—initially $3.5 trillion—and specific provisions within the legislation, most Democratic lawmakers have backed the bill to accomplish the bulk of the president's agenda.
"If you have a caucus which is divided—you've got 25 people who want to do one thing, 25 people who want to do the other thing—you know what you do? You compromise," Sanders told The New York Times for an article published Saturday.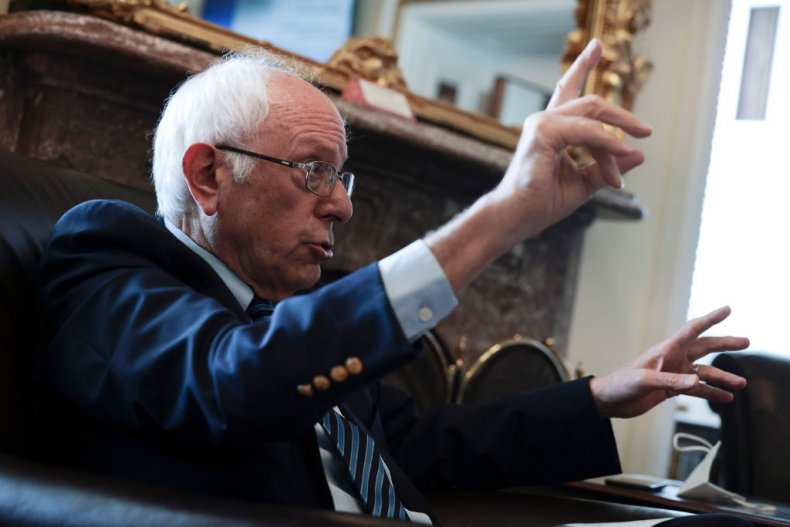 The Vermont independent went on to point out that this is not the situation in the Senate right now. He said that "when you've got 48 people who want to do something and two who don't," then "it is not a 50-50 compromise."
Notably, Biden also strongly supports the reconciliation bill as do the vast majority of Democratic voters as well as many independents and many Republicans, according to multiple recent polls.
Jayapal, a Washington Democrat who chairs the 96-member-strong Congressional Progressive Caucus, said that the reconciliation package would pass about 85 percent of Biden's agenda in a Saturday interview with MSNBC. However, Jayapal noted that "you've got to have all 50 [Democratic Caucus] senators" on board to successfully pass the legislation.
"This is not a progressives-versus-moderates debate," Jayapal said. The congresswoman argued that the debate was about "opportunity versus decay."
"The United States has to invest in a whole host of things that provide regular working families the opportunity to actually have a better life," she said.
Jayapal said that only "a small handful" of Democrats in the House of Representatives aren't fully on board with the package, along with Sinema and Manchin in the Senate.
"I'm not disparaging anybody. The margins are so thin that we need to have everybody on board," she said. "And that's why the progressive caucus has been saying, 'Look, we're standing up for the president's agenda. We're not going to leave anybody behind but we're at the negotiating table.'"
Newsweek reached out to press representatives for Manchin and Sinema for comment but did not immediately receive responses.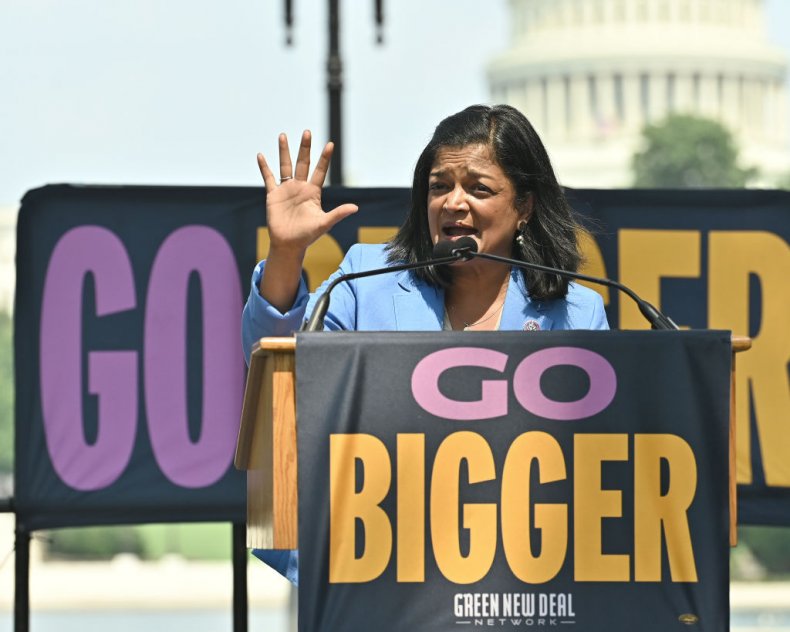 Biden and Democratic leaders have suggested the final price tag of the reconciliation package may end up in the range of $2 trillion, instead of $3.5 trillion, in a bid to compromise with moderates. However, progressives have maintained that the entire package will be paid for through tax increases on the wealthiest Americans.
If passed, the legislation would fund two years of free community college, universal pre-kindergarten, extended child tax credits, climate change priorities, and a range of other social priorities backed by Biden and Democrats. In tandem, Democrats aim to pass the bipartisan $1.2 trillion Senate infrastructure legislation, which will invest in roads, bridges, public transport and water systems nationwide.