AOC Blasts Samuel Alito Over Remarks Mocking Foreign Leaders on Roe v. Wade
Democratic Representative Alexandria Ocasio-Cortez of New York has denounced Supreme Court Justice Samuel Alito for making "politicized" comments regarding foreign leaders voicing opinions on the overturning of Roe v. Wade.
Alito, the author of the conservative majority's draft opinion that leaked more than a month before the Court officially overturned the landmark abortion-rights case, spoke out last week against leaders including Canadian Prime Minister Justin Trudeau and outgoing British Prime Minister Boris Johnson during an event in Rome, Italy. Ocasio-Cortez said on Thursday that Alito showed the Court was suffering a "legitimacy crisis" and demanded to see the results of an internal investigation into the leak.
"Remember: it was Alito's opinion that leaked," Ocasio-Cortez wrote while retweeting a video clip taken from Alito's speech. "That fact paired with his politicized remarks below should be alarming to anyone. The Supreme Court is in a legitimacy crisis. Chief Justice Roberts has a responsibility to share the progress & results of SCOTUS' leak investigation."
Alito, during his speech at the event primarily focused on religious liberty and sponsored by the Notre Dame Law School, did not directly mention Dobbs v. Jackson Women's Health Organization, the decision that overturned Roe, but instead referred to it as "the decision whose name may not be spoken" after lashing out at the foreign leaders and a member of the British royal family.
"I had the honor this term of writing, I think, the only Supreme Court decision in the history of that institution that has been lambasted by a whole string of foreign leaders," Alito said, resulting in a smattering of laughter from the audience. "Who felt perfectly fine commenting on American law."
Alito then jokingly said Johnson had been ousted from office due to his criticism of the decision, while incorrectly claiming that his premiership had already ended. Although Johnson has announced his resignation, he is still in office pending the ruling Conservative Party's search for a new leader, which is expected to be finalized in early September.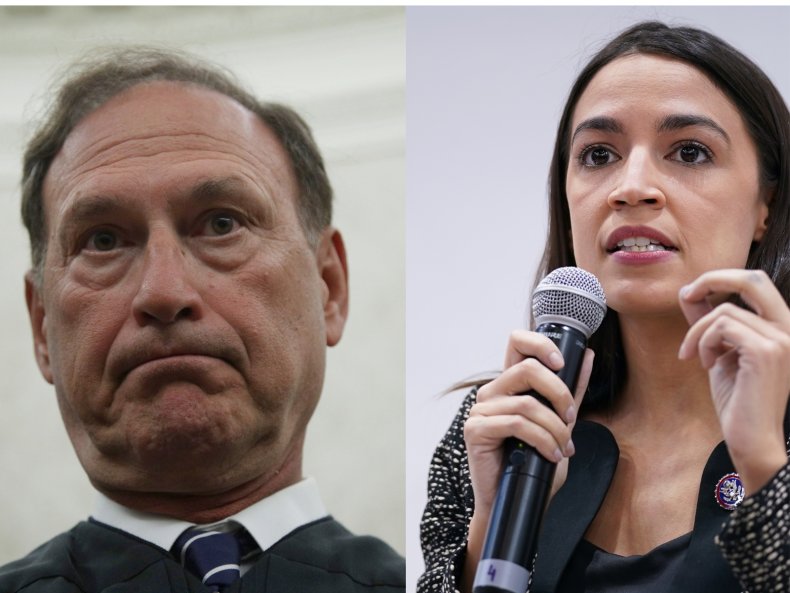 "One of these was former Prime Minister Boris Johnson, but he paid the price," Alito said, to applause from the audience. "Post hoc ergo propter hoc, right? But others are still in office. President [Emmanuel] Macron and Prime Minister Trudeau, I believe, are two."
Alito went on to sarcastically say that he was most "wounded" by Prince Harry, the Duke of Sussex, who recently reacted to the Court's decision by likening it to the Russian invasion of Ukraine and part of an overall "global assault on democracy and freedom."
"What really wounded me, what really wounded me, was when the Duke of Sussex addressed the United Nations and seemed to compare the decision whose name may not be spoken with the Russian attack on Ukraine," Alito said.
Ocasio-Cortez, an outspoken proponent of abortion rights and a strong critic of the Dobbs decision, on Tuesday shared a tweet concerning the leak investigation from Senator Sheldon Whitehouse, a Rhode Island Democrat.
"Interesting to see how much they'll care about investigating Alito opinion leak now that evidence points to leak from the right," Whitehouse tweeted while sharing a CNN article reporting that Chief Justice John Roberts was attempting to convince Justice Brett Kavanaugh to save Roe just before the draft leaked.
Newsweek reached out to the Supreme Court and the office of Ocasio-Cortez for comment.