Prince Harry is a "feminist" who had a "guttural" reaction to the overturning of the Roe v. Wade decision by the Supreme Court , said Meghan Markle in a conversation with Gloria Steinem for Vogue.
Moderated by Jessica Yellin, a journalist and founder of the News Not Noise media outlet, the conversation between Meghan and high-profile feminist Steinem was recorded after the Supreme Court overturned of Roe v. Wade, which protected a woman's right to have an abortion.
Meghan spoke of the ruling's "very real impact on women's bodies and lives."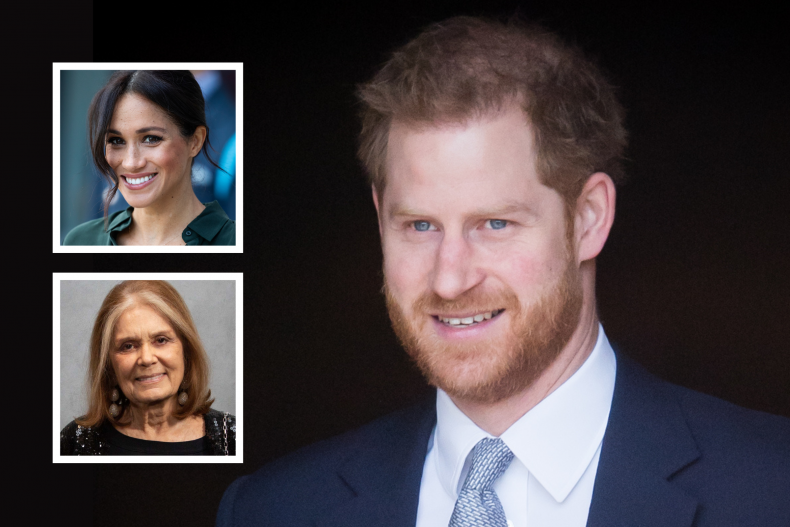 This is not the first time that Meghan has identified her husband as a feminist. In January 2018, four months before the couple's May wedding, Meghan responded to a fan, on a walkabout in Cardiff, who told her she loved having a feminist in the royal family, saying that Harry was "a feminist too."
In another discussion with Steinem ahead of the 2020 presidential election, Meghan also spoke of Harry's identifying as a feminist saying:
"As I've gotten older I've been able to understand that it's not mutually exclusive to be a feminist and be feminine. And to own that and harness your femininity and your identification as a woman in all of the different layers,"
To this Steinem responded, "Well, you can be a feminist and be masculine and a guy."
"Like my husband!" Meghan said. "I love that when he just came in he said, 'You know that I'm a feminist too, right Gloria?! It's really important to me that you know that.'"
In her more recent conversation with Steinem about the Roe v. Wade decision, Meghan spoke of the need for more men to be active participants in the discourse surrounding women's reproductive rights.
"Men need to be vocal in this moment and beyond because these are decisions that affect relationships, families, and communities at large," she said.
"They may target women, but the consequences impact all of us. My husband and I talked about that a lot over the past few days. He's a feminist too."
Steinem agreed with the royal, stating that she had interacted with Harry on the subject even before he had met Meghan.
"I can testify to that since I met him before I met you," Steinem said. "He was at a big meeting I attended and he was advocating for people's rights."
Meghan then added: "His reaction last week was guttural, like mine. I know that for so many women right now, there is a sentiment of despair. But again, we have to band together and not wallow. We have to do the work."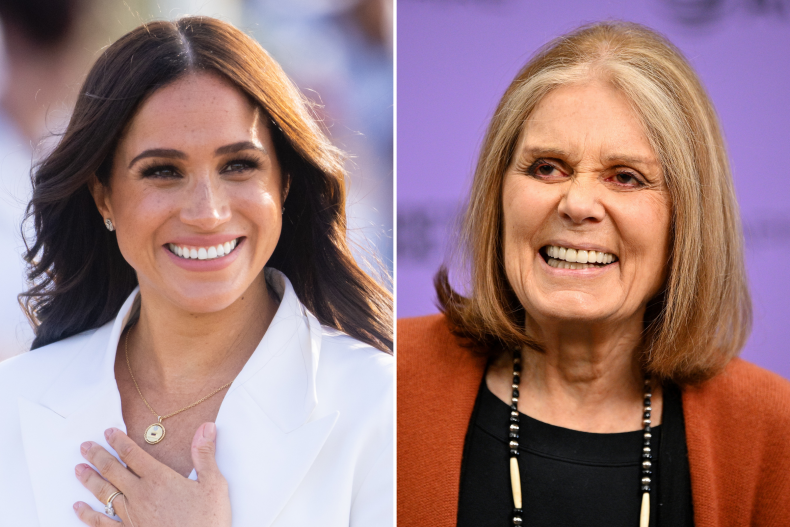 Meghan also revealed her personal connection to the Supreme Court's decision, speaking about the stigma that surrounds women's reproductive rights as a mother who knows "what it feels like to have a connection to what is growing inside of your body."
"What happens with our bodies is so deeply personal, which can also lead to silence and stigma, even though so many of us deal with personal health crises," she said.
"I know what miscarrying feels like, which I've talked about publicly. The more that we normalise conversation about the things that affect our lives and bodies, the more people are going to understand how necessary it is to have protections in place."
In November 2020, Meghan revealed in an essay published by the New York Times titled "The Losses We Share" that she had experienced a miscarriage earlier that year before going on to have daughter Lilibet in 2021.
The royal then went on to stress the wider implications of Roe v. Wade's overturning, which has stripped the constitutional protections for abortion, leaving the matter open to the states to decide on.
"This is about women's physical safety," she said to Steinem. "It's also about economic justice, individual autonomy, and who we are as a society. Nobody should be forced to make a decision they do not want to make, or is unsafe, or puts their own life in jeopardy."
On the prospect of moving forward from the Supreme Court's decision, Meghan spoke of the need for "unity," "hope" and "understanding the Constitution was written at a time when women were second-class citizens. We're not. Certain things need to change."