AOC Says 'Conservative' Dems Are 'Less Generous' Than Trump After $1,400 Checks Limited
Representative Alexandria Ocasio-Cortez, a progressive Democrat from New York, accused "conservative" Democrats of being less generous than former President Donald Trump, after they convinced President Joe Biden to limit the eligibility for Americans to receive stimulus checks.
Under the original plan, individuals earning up to $75,000 and couples earning up to $150,000 annually would receive $1,400 and $2,800 stimulus checks, respectively. The amount would then phase out and decrease, with individuals making over $100,000 and couples earning more than $200,000 no longer being eligible.
But the modified income thresholds make it so that individuals earning more than $80,000 and couples generating over $160,000 annually will no longer be eligible for any payments. The modified plan will send stimulus payments to 12 million fewer American adults.
"Conservative Dems have fought so the Biden admin sends fewer & less generous relief checks than the Trump admin did. It's a move that makes little-to-no political or economic sense, and targets an element of relief that is most tangibly felt by everyday people. An own-goal," Ocasio-Cortez tweeted Wednesday afternoon after the news broke in the morning.
In a follow-up post, the congresswoman wrote: "We have a responsibility to show people in this country what a Democratic majority can do for working people. That means more generous relief checks, $15 min wage, ending the filibuster to protect our democracy. It's a once-in-generation shot, and we need to legislate like it."
Newsweek reached out to moderate Democratic Senators Joe Manchin of West Virginia and Jeanne Shaheen of New Hampshire, who both urged Biden to lower the income threshold, for comment, but they did not immediately respond.
Under Trump, a stimulus check of $1,200 for individuals was improved in March and a second totaling $600 was approved in December. Those checks were phased out in a similar manner to the original plan that moderate Democrats successfully convinced Biden to modify.
The White House defended the decision during a Wednesday press briefing, with Press Secretary Jen Psaki saying that the president had always been open to compromising on the income phaseout eligibility.
"He is comfortable and knows there will be tweaks on the margin," Psaki said. "What his firm viewpoint is, is that it needs to meet the scope of the challenge, it needs to be the size he's proposed, it needs to have the core components in order to have the impact on the American people."
Progressive Democrats are already frustrated after the Senate's parliamentarian ruled last week that an increase of the federal minimum wage from $7.25 per hour to $15 per hour by 2025 could not be passed through the budget reconciliation process. House Democrats included the minimum wage hike—or the Raise the Wage Act—in their version of the $1.9 trillion COVID-19 American Rescue Plan. However, due to the parliamentarian's decision, it appears unlikely the pay raise will survive the Senate. The White House has said Biden was "disappointed" but "respects" the decision.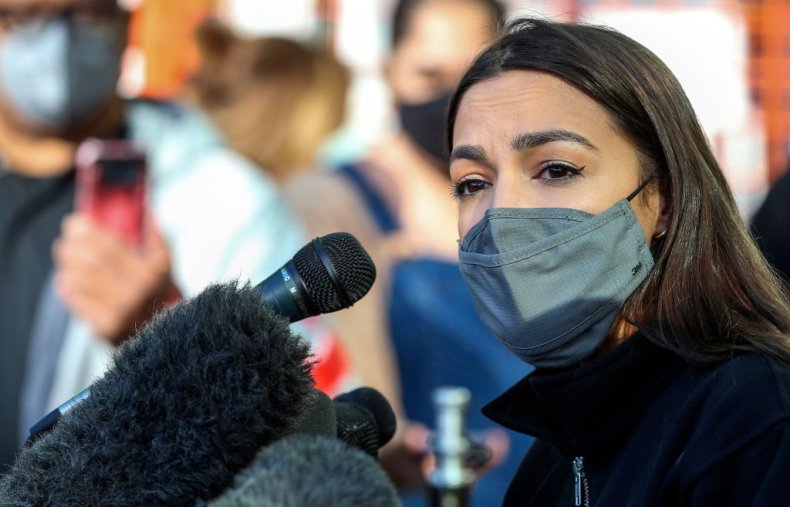 Representative Ro Khanna, a California Democrat and Deputy Whip of the Progressive Caucus, was joined by 22 fellow progressives, including Ocasio-Cortez, in a Monday statement urging the president to disregard the parliamentarian's ruling.
"This ruling is a bridge too far," Khanna said in a statement. "[Progressives have] been asked, politely but firmly, to compromise on nearly all of our principles and goals. Not this time. If we don't overrule the Senate parliamentarian, we are condoning poverty wages for millions of Americans. That's why I'm leading my colleagues in urging the Biden Administration to lean on the clear precedent and overrule this misguided decision. Give America a raise."