With the presidential election result clear, some eyes are already turning to 2022—with Senator Chuck Schumer (D-NY) at the center of speculation about a potential primary bid from Rep. Alexandria Ocasio-Cortez (D-NY) for his seat.
A small number of votes are still being counted, and President Donald Trump is mounting legal challenges that will likely have little or no impact on the final result, but networks have called the election a win for President-elect Joe Biden.
Following a largely disappointing set of results for Democrats in the House and the Senate, however, some of the focus has now shifted to the future of the party and its ideological trajectory as it seeks to take control of Congress.
Moderates and progressives within the party have clashed since Election Day, with Ocasio-Cortez front and center of the debate about who and what was to blame for the shrunken House majority in particular. Tongues are wagging about a Schumer primary.
"I can't think of anyone who leads a coalition as fired up about progressive policy as AOC does," Democratic strategist and political columnist Max Burns told Newsweek.
"She could certainly marshal the resources to make a Senate run, especially because I'd argue the balance is starting to shift in what we look for in an effective senator."
Some centrist Democrats had questioned the role progressives played in the loss of seats to the GOP, raising issues around the "defund the police" movement and talk of socialism during a call that was leaked to the media.
Ocasio-Cortez told The New York Times that the election results showed "progressive policies do not hurt candidates," and hit back at suggestions she is being divisive with her recent remarks.
"I've been begging the party to let me help them for two years. That's also the damn thing of it. I've been trying to help," she told the Times.
"Before the election, I offered to help every single swing district Democrat with their operation. And every single one of them, but five, refused my help."
She noted that the five "vulnerable or swing district people" she helped won, while those who rejected her offer were losing: "And now they're blaming us for their loss."
Her intervention comes amid ongoing speculation of a Senate bid from the New York congresswoman. This renewed effort to elevate progressive voices and challenge the party's moderates sets the scene for a potential contest with Schumer.
"Schumer rose up because he's an incredible fundraiser, but he's not the best communicator of what it is to be a Democrat," Burns told Newsweek.
"We see that kind of finance-over-communications problem all throughout the party, and AOC bridges the problem by having a mastery of both."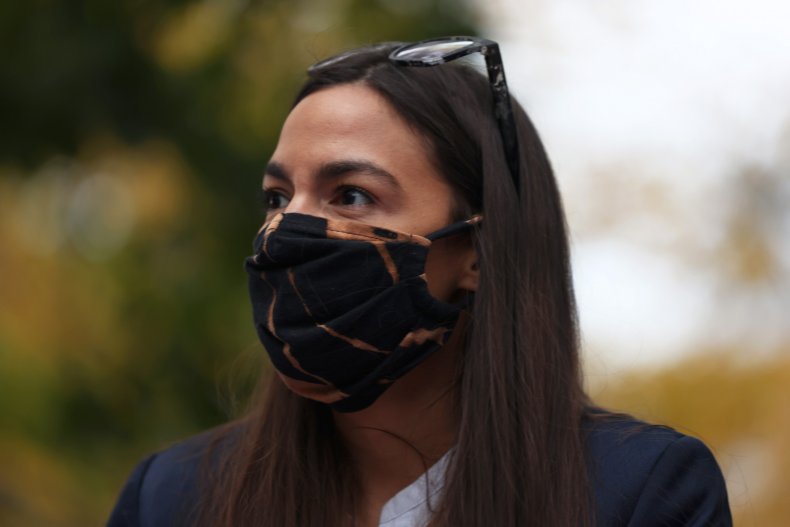 The Progressive Women of New York, a group "committed to advancing progressive values and policies at every level of government," told Newsweek that its support of an Ocasio-Cortez bid for Senate depends on a process involving members.
But the group also pointedly criticized Schumer.
"While an AOC U.S. Senate bid is speculative at this stage in the game, Senator Schumer has failed to use his position to protect the people during the most important battles of this administration," a statement from the group's steering committee said.
"If AOC chooses to run, our membership of over 1,400 would be called on to participate in our endorsement process."
Ocasio-Cortez's trajectory from an outsider in her 2016 House bid to one of the most recognizable faces in U.S. politics has been swift, prompting questions about her ambitions beyond the lower chamber of Congress.
In a recent interview with Vanity Fair, the self-described democratic socialist spoke of her political future laying elsewhere.
"I don't know if I'm really going to be staying in the House forever, or if I do stay in the House, what that would look like," she said. "I don't see myself really staying where I'm at for the rest of my life."
President Donald Trump, a frequent critic of Ocasio-Cortez, has also speculated that she will run against Schumer. He said previously: "AOC will run against Chuck Schumer for the Senate. Yeah, I mean, I think. And I think she'll win."
While Ocasio-Cortez has not outlined her intentions, neither has she rejected the notion of running for the Senate.
The congresswoman said she was focused on serving those who elected her in New York's 14th Congressional District and securing her reelection there—but also that she did not know what 2022 might hold.
"Honestly, this news cycle is so insane who knows where any of us are going to be in 2022," she told Politico earlier this year when asked about the prospect of a run against Schumer.
Axios also previously reported that "top Democrats" have touted her as potentially primarying one of New York's senators, with the likeliest being Schumer in 2022, though the seat of Sen. Kirsten Gillibrand (D-NY) is also a possibility in 2024.
Schumer has recently faced pressure from New York progressives to back expanding the Supreme Court if Democrats flip the Senate following the confirmation of Justice Amy Coney Barrett, giving the court a solid conservative majority.
Democrats gaining control of the Senate hinges on the Georgia Senate runoffs in January. Winning both would give the Democratic caucus a razor-thin majority.
With Schumer under pressure, Ocasio-Cortez showed solidarity with her fellow progressives on the SCOTUS question, tweeting "expand the court" following Barrett's confirmation. Before the election, Schumer said "everything is on the table."
It is not the first time Schumer has faced the ire of those within the liberal factions of the Democratic party. Protests were held outside his home in 2017 urging him to push back harder against Trump.
In Schumer, however, Ocasio-Cortez would face a tough political opponent.
The veteran Democrat has been in the Senate since 1999, after a tenure in the House, rising to his current rank of Senate minority leader. Her progressive credentials are also unlikely to resonate across New York state as well as they do inside her city district.
"Chuck clearly isn't leaving the Senate until he's no longer conscious and AOC's ambition and popularity both keep skyrocketing, so they may be on a collision course for 2022," Bradley Tusk, founder and CEO of Tusk Strategies and a former communications director for Schumer, told Jewish Insider.
He said it could be an "all-time great race" and "would be one of the most interesting matchups of establishment vs. reformers in a long time."
Schumer was asked about a progressive primary challenger in 2022 last week and when asked for comment his press team referred Newsweek to his remarks.
The senator said in an interview with Anand Giridharadas that he does "a good job" and this has always "worked out," when asked if he expects to face a progressive primary challenger in 2022.
"Look, I have been in politics a while. I do a good job. The best job I can for the people of New York and the people of the country, and it's always worked out," he said.
Giridharadas pressed further: "You haven't heard any of those murmurs of people looking to run against you?"
Schumer responded: "The answer I gave you is the answer. You do a good job for New York, you do a good job for the country, and it works out."
Newsweek has asked Ocasio-Cortez for comment.