AOC Shares Rape Story to Promote Abortion Rights: 'This Is for All of Us'
Representative Alexandria Ocasio-Cortez, a New York Democrat, shared her personal rape story at a New York City protest on Friday evening—touting the importance of protecting abortion rights in the wake of the Supreme Court's controversial decision to overturn Roe v. Wade.
The Supreme Court's conservative majority on Friday morning ended nearly five decades of precedent by overturning the judicial body's landmark 1973 decision, which had established a woman's constitutional right to an abortion. Former President Donald Trump has been largely credited for the controversial ruling, as he—during his single White House term—appointed three of the conservative justices who voted with the majority in the ruling.
Ocasio-Cortez, a prominent progressive, joined hundreds of demonstrators in Manhattan's Union Square to protest the Supreme Court's decision. The Democratic lawmaker pointed to her own experience of being sexually assaulted, and how knowing that abortion was available gave her some relief in that difficult moment of her life.
"I myself, when I was about 22 or 23 years old, was raped when I was living here in New York City. I was completely alone," the congresswoman said, The Independent reported. "In fact, I felt so alone that I had to take a pregnancy test in a public bathroom in midtown Manhattan."
"When I sat there waiting for what the result would be, all I could think was: Thank God I have, at least, a choice. Thank God I could, at least, have the freedom to choose my destiny. I didn't know then, as I was waiting, that it would come up negative. But it doesn't matter... This is for all of us. This is not a women's rights issue. This is an issue for all of us," she added.
While abortion will remain legal in New York and many other liberal-leaning states, a number of conservative states swiftly moved to near completely ban or severely restrict access to abortions immediately after the Supreme Court decision was handed down. In some cases, these laws do not include exceptions for rape or incest. Some conservative states had so-called "trigger laws" already go into effect as soon as Roe was overturned.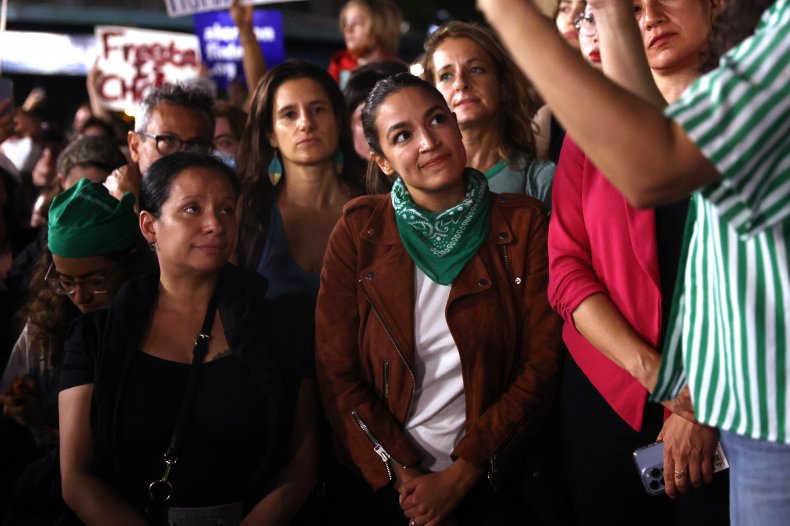 Moving forward, according to the Supreme Court ruling, how to regulate and restrict abortions will be up to individual states. Analysts have assessed that abortion will likely be illegal in roughly half the country, although women will be able to travel across state lines to access abortion in other areas. Some right-wing activists and politicians have floated the idea of implementing legal consequences to prevent women from seeking abortion in other states, however.
Ocasio-Cortez earlier on Friday joined demonstrators outside the Supreme Court in Washington, D.C., calling the nation's top Court "illegitimate." She urged others to march "into the streets" to demonstrate their disapproval of the conservative ruling.
The Democratic congresswoman tweeted that overturning Roe "will never make" abortions "go away."
"It only makes them more dangerous, especially for the poor and marginalized," she wrote. "People will die because of this decision. And we will never stop until abortion rights are restored in the United States of America."
While Democrats slammed the decision, conservatives cheered the ruling.
"I have always been strongly pro-life. Today's ruling by the Supreme Court returns power to the states and the people of the states to address the issue of abortion under state law," Representative Liz Cheney, an anti-Trump Wyoming Republican, wrote on Twitter.
Trump hailed the decision and took credit, describing the ruling as "the biggest WIN for LIFE in a generation" in a statement. He said it was "only made possible because I delivered everything as promised, including nominating and getting three highly respected and strong Constitutionalists confirmed to the United States Supreme Court."