AOC Suggests CRT Opponents 'Accepting of Racism' as GOP Bills Against It Pile Up
Representative Alexandria Ocasio-Cortez, a New York Democrat, suggested that some communities across the country are "accepting of racism" while she criticized the movement opposing the teaching of critical race theory (CRT), as Republicans have introduced dozens of state bills attempting to ban it in schools.
CRT is an academic concept that was largely relegated to the realm of higher education until conservatives began raising alarms about it over the past year. The theory posits that racism is embedded in the nation's legal systems and policies—regularly resulting in negative outcomes for minority groups.
"I think one of the things that has been almost, like, difficult for me personally in working in Congress is seeing how different, you know, not only the rest of the country is because that diversity is great. It's not that it's different, but it's how accepting of racism a lot of other communities are," Ocasio-Cortez said during a Zoom town hall on Friday.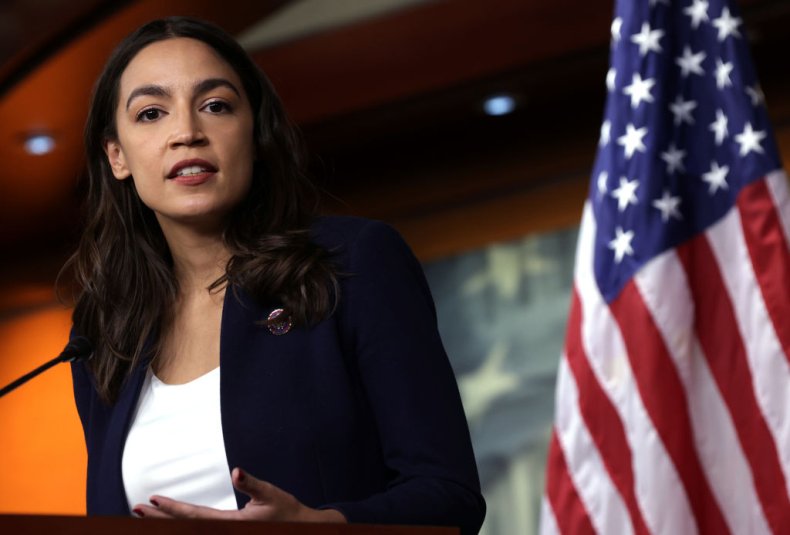 The progressive Democrat said it was "tough" for her to say that.
"It's interesting because, you know, this is a youth town hall, right, we're all dialing in from schools all across the district and there was recently this debate in Virginia, for example, that people don't want their kids really learning about racism or the history of racism in the United States. They call this critical race theory," the congresswoman said.
CRT became a key factor in the Virginia gubernatorial election, which took place in November. Republicans animated voters by warning that the theory was being taught to students in elementary and middle schools in the state. Democrats disputed that assessment, saying that children are merely learning about the history of slavery and the civil rights movement—not being taught the academic theory.
In the end, Virginia's Republican Governor-elect Glenn Youngkin beat former Democratic Governor Terry McAuliffe. The unsuccessful Democrat received substantial backlash from parents after he said he didn't believe "parents should be telling schools what they should teach."
Meanwhile, Republicans in state legislatures across the country have been working to ban CRT from being taught to students attending public schools. Since early November, at least 12 anti-CRT bills have been introduced in state legislature, according to New York-based nonprofit PEN America. In total, this year more than 60 such bills have been put forward in over two dozen states.
Democrats have pushed back against the effort, arguing that CRT is not actually being taught to students. They have argued that Republicans are simply hyping the culture war issue as a way to animate voters. Regardless, many parents have increasingly expressed anger and concern over the possibility that CRT is being taught in public schools.
"A lot of people just don't want race to be discussed in their schools at all," Ocasio-Cortez told TMZ in early November. She went on to say that she didn't even think wealthy Black celebrities—such as Oprah and Jay-Z—would be "allowed" to talk about their success in some parts of the country.
Newsweek reached out to Ocasio-Cortez's office for further comment.