During an Instagram Live video on Thursday, Democratic Representative Alexandria Ocasio-Cortez of New York encouraged her followers to apply "political pressure" in regard to student loan cancellation, after a new provision in President Joe Biden's $1.9 trillion coronavirus stimulus bill makes loan forgiveness tax-free.
"There is a tax provision tucked away that says if your student loans get canceled, you would not have to pay taxes on that cancelation," Ocasio-Cortez said.
"This provision that's tucked in, I think it tells us that if you care about student debt cancellation, it is go time for you. You need to mobilize, and now is the time to organize to create the political pressure, because in there tucked away.… someone is paving the path [for debt cancellation].
Biden's stimulus package was officially signed into law on Thursday, and includes $1,400 stimulus checks, tax reforms, and extended unemployment benefits to aid Americans through the ongoing pandemic.
The package is the second-largest economic relief package in America's history, second to the Coronavirus Aid, Relief and Economic Security (CARES) Act. Though Biden faced pressure from Democratic lawmakers to cancel student loans in the package, the bill does not include any measures to do so.
The tax provision, however, means that student loans discharged between December 31, 2021 and January 1, 2026 will be tax-free, Insider reported.
Ocasio-Cortez said she believes that while there is no specific provision to cancel loans, the tax-break provides "hope" and will help pave the way for cancellation in the future.
"Progressives are looking out for you," she said. "Someone was looking out and included that, which paves the way for us to fight for student loan forgiveness and not have it hit you on the back end in terms of getting taxed."
"I think it's good news, and progress in the fight on student loans," she added.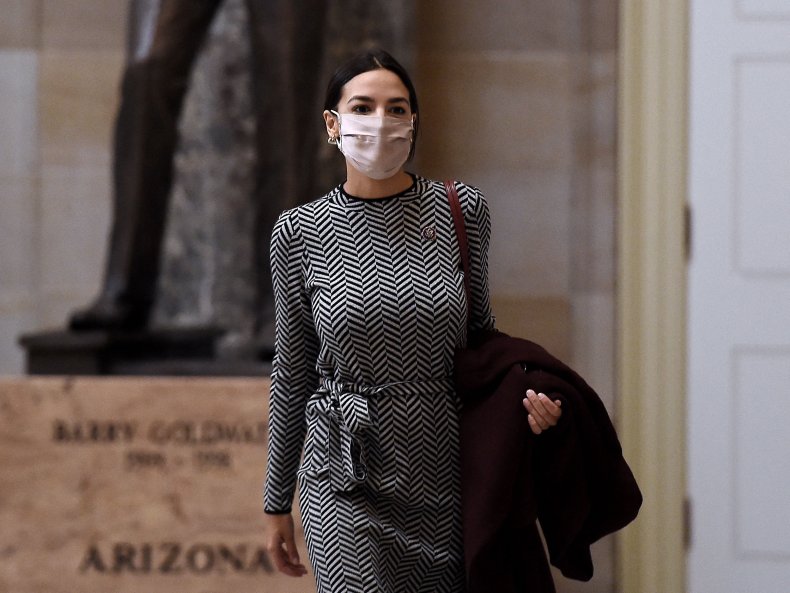 Ocasio-Cortez has been one of the most vocal supporters of canceling student loan debt, and supports forgiveness of up to $50,000 per person. In contrast, Biden has said he supports forgiving only $10,000 in debt.
"I understand the impact of debt and it can be debilitating," Biden said on February 16. "But I do think that in this moment of economic pain and strain that we should be eliminating interest on the debts that are accumulated, number one and number two, I'm prepared to write off a $10,000 debt, but not $50,000."
The New York Democrat has since clashed with Biden over the issue, and said his administration will need to face ongoing pressure.
"Entire generations of working class kids were encouraged to go into more debt under the guise of elitism. This is wrong. Nowhere does it say we must trade off early childhood education for student loan forgiveness. We can have both," she said last month.
Newsweek contacted Ocasio-Cortez for additional comment, but did not hear back in time for publication.