Representative Alexandria Ocasio-Cortez touted her efforts to block the passage legislation aimed at increasing police protection for Supreme Court justices and their families on Thursday and cited stalled efforts at passing new gun control laws.
Ocasio-Cortez, a Democrat who represents New York's 14th district, shared a video to her Instagram Stories purporting to show her rushing to the floor of the House of Representatives in order to object to unanimous consent for legislation.
The bill was passed by the Senate in May and must now be voted on in the House. It has taken on greater importance following the arrest of a man on Wednesday who was allegedly planning to murder Supreme Court Associate Justice Brett Kavanaugh.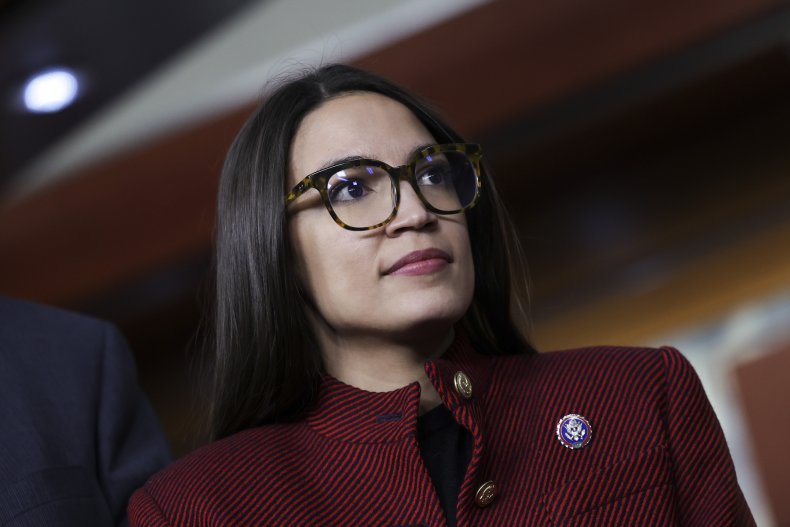 Ocasio-Cortez explained that Thursday was a "fly-out day"—meaning that many members of Congress were leaving Washington, D.C. and flying home to their districts.
"Fly-out days are also days of maximum hijinks from party leadership, both Democratic and Republican Party leadership," she said.
"I wake up this morning and I start to hear murmurs that there is going to be an attempt to pass the Supreme Court Supplemental Protection Bill the day after gun safety legislation for schools and kids and people is stalled," she said.
"Oh, so we can pass protections for us and here easily, right? But we can't pass protections for everyday people? I think not."
The Senate approved the legislation unanimously on May 9 following the release of a leaked draft of a Supreme Court majority opinion that would overturn Roe v. Wade. That draft was published by Politicoon May 2 and protests at the homes of some conservative Supreme Court justices followed.
On Wednesday, Nicholas John Roske was arrested near Justice Kavanaugh's home in Maryland. He was allegedly carrying a gun, ammunition, a knife, pepper spray, a screwdriver, zip ties and other equipment. He has been charged with attempting or threatening to kidnap or murder a U.S. judge.
Roske reportedly told police that he was upset about the potential overturning of Roe as well as about the mass shooting at an elementary school in Uvalde, Texas, according to an affidavit from a 911 operator who spoke to Roske.
He also reportedly told the operator: "I need psychiatric help."
The bill to increase protection for the nine justices, their families and Court staff has stalled amid a dispute between Democrats and Republicans over language House Democrats want to add to the bill that would extend protections to the families of other staff who work for the Court, such as clerks. No agreement has been reached on the Democrats' proposal.
Speaker of the House Nancy Pelosi has said the bill is likely to come up for a vote in the House next week. She said that the justices were currently protected despite the bill not having been passed.
"There will be a bill but nobody is in danger over the weekend because of us not having a bill," Pelosi said.
Newsweek has asked Representative Ocasio-Cortez's office for comment.