AOC Urges Anti-Doping Agency to End Sha'Carri Richardson Suspension, Says Decision Rooted in 'Racism'
Representative Alexandria Ocasio-Cortez, a New York Democrat, urged the U.S. Anti-Doping Agency to end the suspension of Sha'Carri Richardson after the Olympics-bound athlete tested positive for marijuana.
Ocasio-Cortez, along with Representative Jamie Raskin of Maryland, sent a formal letter to the agency on Friday expressing "dismay" over the one-month suspension, which will prevent Richardson from competing in the 100-meter dash during the Olympics in Tokyo, Japan next month. The Democratic lawmakers said the decision was based on "antiquated prohibition on the use of cannabis."
"We worked with @RepRaskin and the Subcommittee on Civil Rights & Civil Liberties to formally ask @USAntiDoping to end Sha'Carri Richardson's suspension," Ocasio-Cortez tweeted, sharing screenshots of the letter. "Their decision lacks any scientific basis. It's rooted solely in the systemic racism that's long driven anti-marijuana laws."
She added in a follow-up post: "Even the medical director of @wada_ama [World Anti-Doping Agency], whose U.S. arm issued the suspension, has said there is no evidence that marijuana is performance enhancing. Not to mention, marijuana is legal in Oregon where Ms. Richardson was when she used it."
In their letter, Ocasio-Cortez and Raskin pointed out that "the divergent treatment of recreational alcohol and marijuana use reflects obsolete stereotypes about cannabis products."
Richardson drew wide acclaim and national attention after she won her Olympic-qualifying 100-meter race in Oregon last month. However, she tested positive for THC, a chemical in cannabis, after that race. The Anti-Doping Agency said on Friday that Richardson's "Olympic qualifying results at the Team Trials, have been disqualified, and she forfeits any medals, points, and prizes" as a result of the positive test.
Marijuana advocacy groups blasted the decision, pointing out that the majority of Americans support the legalization of cannabis.
"Banning Sha'Carri Richardson from the Olympic 100-meter race is an absurd act of injustice. It should outrage every American who believes in common sense, compassion, and fairness," Matthew Schweich, deputy director at the Marijuana Policy Project, said in a statement emailed to Newsweek.
"Like millions of other Americans, Sha'Carri Richardson is an adult who used cannabis in a state where it is legal. She should have the right to use cannabis without the fear that it could severely impact her athletic career and deprive her of once-in-a-lifetime opportunities. A strong majority of Americans support full legalization despite being continually ignored by President Biden and Congress," Schweich said.
Kassandra Frederique, executive director at Drug Policy Alliance, said that drug testing is a "tool of the drug war, and it's a failure" in a statement emailed to Newsweek.
"Sha'Carri reportedly used marijuana in Oregon—a state where adult use is legal. These inconsistencies force people to be stuck in the middle, navigating unclear rules and being faced with lifelong consequences. We must end the drug war once and for all so that no one is subjected to contradictory and punitive rules about what they can and cannot put in their own bodies," Frederique said.
Although marijuana remains completely prohibited under U.S. federal law, it has been legalized for recreational consumption in 18 states—including Oregon—and Washington, D.C. Furthermore, 36 states have legalized cannabis for medicinal purposes with a doctor's prescription. Polling also shows that a substantial majority of Americans support legalization of the plant.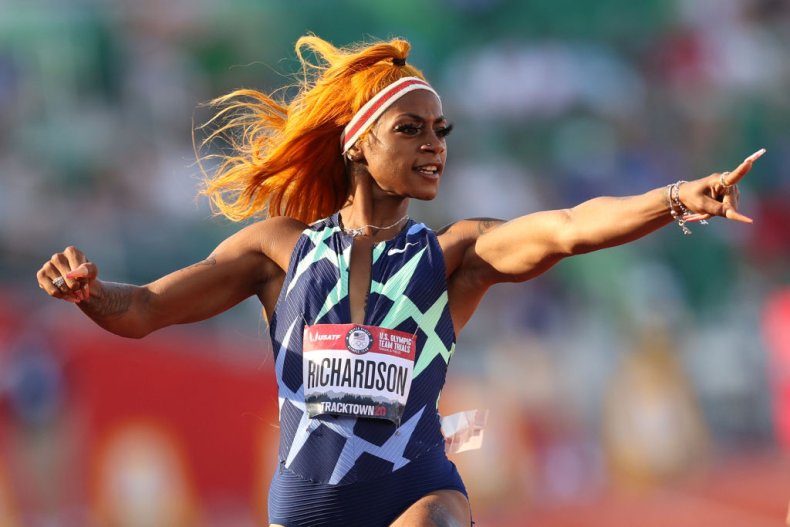 A survey conducted from April 5 to 11 by Pew Research showed that 60 percent of U.S. adults believe marijuana should be legal for recreational and medicinal use. An additional 31 percent said it should be legal for medical purposes, but not for recreation. Meanwhile, just 10 percent of U.S. adults said that cannabis should be prohibited. Poll results released by Gallup in November showed even greater support for legalizing weed, with 68 percent of U.S. adults saying it should be allowed for recreational consumption.
Newsweek reached out to press representatives for Ocasio-Cortez and Raskin for further comment.